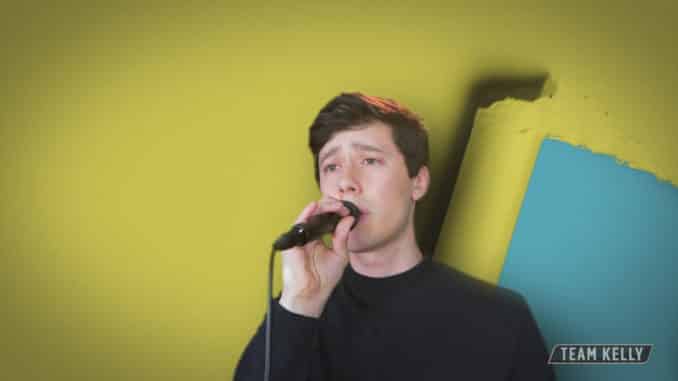 The Voice Season 18 FINALE performances air tonight. Each of the Top 5 singers, Micah Iverson, Toneisha Harris, Todd Tilghman, CamWess and Thunderstorm Artis will perform TWO songs–a cover and an original song produced by the Songland panel, Ester Dean, Shane McAnally and Ryan Tedder. Check out song spoilers for tonight and tomorrow:
The Voice 18 Finale Top 5 Song Spoilers – What will the Contestants Sing?
Coaches John Legend, Kelly Clarkson and Nick Jonas have a singer in the competition, except Blake Shelton who has two.
The Voice 2020: How To Vote For Your Favorite Contestants – NOTE! iTunes streams DO NOT COUNT as votes!
Host Carson Daly hosts from the empty The Voice studio. The coaches join the show from home. Just a reminder that the performances are taped. Tomorrow's finale results will be LIVE.
The Top 5 open with a fun music video, singing the classic "Shine" by Collective Soul. It's the 90's y'all! The clip is really well produced. Where is all that clapping coming from?
In the cover round, the coaches will review the season with their team member. 
CammWess – Purple Rain by Prince – Team John Legend – Cam reveals the he met John at the Essence Festival. It turns out that Cam is a real stan. He must have been bummed to be given away to Kelly there for a minute. John acts like it's still hard to get Prince songs cleared. I don't think his heirs are picky. John calls Cam the best vocalist this season. Hm. Cam is awesome, however, Toneisha is the best vocalist in this group. Dry ice effect! It's amazing what producers can create in post production. As far as the performance is concerned. I can't believe this singer almost slipped away. He's really a special artist. Phrasing a song, he makes really creative choices. OK. Not digging the editors cutting away to a shot of Cam not singing. I get making the visuals interesting, but I prefer that the performances seem as LIVE as possible. Kelly admires his confidence. "You're so gifted." Nick compliments the production values, adding "I think you did that song justice." John calls Cam a soulful gifted singer. 
Todd Tilghman – I Can Only Imagine by MercyMe – Team Blake Shelton – Todd auditioned at an open call. Support from his wife, gives him courage to take risks. So Todd is dedicating the song to her. He's singing on the stage of his empty church. The stage is decorated with lamps This isn't nearly as fancy as Cam's full blown music video. I bet this is a song he's sung many times. He brings the revival spirit to his performances. John appreciates his heart, enthusiasm and soul. Kelly: "I was crying." She's still crying. "I would love to come to your church. You're very special," she says. Blake notes his talent and his connection to people. "You sing with so much passion, so much precision."
Micah Iverson – Butterflies By Micah Iverson – Team Kelly Clarkson – Shane McAnally works with Micah on his original song. Shane loves his tone! Micah chose the song because of the twist in the lyric and the melody. This song has a beautiful melody, the kind that gets stuck in my head. Micah's bright tone and big range are a perfect fit for the tune. Planets, stars, clouds and…ripped paper. That's Micah's music video. Nick says Micah is fun to watch. Kelly and Micah wanted America to get a sense of what his vibe will be like after the show. 
Thunderstorm Artis – Sedona by Thunderstorm Artis – Team Nick Jonas – Thunderstorm is working with Ryan Tedder. The singer penned this song himself.  He references the Arizona town in the titles, but the song reminds him of the mountains in Hawaii. Ryan compares the singer to Ray Lamontagne. It's a pretty song. But not a great song. He could use some experienced co-writers. I bet during the production session Ryan was thinking about how he'd rewrite it. Heh. But as always, beautiful tone and phrasing from Thunderstorm. His voice is special. John calls his vocal tone "magical." And his guitar playing "masterful." Nick is so proud of his performance. "You are a true artist through and through." 
Toneisha Harris – Faithfully by Journey – Team Blake Shelton – Blake notes that she's the only female in the finale. She still has her audition pass for season 2! She had to quit after her son's leukemia diagnosis. "You don't have any vocal weaknesses!" Blake marvels. Indeed, Toneisha's ability is almost unreal. There really are no weak spots. She can hit those lows and reach for the highs. She doesn't need to do anything fancy, either. She imbues her performances with emotion and grit, and it seems effortless. Kelly compares Toneisha to Chaka Khan. Blake says she turned the finale upside down. He calls it her best performance so far. 
Todd Tilghman – Long Way Home by Todd Tilghman – Team Blake Shelton – Shane and Ester are working with Todd on his original song, co-written by Ester. Shane tinkers with the lyrics a little. The song seems tailor-made for Todd. The raspy quality of his voice is his money. His gospel spirit has taught him how to connect to emotion when he sings. He has a very very good shot of winning this thing. Blake says he's torn about contestants singing original songs. I wonder why.
CammWess – Save it For Tomorrow by CammWess – Team John Legend – Ryan Tedder works with Cam. The singer wrote the song, but John has a credit on it, too. Ryan wants to raise the key. John jokes that he's been suggesting that all season. This song is decent! Working on it with John probably helped. I'm gonna say it: I would not be mad if Cam won. His vocal choices are always surprising. And that tone is gorgeous. John calls the song "instantly catchy." and "he's ready to be an artist."
Micah Iverson – Chasing Cars by Snow Patrol – Team Kelly Clarkson – He got furloughed from his job as a bartender after Covid 19 hit. He confesses that he really wanted Kelly as his coach from the beginning. Kelly says the song has never been cleared for the show. Aw the family sits round along side a glowing fire. The song's arrangement has a nice build. It's almost too slow, but the payoff comes as he opens up on the later choruses. Sometimes Micah oversings a little. But his range is so impressive. OOPS. Nick is having sound issues. Kelly calls Micah "magical" She adds, "You make every song easy." She can't wait to work with him after the show. 
Toneisha Harris – Superhero by Toneisha Harris – Team Blake Shelton – Shane works with Toneisha on a song she composed herself. She wrote it for her son, as he struggled to recover from cancer. "We can make this song resonate with everybody," says Shane. Her tender and heartfelt rendition elevates the song beyond the corny lyrics. It's obvious the song is very personal. She finishes the performance by taking US ALL to church. Of course, Kelly is dabbing away tears. John says everything happened the way it was supposed to happen. "We're supposed to be social distancing, but she literally touched millions of people," says Blake.
Thunderstorm Artis – What a Wonderful World by Louis Armstrong. – Team Nick Jonas – Nick felt in his gut that Thunderstorm would end up on his team. Because Nick stole Thunderstorm during the knockouts, the two never got to work together in person!  The singer talks a little about his father who passed when he was 13. It's almost cliched to close the show with this oft covered song. But Thunderstorm's gentle version feels like a balm for this crazy timeline. So I'm cool with it. Nick is so happy that Thunderstorm sang that song, "It brings so much hope to the world."