The Voice season 15 Battle Rounds kicked off Monday night with three matchups. From Team Kelly Clarkson it was SandyRedd vs Cody Ray Raymond performing  Cry to Me by Solomon Burke. Kelly chose Cody while Jennifer Hudson stole SandyRedd. From Team Blake Shelton, it was Michael Lee vs Joey Green performing A Thing Called Love by Bonnie Raitt. Blake chose Michael Lee. Joey Green was eliminated. And from Team Jennifer Hudson it was Colton Smith vs  Patrique Fortson performing God Gave Me You by Blake Shelton. Jennifer chose Patrique while Blake stole Colton. 
Now, the rest of the team matchups have been revealed. Unfortunately, the song choices are still a mystery. But we'll find out soon enough. Tuesday (10/16) brings even more great Battles.  Check out all the Battle Round details below. Each coach will be able to steal TWO contestants. In the end, 32 singers will remain. 16 will be eliminated.
Team Adam Levine
Adam Levine has chosen former The Voice coach Cee Lo Green as his guest mentor.

Pictured: (l-r) Deandre Nico, Jarred Matthew, Radha, Funsho, Tyke James, Adam Levine, Reagan Strange, Natalie Brady, Emily Hough, Foushee, Anthony Arya, Steve Memmolo, Jake Wells — (Photo by: Trae Patton/NBC)
Teams:
Jake Wells vs Natalie Brady
Anthony Arya vs Steve Memmolo
Reagan Strange vs Emily Hough
Jarred Matthew vs Tyke James
Foushee vs Radha
Deandre Nico vs Funsho
Team Blake Shelton
Blake Shelton will team up with country superstar, former The Voice Australia coach and American Idol judge, Keith Urban.

Pictured: (l-r) Chris Kroeze, Kameron Marlowe, Kirk Jay, Mercedes Ferreira-Dias, Keith Paluso, Kayley Hill, Blake Shelton, Katrina Cain, Caeland Garner, Rachel Messer, Joey Green, Michael Lee, Dave Fenley — (Photo by: Trae Patton/NBC)
Teams:
Dave Fenley vs Keith Paluso
Katrina Cain vs Rachel Messer
Chris Kroeze vs Mercedes Ferreira-Dias
Kameron Marlowe vs Kayley Hill
Michael Lee vs Joey Green
Caeland Garner vs Kirk Jay
Team Kelly Clarkson
Kelly Clarkson chose country singer Thomas Rhett to help with her teams.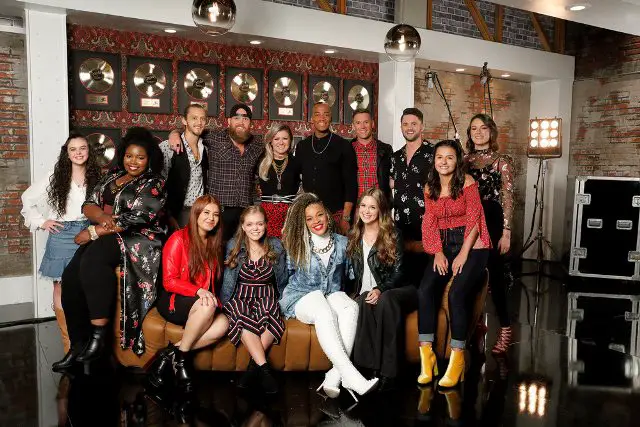 Pictured: (l-r) Chevel Shepherd, Kymberli Joye, Cody Ray Raymond, Erika Zade, Mikele Buck, Sarah Grace, Kelly Clarkson, Sandyredd, OneUp, Claire Dejean, Josh Davis, Abby Cates, Delaney Silvernell — (Photo by: Trae Patton/NBC)
Team:
Mikele Buck vs Chevel Shepherd
Erika Zade vs Sarah Grace
SandyRedd vs Cody Ray Raymond"
OneUp vs Kymberli Joye
Delaney Silvernell vs Abby Cates
Claire DeJean vs Josh Davis
Team Jennifer Hudson
Jennifer Hudson chose pop star Halsey to assist with her singers.

Pictured: (l-r) Mackenzie Thomas, Colton Smith, Natasia Greycloud, Franc West, Jennifer Hudson, Tyshawn Colquitt, Mike Parker, Zaxai, Matt Johnson, Lela, Patrique Fortson, Audri Bartholomew — (Photo by: Justin Lubin/NBC)
Team: 
Kennedy Holmes vs Lela
Natasia Greycloud vs Mike Parker
Matt Johnson vs Franc West
Tyshawn Colquitt vs Zaxai
Patrique Fortson vs Colton Smith
Audri Bartholomew vs Makenzie Thomas