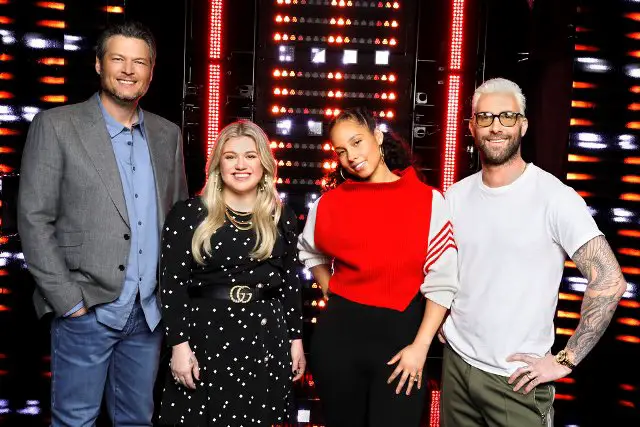 Tonight (May 7) The Voice Top 10 will be performing for your votes.  After an overnight vote (including iTunes downloads and streams) two singers will be sent home on Tuesday night (May 8). 
Tonight's theme "Challenge Week" could be song or genre-based, or having to do with performance and stage presence — each singer tackling something that they see as a challenge on their journey to become a well-rounded artist. Coach Kelly Clarkson  is set to perform her latest single "I Don't Think About You" tonight. Charlie Puth and Five Seconds of Summer will be performing tomorrow.
The Voice Season 14 Top 10 Power List
See this week's song spoilers below.
Jackie Verna – Team Adam Levine – Love Triangle by RaeLynn  –  Download from iTunes
Rayshun Lamarr – Team Adam Levine – Grant Green by Mr. Jukes  – Download from iTunes
Kyla Jade – Team Blake Shelton – This Is Me (Greatest Showman)  – Download from iTunes
Pryor Baird – Team Blake Shelton – My Town by Montgomery Gentry  – Download from iTunes
Spensha Baker – Team Blake Shelton – Red by Taylor Swift  – Download from iTunes
Britton Buchanan – Team Alicia Keys – What's Love Got to Do With It by Tina Turner  – Download from iTunes
Christiana Danielle – Team Alicia Keys – Ain't No Sunshine by Bill Withers  – Download from iTunes
Jackie Foster – Team Alicia Keys – Gravity by Sara Bareilles  – Download from iTunes
Brynn Cartelli – Team Kelly Clarkson – Fix You by Coldplay  – Download from iTunes
Kaleb Lee – Team Kelly Clarkson – Boondocks by Little Big Town – Download from iTunes