It's a day at the beach for The Voice crew. Ahead of the Season 13 premiere on Monday September 25, The Voice coaches vets Blake Shelton and Adam Levine, returning coach Miley Cyrus and newbie Jennifer Hudson have a little fun on the beach. The quartet pose alongside executive producer Mark Burnett, his wife Roma Downey, and host Carson Daly and his wife Siri. The pics were captioned "press junket" so it's likely a slew of press will be coming our way soon.
Additionally, next week, Adam, Blake, Miley and Jennifer will be taping the coach performance that typically kicks off the premiere. Fans can grab tickets for the Tuesday August 15 performance at 1iota.com Then, the Knockout Rounds are scheduled to film on Thursday August 18 and Friday August 19. The Playoffs will be taped this season (sorry…it looks like no viewer voting until the finals) On August 31 and September 1.
The Voice Season 13: No Live Playoffs? Contestant Spoilers
The Voice 13 Battle Round Advisors: Joe Jonas, Kelly Rowland and More
Will FOX Schedule The Four Against American Idol and The Voice?
The Voice Season 13: Watch the New TV Promo (VIDEO)
See the fun photos below.

THE VOICE — Coaches Blake Shelton, Adam Levine, Jennifer Hudson and Miley Cyrus bond and enjoy a day at the beach on a picturesque Southern California afternoon before the competition between them begins. (Photo by: Trae Patton/NBC)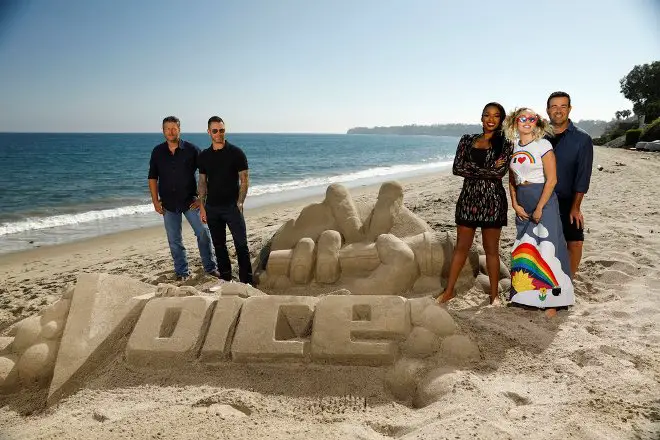 THE VOICE — Coaches Blake Shelton, Adam Levine, Jennifer Hudson, Miley Cyrus and host Carson Daly bond and enjoy a day at the beach on a picturesque Southern California afternoon.  (Photo by: Trae Patton/NBC)

THE VOICE —  Team Voice enjoys a picturesque Southern California prior to the two-hour premiere of season 13. From left to right: Adam Levine, Miley Cyrus, Mark Burnett, Roma Downey, Mark Burnett, Jennifer Hudson, Siri Daly and Blake Shelton — (Photo by: Trae Patton/NBC)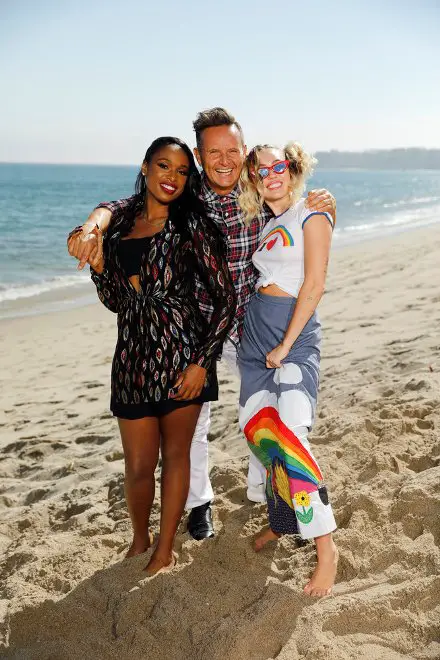 THE VOICE —  First-time coach Jennifer Hudson and returning coach Miley Cyrus flank executive producer Mark Burnett on the shores of the Pacific Ocean as the trio gear up for the 13th season of The Voice. — (Photo by: Trae Patton/NBC)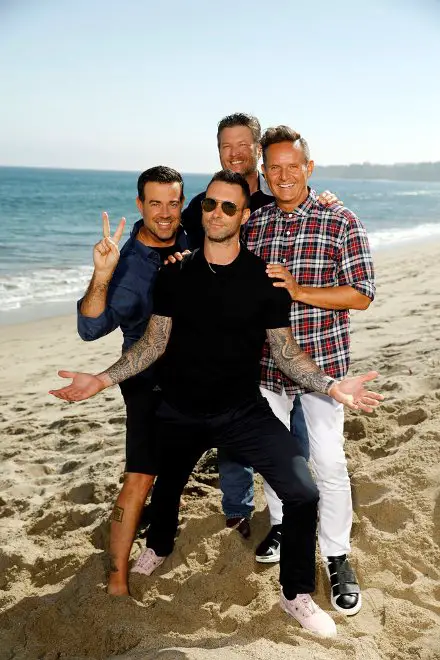 THE VOICE —  The boys on the beach have some fun before returning to The Voice, which begins its 13th season with a two-hour premiere. Host Carson Daly, left, coach Blake Shelton and executive producer Mark Burnett flank coach Adam Levine — (Photo by: Trae Patton/NBC)

THE VOICE —  Executive producer Mark Burnett, left, Siri Daly, Blake Shelton, Carson Daly, Jennifer Hudson, Adam Levine and Miley Cyrus enjoy a day at the beach on a picturesque Southern California afternoon.  — (Photo by: Trae Patton/NBC)