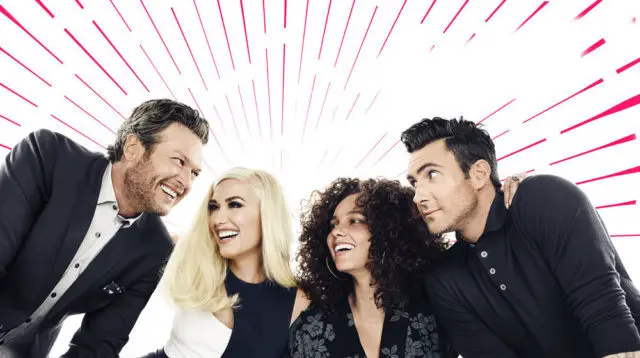 The Voice Season 12 tickets for LIVE SHOWS beginning on Monday April 17 are available NOW at 1iota.com
Between the schedule of live shows and info from FutonCritics listings, I've put together a partial schedule for the upcoming season.
A couple of things to note:
The Tuesday Feb 28 show was ORIGINALLY two hours. But due to the recent scheduling of President Trump's address to the joint session of Congress, Part 2 of the premiere has been cut back to one hour.
It appears that the first week of lives,  are two nights, two hour shows. Assuming it's the week of Playoffs, I wonder about the format. In the past, the Live Playoffs were two nights of performances, one night of results. Because of the presidential election, Season 11 did a crazy night of performances/results based on twitter votes. Will the twitter vote return, but spread out over two nights rather than attempting to jam 20 performances into one evening? Hm.
The Blind audition entries with question marks are me assuming 3 weeks of Blinds followed by a Best of the Blinds clip show. As more information comes in, I'll be updating this post!
NEW: The Blind Auditions Part 3 air on THURSDAY MARCH 2 at 8 PM. It's probably to make up for Tuesday being truncated due to the president's speech.
NEW: It's confirmed that the Coaches Comeback will return for season 12. From the Futon Critics NBC press release: "THE PLAYOFFS BEGIN – "THE VOICE" TOP 24 ARTISTS PERFORM FOR A SPOT IN THE TOP 12 THROUGH REAL-TIME VOTING – The stakes are high as the artists from two teams perform in front of coaches Alicia Keys, Adam Levine, Blake Shelton and Gwen Stefani for their chance at a coveted spot in the live shows. Through innovative real-time voting on the Voice App and Twitter, fans will be able to advance two artists per team into the Top 12 and find out the results on the same night. During this exciting and music-filled night, two coaches will then immediately choose the final artist from their teams to save, sending the other artists home."  Also, as we speculated, real time voting makes a return.  It looks like there already are rumors about wildcard artists. Discuss in the SPOILERS post.
NEW: Playoffs Team Schedule – Team Blake and Team Alicia compete on Monday April 17; Team Adam Levine and Team Gwen Stefani on Tuesday April 18
HEY. Remember when The Live finals ran SIX weeks in the Spring? I do! Last year, there was no double elimination at the Top 10. Seven weeks of live shows (including Playoffs) began on April 11.
The Voice Season 12 Schedule
Mon Feb 27 – 8:00 pm (2 Hr) – Blind Auditions Premiere Pt 1
Tue Feb 28 – 8:00 pm (1 Hr) – Blind Auditions Premiere Pt 2
Thur Mar 2 – 8:00 pm (1 Hr) – Blind Auditions Premiere Part 3
Mon Mar 6 – 8:00 pm (2 Hr) – Blind Auditions Part 4
Tue Mar 7 – 8:00 pm (1 Hr) – Blind Auditions Part 5
Mon Mar 13 – 8:00 pm (2 Hr) – Blind Auditions Part 6
Tue Mar 14 – 8:00 pm (1 Hr) – Blind Auditions Part 7
Wed Mar 15  – Best of the Blinds (2 Hr)
Mon Mar 20 – 8:00 pm (2 Hr) – Battle Rounds Part 1
Tue Mar 21 – 8:00 pm (1 Hr) – Battle Rounds Part 2
Mon Mar 27 – 8:00 pm (2 Hr) – Battle Rounds Part 3
Tue Mar 28 – 8:00 pm (1 Hr) – Battle Rounds Part 4
Mon Apr 3 – 8:00 pm (2 Hr) – Knockouts Part 1
Tue Apr 4 – 8:00 pm (1 Hr) – Knockouts Part 2
Mon Apr 10 – 8:00 pm (2 Hr) – Knockouts Part 3
Tue Apr 11 – 8:00 pm (1 Hr) – Road to the Live Shows
Mon Apr 17 – 8:00 pm (2 Hr) – Top 24 Perform Live (Team Blake Shelton & Team Alicia Keys) for Real Time Votes and Results
Tue Apr 18 – 8:00 pm (2 Hr) – Top 24 Perform Live (Team Adam Levine & Teams Gwen Stefani) for Real Time Votes and Results
Mon Apr 24 – 8:00 pm (2 Hr) – Top 12 Perform Live
Tue Apr 25 – 8:00 pm (1 Hr) – One artist Eliminated after Bottom 2 Sing for Save
Mon May 1 – 8:00 pm (2 Hr) – Top 11 Perform Live
Tue May 2 – 8:00 pm (1 Hr) – One artist Eliminated after Bottom 2 Sing for Save
Mon May 8 – 8:00 pm (2 Hr) – Top 10 Perform Live
Tue May 9 – 8:00 pm (1 Hr) – Two Artists Eliminated after Bottom 3 Sing for Save
Mon May 15 – 8:00 pm (2 Hr) – Live Semi-Final (Top 8)
Tue May 16 – 8:00 pm (1 Hr) – Live Semi-Final Results (4 eliminated) Top 3 Advance, Bottom 2 Eliminated, Middle 3 sing for one save.
Mon May 22 – 8:00 pm (2 Hr) – Finale
Tue May 23 – 9:00 pm (2 Hr) – Finale