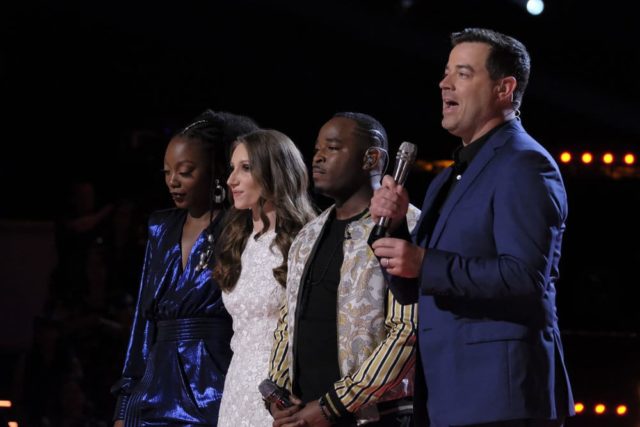 The Voice stayed even with last week's record low numbers.
One could say the NCIS season finale (and Pauley Perrette farewell) took viewers away from The Voice this week (and maybe last week). But at the height of its powers (same with American Idol. Even the Winter Olympics couldn't defeat it!) the show held on to its viewers, or maybe suffered slight dips against strong counterprogramming.
The Voice numbers are still strong comparatively speaking, but are typical of a series that is showing its age.
UPDATE: The Voice adjusted up to a 1.3 and 7.26 viewers in the final update.
Via TVByTheNumbers
8 p.m.
Roseanne (ABC) 2.6/12 10.19
NCIS (CBS) 1.6/7 14.79
The Voice (NBC) 1.2/5 7.20
Lethal Weapon (FOX) – F 0.8/4 3.10
The Flash (The CW) 0.7/3 1.72
8:30 p.m.
The Middle (ABC) 1.5/6 5.85
9 p.m.
Bull (CBS) – F 1.3/5 11.80
Black-ish (ABC) 1.2/5 4.36
Rise (NBC) 0.7/3 3.84
New Girl (FOX) (9-10 p.m.) 0.5/2 1.45
The 100 (The CW) 0.4/2 1.11
9:30 p.m.
Splitting Up Together (ABC) 1.0/4 3.54
10 p.m.
Chicago Med (NBC) 1.0/4 5.77
NCIS: New Orleans (CBS) 0.8/3 8.12
For the People (ABC) 0.5/2 2.09