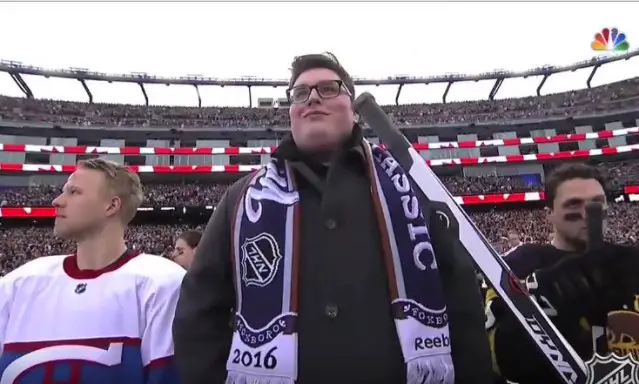 The Voice 9 winner, Jordan Smith, said recently that he dreams of singing the National Anthem at the Superbowl one day. Performing it at Gillette Stadium in front of thousands, before the NHL Winter Classic hockey game, is a pretty good start!
The singer has a voice just made to sing the anthem. Watch Jordin hit the high notes on the National Anthem right here. You will be feeling very patriotic, afterward.
The eighth NHL Winter Classic featured the Boston Bruins hosting the Montreal Canadiens. In case you're wondering, the classic takes hockey outdoors–usually to a stadium or a ballpark–and is played every year on or around New Year's Day.
ETA: Reportedly, there was booing at the game. You can sort of hear a bit of that on the official version of the anthem. Apparently, fans were unhappy their regular anthem singer, Rene Rancourt, wasn't asked to perform. Well too bad. It's a nationally televised sporting event. NBC, which broadcast the event, was going to choose a singer with name recognition. Jordan just won the network's popular singing competition, The Voice. The choice was a no-brainer. All I can say is, Boston sports fans can be real a-holes sometimes. (Sorry fellow Bostonians, but you know it's true…)