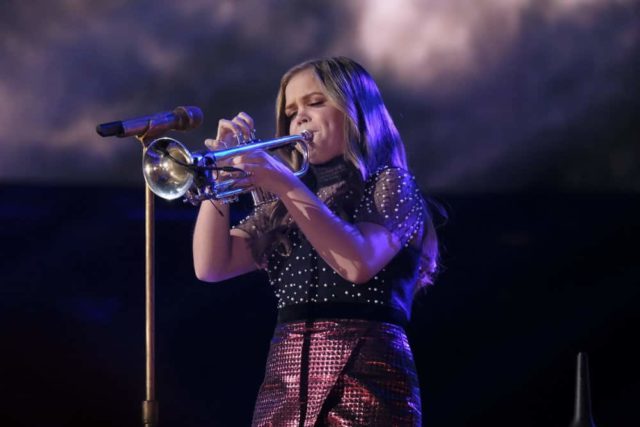 Sarah Grace, the talented multi-instrumentalist who earned a three chair turn on The Voice season 15 in 2018, has just landed a record deal with Ruf records. The German label announced the news on their Facebook page earlier this week:
Ruf Records is proud to announce the signing of 17-year-old musical powerhouse Sarah Grace! Sarah was a semi-finalist on Season 15 of NBC's The Voice, stunning the judges and the audience with her personalized performance of "Amazing Grace." The new album, which will be released worldwide this Summer on Ruf, highlights her powerful vocals and multiple instrumental talents, organ and trumpet, as well as her original songwriting.

As Sarah Grace and the Soul, she and her band embarked on a national tour in 2019 performing in various clubs from NYC to LA and festivals from Texas to Nevada to Oregon! They gathered multiple accolades including being named the "Best Newcomer" for 2019 by the Houston Press. Sarah Grace will continue touring in 2020 in support of her exciting new album with Ruf so keep an eye on those tour dates!

Stay tuned for more on Sarah Grace, coming soon! In the meantime, please help us welcome her to the Ruf family…
Sarah, who landed on Team Kelly Clarkson in the fall of 2018, was eliminated in the semifinals.But before leaving the competition, the singer performed blues and pop classics such as "I'd Rather Go Blind," "Goodbye Yellow Brick Road," "Dog Days are Over" and "Sign of the Times." On her rendition of Amazing Grace, the talented musician played trumpet. A first for The Voice.
As a young girl, Sarah had synesthesia, a condition in which she would see colors in response to hearing music. While she later lost this sensory gift, it was what inspired Sarah to sing and learn how to play a variety of instruments.
Sarah also announced the good news on social media. "Hey y'all," she wrote on Twitter, "I've got a record deal! Excited to be joining the @RufRecords family."
Hey y'all I've got a record deal! Excited to be joining the @RufRecords family. pic.twitter.com/tOCpjBws8w

— Sarah Grace (@sgandthesoul) February 5, 2020