Check out these sneak peeks behind the scenes of next week's The Voice 9 Battle Rounds! Plus behind the scenes  footage of the mentor sessions. For a contestant refresher, check out our guide to the The Voice 9 Top 48.
Here's how the Battle Round works: Two acts from the same team battle each other in an epic duet. Their coach chooses which one to keep on the team. Each coach has the opportunity to steal TWO of the rejected singers. The battles begin on Monday October 12, 8/7 pm on NBC.
First up: Team Adam Levine!
The Pairs:
Jordan Smith vs Regina Love
Dustin Monk vs James Dupre
Manny Cabo vs Keith Semple
Cassandra Robertson vs Viktor Kiraly
Amanda Ayla vs Shelby Brown
Andi & Alex vs Chance Pena

Adam's battle adviser is 60's rocker, John Fogerty. You might remember his duet with Sawyer Fredericks on the season 8 finale. We'll see Jordan Smith and Regina Love join forces on "Like I Can" by Sam Smith. Dustin Monk and James Dupre face off with a John Fogerty classic, "Fortunate Son" (GULP!)  and Manny Cabo and Keith Semple sing The Who's "Won't Get Fooled Again."
https://youtu.be/1mr4o2AXVqw
Adam, John and the team discuss preparing for the upcoming battles! Plus, the pairs dish on their partnerships.
https://youtu.be/JtmG-ILMik4
Next is Team Blake Shelton
The Pairs:
Tyler Dickerson vs Zach Seabaugh
Emily Ann Roberts vs Morgan Frazier
Barrett Baber vs Dustin Christensen
Cole Criske vs Nadjah Nicole
Blaine Mitchell vs Blind Joe
Chris Crump vs Krista Hughes
Blake's adviser is country superstar, Brad Paisley. Blake admits to Brad that his team is full of country singers, but they are "real" country singers who don't sing "any of that Bro crap that I sing." Truth! Blaine Mitchell and Blind Joe face off with the classic rocker, "Old Time Rock n Roll by Bob Seeger. Chris Crump and Krista Hughes perform "When I Get Where I'm Going" by Mr. Paisley, himself! And Barett Baber and Dustin Christensen battle with "Walking in Memphis" by Marc Cohn.
https://youtu.be/XHjnxjObiOY
A look behind the scenes of the Team Blake battles!
https://youtu.be/mEZQr6c3eX0
Team Gwen Stefani
The Pairs:
Alex Kandel vs Kota Wade
Chase Kerby vs Korin Bukowski
Ellie Lawrence vs Tim Atlas
Jeffrey Austin vs Noah Jackson
Braiden Sunshine vs Lindsey Elm
Hanna Ashbrook vs Summer Schappell
Gwen's adviser is a pop star that's been in the news lately, Selena Gomez. Ellie Lawrence and Tim Atlas rehearse and perform "Sweater Weather" by The Neighbourhood. Chase Kerby and Korin Bukowski do battle with "Samson" by Regina Spektor. Braiden Sunshine and Lindsey Elm sing "No One is to Blame" by Howard Jones, with an assist from Gwen in rehearsal!
https://youtu.be/NqLE55tcRwc
Behind the scenes with Gwen, Selena and the vocal duos as their prepare their songs for battle.
https://youtu.be/EIzeMAtXXWM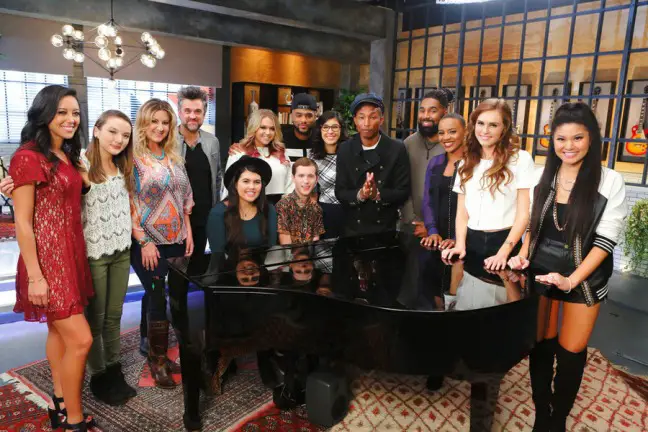 And Team Pharrell Williams…
Evan McKeel vs Riley Biederer
Ivonne Acero vs Siahna Im
Darius Scott vs Daria Jazmin
Madi Davis vs Sydney Rhame
Amy Vachal vs Jubal & Amanda
Celeste Betton vs Mark Hood
Pharrell's adviser is the legendary hip hop artist, Missy Elliott. The singers freaked out at the sight of her! Celeste Betton and Mark Hood sing "Ain't No Mountain High Enough." Amy Vachal and Jubal & Amanda face off with "To Love Somebody" by The Bee Gees. Ivonne Acero and Siahna Im perform "Keep Me Hanging On" by the Supremes. I'm not feeling these mouldy oldie song choices. Like AT ALL. Particularly for the younger contestants.
https://youtu.be/GfGODYy4YZY
The duos discuss what makes them great partners. Celeste and Mark's performance make Missy cry. Watch Team Pharrell prepare to do battle.
https://youtu.be/xoOrfQe_eQM