Here's your COMPLETE guide to The Voice 9 Top 48! Organized by team, with Photos, Videos, and Social Media links!
Coaches from NBC's The Voice have each selected their 12-member teams that will advance to the Battle Rounds phase of the competition.
Beginning Monday, October 12  (8-10 p.m. ET/PT), the coaches and celebrity advisers will work with their respective teams of performers and develop skill sets, offer advice and encouragement, and share secrets about their own personal success.
Each coach will be assisted by a superstar adviser during the Battle Rounds. Selena Gomez will be Gwen Stefani's mentor. John Fogerty will be Adam Levine's. Brad Paisley is Blake Shelton's, and Missy Elliott will help Pharrell Williams.
During the Battle Rounds, each coach will pit two of their own team members against one another and will perform the same song together in front of a studio audience. After the vocal battle, the coach must choose which of his/her artists will advance to the Knockout Round, while the losing artist is available to be stolen by another coach. Each coach has two steals available during the Battle Rounds.
Below is a breakdown of adviser and team pairings:
#TEAMADAM – Adam Levine
Amanda Ayala – Mahopac, NY – @AmandaxAyala – Audition VIDEO -"Mississipi Queen"
Andi & Alex – Green Bay, WI – @Andi_and_Alex – Audition VIDEO – "Thank You"
Cassandra Robertson – Dallas, TX – @CassandraMusic – Audition VIDEO – "Ghost"
Chance Pena – Tyler, TX – @Chance_Pena – Audition VIDEO – "I See Fire"
Dustin Monk – Jacksonville, FL – @dustinmonkmusic – Audition VIDEO – "Bright Lights" 
James Dupre – Bayou Chicot, LA – @JamesDupre – Audition VIDEO – "Let Her Cry"
Jordan Smith – Harlan, KY – @JordanSmithLive – Audition VIDEO – "Chandelier"
Keith Semple – Chicago, IL (originally from Ireland) – @keithsemple – Audition VIDEO – "I'll Be There For You"
Manny Cabo – Elizabeth, NJ – @akamannycabo – Audition VIDEO – "Here I Go Again"
Regina Love – Atlanta, GA – @iamreginalove – Audition VIDEO – "Rock Steady"
Shelby Brown – Elberta, AL – @shelbygailbrown – Audition VIDEO – "Stars"
Viktor Kiraly – Great Neck, NY – @kiralyviktor – Audition VIDEO – "What's Going On"
#TEAMBLAKE
Barrett Baber – Fayetteville, AR – @BarrettBaber – Audition VIDEO – "Angel Eyes"
Blaine Mitchell – Fort Worth, TX – @blaine_mitchell – Audition VIDEO – "Drops of Jupiter"
Blind Joe – Fargo, ND – @theblindjoe – Audition VIDEO – "If it Hadn't Been for Love"
Cole Criske – Temecula, CA – @ColeCriskeMusic – Audition VIDEO – "Dreaming with a Broken Heart"
Chris Crump – Baytown, TX – @ChrisCrumpMusic – Audition VIDEO – "Thinking Out Loud"
Dustin Christensen – Orem, UT – @Dustinonline – Audition VIDEO – "Downtown Train"
Emily Ann Roberts – Knoxville, TN – @emilyann_music – Audition VIDEO – "I Hope You Dance"
Krista Hughes – Coal City, WV – @_KristaHughes – Audition VIDEO – "Angel from Montgomery"
Morgan Frazier – Nashville, TN – @_MorganFrazier – Audition VIDEO – "I Want You to Want Me"
Nadjah Nicole – New Castle, DE – @nadjahnicole – Audition VIDEO – "Tightrope"
Tyler Dickerson – Denham Springs, LA – @TylerDickerson_ – Audition VIDEO – "Hard to Handle"
Zach Seabaugh – Marietta, GA – @ZachSeabaugh – Audition VIDEO – "Take Your Time"
#TEAMGWEN
Alex Kandel– Virginia Beach, VA – @AlexKandelMusic – Audition VIDEO – "Bright"
Braiden Sunshine – Lyme, CT – @BraidenSunshine – Audition VIDEO – "The Mountains Win Again"
Chase Kerby – Oklahoma City, OK – @ChaseKerby – Audition VIDEO – "The Scientist"
Ellie Lawrence – Crandall, GA – @iamelliemusic – Audition VIDEO – "We Don't Have to Take Our Clothes Off"
Hanna Ashbrook – Mount Prospect, IL – @hanna_ashbrook – Audition VIDEO – "Closer"
Jeffery Austin – Chicago, IL – @JefferyAustin – Audition VIDEO – "Lay Me Down"
Kota Wade – Hollywood, CA – @kotawade – Audition VIDEO – "Bring it on Home to Me"
Korin Bukowski – Miami, FL – @KorinBukowski – Audition VIDEO – "Cecilia and the Satellite"
Lyndsey Elm – Vacaville, CA – @lyndseyelm – Audition VIDEO – "Lips Are Movin"
Noah Jackson – Sunderland, MA – @noahxjackson – Audition VIDEO – "Elastic Heart"
Summer Schappell – Lakehead, CA – @SummerSchappell – Audition VIDEO – "Strawberry Wine"
Tim Atlas – San Jose, CA – @timothyatlas – Audition VIDEO – "Give Me Love"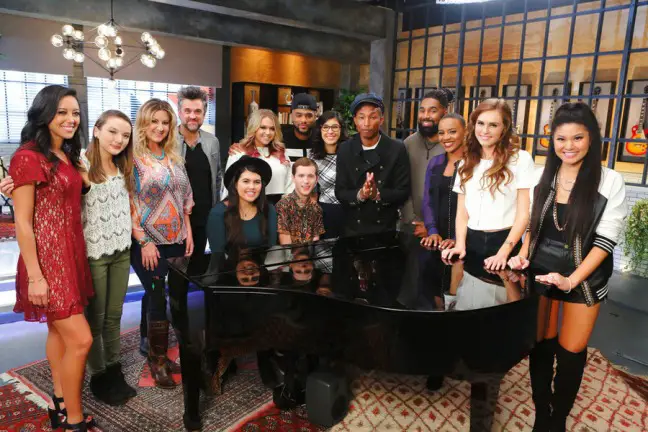 #TEAMPHARRELL
Amy Vachal – Brooklyn, NY – @amyvachal – Audition VIDEO – "Dream a Little Dream of Me"
Celeste Betton – Hinesville, GA – @celestebetton – Audition VIDEO – "Love You I Do"
Daria Jazmin – Los Angeles, CA – @dariajazmin – Audition VIDEO – "Dear Future Husband"
Darius Scott – Atlanta, GA – @dscottmusik – Audition VIDEO – "You Make Me Wanna…"
Evan McKeel – Richmond, VA – @EvanMcKeel – Audition VIDEO – "Typical"
Ivonne Acero – Aguila, AZ – @acero_ivonne – Audition VIDEO – "Style"
Jubal and Amanda – Tulsa, OK – @JubalandAmanda – Audition VIDEO – "Seven Bridges Road"
Madi Davis – McKinney, TX – @MadiAnneDavis – Audition VIDEO – "It's Too Late"
Mark Hood – Chicago, IL – @MarkJPHood – Audition VIDEO – "Use Me"
Riley Bierderer – Atlanta, GA – @rileybiederer – Audition VIDEO – "Invincible"
Siahna Im – Auburn, WA – @imsiahna – Audition VIDEO – "Fever"
Sydney Rhame – Atlanta, GA – @SydneyRhame – Audition VIDEO – "Photograph"