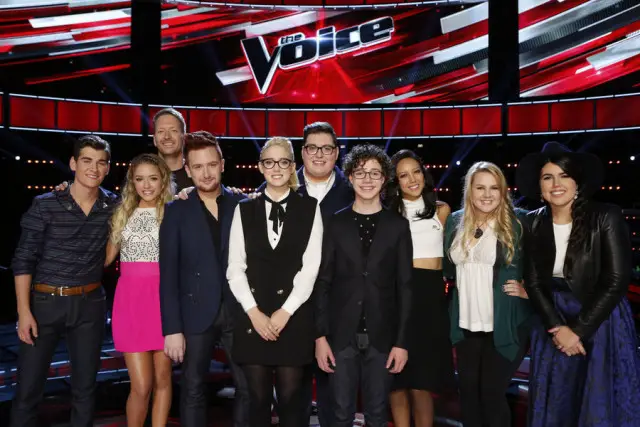 The Voice 9 Semifinal – How 5 Contestants Will be Eliminated
The Voice producers have decided to shake up the season 9 semifinals. In seasons past, two or three contestants were eliminated every week leading up to a 3 or 4 person finale.  The season, however, only one singer has left the show each week, leaving 9 singers to compete for 4 spots in the final. That means 5 singers will leave the show during the semifinal results show.
Fans have been calling it a bloodbath. The Voice watchers have also been wondering exactly HOW producers plan to eliminate 5 contestants all at once.
Finalist and Team Blake Shelton member, Barrett Baber, in an effort to galvanize his fans, has explained exactly how the elimination will work in a Facebook post.
There are 9 of us left on the show. Only 4 make it to the finale. Here's how they eliminate 5 people. The top 3 vote getters will automatically move on to the finals…The bottom 3 vote getters will automatically be eliminated from the show. HERE'S THE IMPORTANT PART: The middle three vote getters will all sing 1 song for the chance at the final spot in the final show. It'll be just like the "last chance" scenarios that unfold at the end of each show Tuesday except with three people singing instead of two. WHO WINS WILL BE DECIDED BY PEOPLE ON TWITTER.
The 4th finalist will be determined by twitter Insta-Save. Only the middle 3 vote getters will have the opportunity to sing.
So there you have it. The Top 3 will declared safe. The bottom 3 will be eliminated. The 4th, 5th, and 6th place vote getters will sing for the insta-save.
I hate this sudden death scenario, but if the producers insist, they've come up with the fairest scenario. It wouldn't be right to have the last place finisher fighting for a chance alongside the the singer who came in 3rd place. Also, this format doesn't leave much time for planning home visits.
The rest of Barrett's message is urging his fans who aren't on twitter to sign up NOW so they can be ready to vote for him, if need. be. I would suggest, if you are a big fan of ANY of the remaining 9 contestants and not a member of Twitter, that you sign up now. On second thought, if you are a Jordan Smith fan, you probably have no worries! I'll be posting a power list within the next couple of days, so watch for that!
The Voice 9 Semifinals: Dolly Parton, Cassadee Pope, 5 Will be Eliminated
The Voice 9: Watch Korin Bukowski's Tearful Exit Interview (VIDEO)