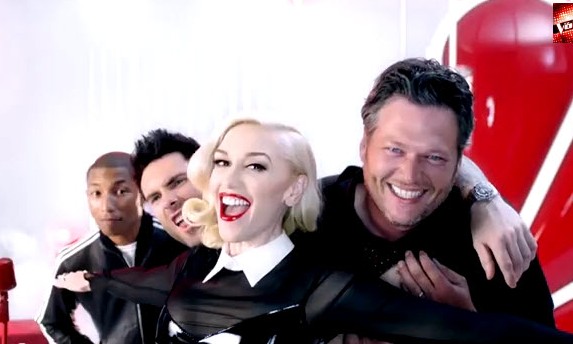 Buzzfeed is confirming that Season 7 coach, Gwen Stefani, will be returning to The Voice for its ninth season, set to air in the fall. She will join Adam Levine, Blake Shelton and Pharrell Williams on the panel. Yes, the Season 8 panel is returning nearly intact, except for Christina Aguilera, who is taking a break.
Adam and Blake have taken part in every season of the competition, while it looks like Pharrell is also looking to become a permanent member. It's the singer/producer's 3rd cycle in a row. Carson Daly will return as host.
All of you hoping Adam and Blake would take a break this coming season. Nope. I think you'll have to pry them both from their big red swivel chairs in order for that to happen. Neither seem willing to take a breather.
All four team members released statements to Buzzfeed:
"I'm coming back and I'm so excited! I cant believe I get to return to The Voice. It's so inspiring to be around such incredible talent and music. I'm looking forward to working again with Adam, Blake, and Pharrell. I love those guys," – Gwen Stefani
"I can't believe we're already on the ninth season. Time after time, coming back, it honestly feels like the first day of school. It's become a second family for me and I'm always so excited to come back to it," – Adam Levine
"Adam, Gwen, Pharrell and I had a blast together in Season 7 and I'm excited we're back together again. They are all so talented but I'm pretty damn excited about another winning season for Team Blake." – Blake Shelton
"I am grateful to have a role on the show amongst such an incredible grouping of great people. Looking forward to another season of talented artists." – Pharrell Williams
Pharrell Williams is the latest winning coach, having just emerged triumphant from season 8, via 16 year old singer/songwriter, Sawyer Fredericks.
Via Buzzfeed