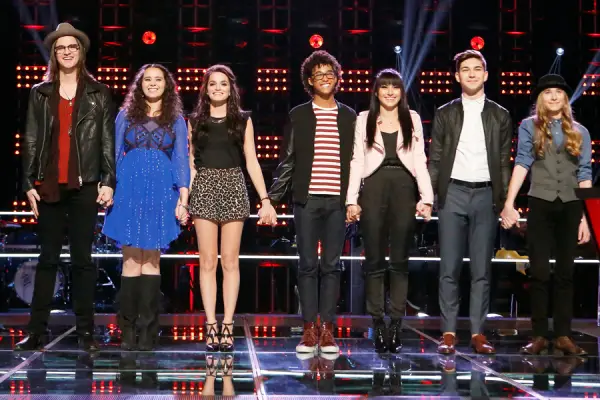 The Voice 8 knockout rounds begin tonight! We'll be live blogging beginning at 8/7c PM. Songs are beginning to appear on iTunes, and I'll be posting them here.
In the meantime, some spoilery stuff. You know how it was announced last week that The Knockouts would feature Trios for the first time ever? On Idolforums, there is chatter that Team Pharrell member, Anthony Riley is gone from the competition and the reason why singers are tripling up.
You'll notice that he's missing from the official group photo above. He was also absent from the Matt McAndrew/Chris Jamison Video Q&A. Rumor has it that he refused to be paired up with Mia Z, but I have NO idea if that's true or not.
Also on Idolforums, there is a list of pairings and results, including steals. Click to read. Again…I have NO IDEA if these are accurate, but they match up with today's song spoilers. We'll find out tonight. The list has Mia vs Sawyer vs Paul as a trio from Team Pharrell. Also, the Hannah vs Caitlin outcome is reversed. The op corrected it later.
Lots to discuss! More will be revealed tonight! Here are the songs. Only the winners of the Knockout and Steals will have their songs available on iTunes.
Team Christina
Koryn Hawthorn – Try – iTunes
Kimberly Nichole – If You Love Somebody Set Them Free – iTunes
Sonic – A Woman's Worth – iTunes
Team Adam
Nathan Hermida – Leave Your Lover – iTunes
Team Blake
Brian Johnson – Nothing Ever Hurt You Like You – iTunes
Sarah Potenza – Wasted Love – iTunes
Meghan Linsey – Natural Woman – iTunes
Team Pharrell 
Mia Z – Hold On I'm Coming – iTunes
Sawyer Fredericks – Collide – iTunes