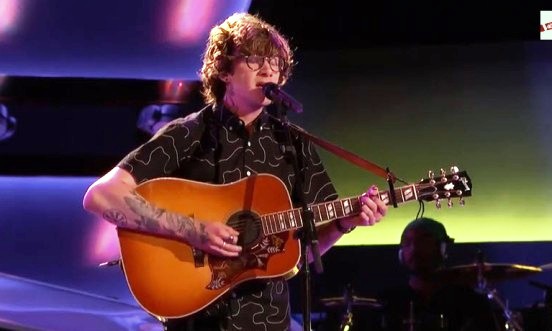 Tonight, it's the LAST NIGHT of The Voice 7 Blind Auditions! Watch this preview of singer, Matt McAndrew, performing a cover of Christina Perri's "A Thousand Years."
His performance moved Adam Levine, Pharrell and Blake Shelton to turn their chairs.
"I was really moved by what you did," said Adam. "It stopped being a show, and just turned into something I was thoroughly enjoying."  He added, "There's something about you that's really spectacular."
"Even when you voice is soft," remarked Blake, "It's still really intense. You got me!"
You have this tone where, you can just sing full voice," said Pharrell. "It's up in a place where I would have to go falsetto."
"I've been waiting for a voice like this." Pharrell added. "We'll pick the songs that you want to do."
At that point…the boys battled it out for Matt! Which coach will be the most convincing? You'll have to tune in tonight at 8/7c PM on NBC to find out! Kelly will be live blogging. Join us right here.