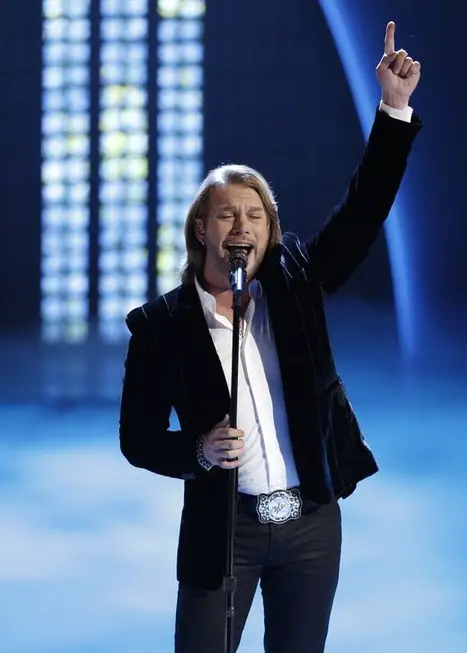 The Voice 7 Poll – Top 5 – Vote For Your Favorites!
The Voice coaches are actually really terrible liars. Blake Shelton telling a contestant (Taylor) he has amazing range, when the performance actually proved the opposite is ridiculous. I'm not saying the coaches need to be super harsh. But when they straight up call a performance fantastic/award show worthy/superstar level, when it clearly was NOT, nobody looks good.
However, there were definitely some praiseworthy performances tonight. Chris Jamison came out and showed fans what he was made of by bringing IT when it counted. His set–the upbeat "Sugar" and emotional ballad, "When I Was Your Man," showed off an incredible falsetto and beautiful phrasing. Yeah, he's still a little green, but the potential to be a viable pop star is real.
Matt McAndrew delivered a solid, emotional vocal on "I Still Haven't Found What I'm Looking For," but the arrangement was so close to the original, that it came perilously close to a Bono impersonation. He fared much better with "Make it Rain," delivering a gritty, angsty performance.
Craig Wayne Boyd pulled out the God card at just the right time. I didn't connect to the old-time hymn "Old Rugged Cross" but I bet there were a slew of Christian viewers who did. In fact, at 12:27am, the song is charting highest at #6. His interpretation of Blake's choice, Merle Haggard's "Working Man's Blues," was way too Las Vegas cheese for me.
Damien delivered a tender, restrained version of Michael Jackson's "She's Out of My Life." Unfortunately, his personal choice, "I Don't Want to Wait" aka the theme to Dawson's Creek, was a real head scratcher. No. Adding afro drums to the backing track did not help. Uncharacteristically, Damien hit some real clunkers–his voice cracking at one point. It was his worst performance to date.
I thought Taylor John Williams had a lock on the Top 3, but I'm not so sure anymore. Taylor had the worst night of his The Voice run.  The Gwen pick, "Falling Slowly" really exposed the weakness in his vocal. He could not transition between notes properly, and his falsetto was mostly out of tune. I figured he'd catch up with his flip of Taylor Swift's "Blank Space."  Taylor is so good at the song flip! But no. The singer looked uncomfortable on stage, his vocals out of tune and breathy. The band really overpowered him and that arrangement was monotonous. Taylor has people. But can they save him this week?
Oddly, Adam gave Chris the "It doesn't matter if you leave…you're still a winner," consolation prize speech. But he HAD to know how good "When I Was Your Man" was going to be. Now I'm thinking Adam's remarks were all about giving Chris a redemption arc. Not that he needed one, because "Sugar" was fabulous. But initially, I figured he was throwing Chris under the bus. Now I'm not so sure.
So that's ME. Now it's time for YOU to VOTE for your favorite performance and contestants. Plus, who do YOU Think will be eliminated this week? But first  Read Kelly's Recap and Watch the Performance Videos!
Remember, the 9 contestants eliminated will compete for a spot in next week's finale!
VOTE IN THE POLLS!
Favorite Performance
Favorite Contestant
Who Should Go Home?
Who WILL Go Home?