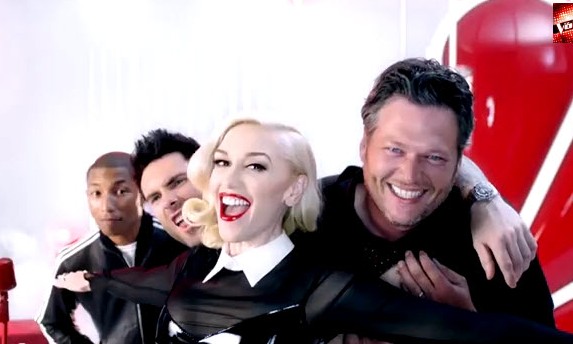 The first The Voice 7 preview is here! And it features new coaches, Pharrell and Gwen Stefani clowning around with veterans, Blake Shelton and Adam Levine to the beat of Gwen's "Hollaback Girl."
The new panel convenes when the new season of The Voice premieres on NBC, Monday, September 22 at 8/7c pm.
ETA: I totally forgot that Gwen and Pharrell wrote "Hollaback Girl." In fact, they already performed the song together on The Voice. Here's their performance during Spring's Top 8 live performance show. Gwen was also a guest vocalist on Pharrell's track, "Can I Have It Like That" from his first solo album, and Pharrell appeared on "Yummy" from Gwen's Sweet Escape.