The Voice 6 Top 8 perform tonight for your votes!
It's Monday again, which means tonight the top 8 go head to head for a spot in next weeks show. This week, FOUR people will be singing for the instant save, but only one will receive it and advance to next week's top 5 performance show. With so many contestants being at risk of elimination this week, one show stopping performance could change everything and maybe even send a frontrunner home. Tonight could get tense people. Join me here at 8 to see how it all goes down.
Here we go, The Voice begins…… NOW!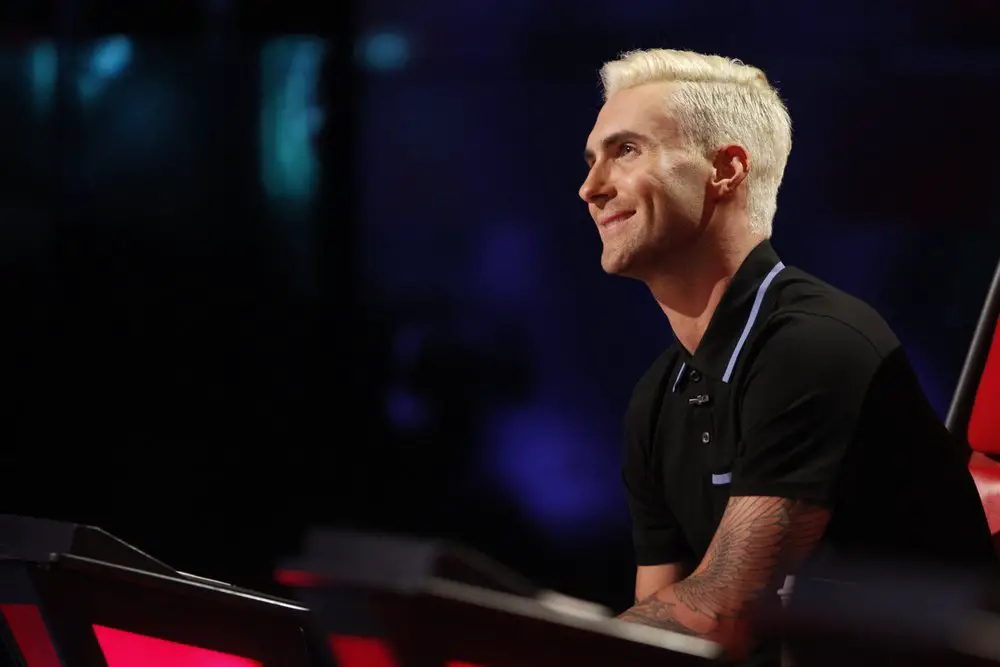 Carson introduces the coaches (what the bloody hell happened to Adam's hair!?!?!?) and announces that Shakira will be performing tomorrow. Carson asks Adam whats up with the new blond hair and he says he had a day off and was bored. Adam adds that he wanted to look like Shakira. Um….. ok then, moving on…
Gwen Sebastian is helping Team Blake this week!
First up-
Sisaundra Lewis– She sees Delvin as a brother and her mother is coming to see her perform tonight! She is performing River deep Mountain High by Ike and Tina Turner. She performed this song with Celine Dion as a background singer and quickly clicked with Gwen! Uh oh, performing first this week is never a good sign, just ask Kat. Regardless, not my favorite cover of this song, but Sisaundra handles it with strength and hits all her notes. The glory note was epic though! I'm sadly predicting that Sisaundra will be in the bottom 4 this week, as I just don't see this song selling well to the large portion of The Voice's audience. Sisaundra starts crying when Usher says she did an incredible job. Shakira applauds her consistency and Blake loves that her mother is here to support her.  – Download from iTunes  1-855-VOICE-01/1-855-864-2301 – SMS Text 1 to 8642 –
Josh Kaufman, singing I Cant Make You Love Me, by Bonnie Raitt. – Usher brings him to the studio where past singers recorded We Are The World. Ugh, Usher gave him this song, but Josh does sound really good in his rehearsal. Wait, does Usher not get a special mentor this week? Guess not. Josh does what he can with the song and does pull off a pretty emotional vocal. I like this, but he needs better performances if he wants to win, because now, the furthest I see him going is 2nd place. With a song like this, he has n0 chance of beating Christina Grimmie. He does have this thing where he draws you into the performance and makes you feel what he feels. He reminds me of Will Champlin! I predict he will absolutely be safe this week though. Shakira congratulates him on pulling it off. Adam says something but I can't hear what he says because I am SO distracted by his weird hair! Usher thought this was his best performance of the season. – Download from iTunes  1-855-VOICE-02/1-855-864-2302 – SMS Text 2 to 8642 –
Next, Blake performs his new song "My Eyes."
Blake performs My Eyes with Gwen Sebastian– Oh, this is why Gwen is here this week. This duet is not my favorite kind of music, but this was ok– a little sleepy.
James Valentine was brought in to help out Team Adam! He is a Maroon 5 member,
Kat Perkins singing Get Lucky, by Daft Punk. – Kat wants to have a breakout moment so she can stick around and maybe even win. She hopes she can beat the instant save curse. Kat actually picked this song! Her main concern is not to scream and hold it back until the end when she can let loose. Wow, she totally rearranged this song, so points for her there! She turned a classic pop song into a hard rock version that actually made the strange lyrics oddly dark. I feel like this interpretation was brilliant!!!!! Kat took a song and gave it such a dark spin, it was genius! I'm so intrigued by her! Shakira thought she killed it. Adam gave her a standing ovation and thinks she gave an incredibly unique performance. I am seeing some mixed reception though so we will have to see how tomorrow plays out for her. This was definitely a polarizing performance.  – Download from iTunes  1-855-VOICE-03/1-855-864-2303 – SMS Text 3 to 8642 –
Kristen Merlin singing I Drive Your Truck, by Lee Brice– Kristen is Shakira's last artist. Shakira thought it wasn't great in rehearsals and gave Kristen some notes to keep the viewer more engaged. This is a gorgeous song! Is it just me, or is she struggling? There are some flat moments in the mix, but the overall delivery is really pretty. I think the band was overpowering her at some points, I had trouble hearing some parts, but it was still good nonetheless. Blake is a believer of her and thinks Adam copied her hair. Shakira felt it and says Kristen moved her. – Download from iTunes  1-855-VOICE-04/1-855-864-2304 – SMS Text 4 to 8642 –
Pharrell performs next! He performs Come Get it Bae and its….. interesting. Moving on.
Delvin Choice singing I Believe I Can Fly, by R. Kelly – LOLOLOL Carson says this song is a perfect fit. Really now Carson? Delvin sounds fine in rehearsals, but i just CAAANT with this song. Delvin tears up in rehearsals and says he finally believes in himself. I think we will be saying goodbye to Delvin tomorrow and it will be all because of this song. There is nothing Delvin can do, this song is the cheesiest of all cheese. Adam stands up for him. Blake is excited for how pumped up Delvin gets. Adam is happy for what Delvin accomplished. – Download from iTunes  1-855-VOICE-05/1-855-864-2305 – SMS Text 5 to 8642 –
Audra McLaughlin singing Forgive, by Rebecca Lyn. – Blake feels like week after week he is learning more about Audra and thinks Forgive is the best song for her. He does caution her about working on enunciating words. This is a smart move by Audra. Her fanbase will eat this performance up. Her performances are always consistently perfect. She soars on the big notes and sounds amazing. My one word of caution is that every performance has been kinda the same. I suggest next week, if she is hopefully still here, that she try switching it up. – Download from iTunes  1-855-VOICE-06/1-855-864-2306 – SMS Text 6 to 8642 –
Next, Gwen Stefani performs! Gwen performs Hollaback Girl and she does…. something. Any song that has the word "bananas" in it shouldn't be. Pharrell joins her on stage to finish the song with her. Can we vote to send her home?
Jake Worthington singing Hillbilly Deluxe, by Brooks and Dunn – Jake is next and is feeling a little under the weather with allergies. I have allergies also, so I feel ya man. Jake wants to show us his redneck side and in rehearsals, Blake thinks this was his best performance. This could be just about every other performance of Jake's. He does his usual thing and the crowd is going crazy for him. This is going to get him so many votes. Shakira loved Jake's aggressive side. I don't know where he will place tomorrow. It could go either way with him. – Download from iTunes  1-855-VOICE-07/1-855-864-2307 – SMS Text 7 to 8642 –
Christina Grimmie singing How to Love, by Lil Wayne – Christina is gutted by last week's eliminations. Christina is a little reluctant about doing another rappers song, but she really wants to top last week. This performance solidified my belief that not only will Christina win, but she will compete with Cassadee Pope for the most popular winner. This performance is genius. Her glory note is spot on and she shows her star potential. She looks like a perfected star ready to take on the world. Shakira thinks she showed her artistry. Adam thanks Christina for having the ability to take a song and make it original. – Download from iTunes  1-855-VOICE-08/1-855-864-2308 – SMS Text 8 to 8642 –
And with that we are out! Thank you for joining me tonight! You can always follow me @adamhsamuel. Goodnight guys!
Grade Per Performance-
Sisaundra- B
Josh- A-
Kat- B+/C- I liked it, I don't think the rest of America will though. It was too polarizing
Kristen- B
Delvin- C
Audra- B+
Jake- B-
Christina- A-
Who Should be the bottom 4- Delvin, Jake, Sisaundra and Kat
Who will be the bottom 4- Delvin, Audra, Sisaundra and Kat
Who should be instant saved- Sisaundra
Who will be instant saved- Audra/Jake