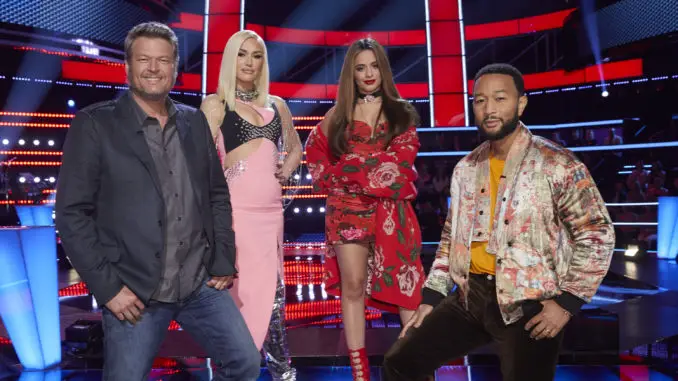 The Voice season 22 LIVE SHOWS begin on November 14 with the playoffs. On Tuesday (Nov 15) three artists will be eliminated. But more on that in a bit. First YOUR POLL RESULTS.
Each coach has at least one strong singer with the talent to advance to the finale
Coaches Blake Shelton, Gwen Stefani, John Legend and Camila Cabello all have at least one strong singer who could advance all the way to the finale. In the Favorite Artist poll, each coach is represented in the Top 4, and the percentages are fairly close. Kique Gomez from Team Gwen is first, Kim Cruse from Team Legend is second, Brodie from Team Blake is third and Morgan Myles from Team Camila is fourth. 
Those four artists also top their respective team polls. While Bodie, Kique, and Morgan dominate their teams percentage-wise, Team Legend's percentages are spread out. Those poll results illustrate the strength of John's team. Indeed, Team Legend tops the Best Team poll. 
The most underrated singer in the Top 16 is…
As far as contestants who polled at the bottom of the Favorite artist poll: Eric Who was montaged TWICE. He's at a distinct disadvantage. Alyssa Witrado is a weak singer who has captured coach Gwen's heart as her "mini-me." Also, her team member Justin Aaron is a solid singer, but generic. (I had to think for a minute to recall him). Gwen stole Kevin Hawkins from Blake. Considering the show promoted him hard before the premiere, it's interesting to see Kevin polling so low. Gwen stole Sasha Hurtado from Camile in the Battles and then John stole her in Knockouts. She might be the most underrated singer in the Top 16. 
The Voice Top 16 Playoffs format
The Top 16 perform on Monday. AMERICA VOTES via NBC.com/Vote and/or The Voice App. On Tuesday, it's the typical Playoffs format: America advances two singers from each team. Each coach saves an artist. That adds up to 12 singers in total. The remaining four singers will perform for the save. America will Instant Vote and the winner will round out the Top 13. 
Favorite Top 16 Artist
Kique Gomez – Team Gwen – 14.24%
Kim Cruse – Team Legend – 13.91%
Bodie – Team Blake – 11.59%
Morgan Myles – Team Camila – 11.26%
Brayden Lape – Team Blake – 9.93%
Bryce Leatherwood  – Team Blake – 9.27%
Parijita Bastola – Team Legend – 7.28%
Rowan Grace – Team Blake – 3.64%
Kate Kalvach – Team Camila – 3.64%
Devix – Team Camila – 3.64%
Omar Cardona – Team Legend – 3.31%
Sasha Hurtado – Team Legend – 2.98%
Eric Who – Team Camila – 1.66%
Justin Aaron – Team Gwen -1.66%
Alyssa Witrado – Team Gwen – 1.32%
Kevin Hawkins – Team Gwen – 0.66%
Favorite Artist Team Blake
Bodie  – 48.18%
Brayden Lape  – 20.00%
Rowan Grace – 18.18%
Bryce Leatherwood  -13.64%
Favorite Artist Team Gwen
Kique Gomez – 65.05%
Alyssa Witrado  – 19.42%
Justin Aaron  – 10.19%
Kevin Hawkins – 5.34%
Favorite Artist Team Legend
Kim Cruse  – 35.38%
Parijita Bastola  – 33.49%
Sasha Hurtado – 17.45%
Omar Cardona  – 13.68%
Favorite Artist Team Camila
Morgan Myles – 50.75%
Devix  – 21.89%
Kate Kalvach – 18.91%
Eric Who – 8.46%
Best Team
Team Legend – 37.80%
Team Blake – 31.10%
Team Gwen – 18.66%
Team Camila – 12.44%
Grade The Season After the Knockouts
B – 57.86%
A – 23.57%
C – 15.00%
D – 2.86%
F – 0.71%