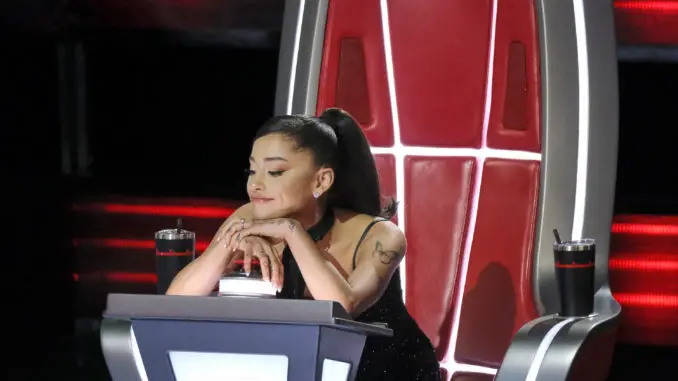 The Voice season 21 kicked off with a four hour two night premiere week. With new coach Ariana Grande joining the panel, both episodes revolved around introducing her to fans.
A couple of takeaways: As several people from the show have said in interviews, Ariana is a very technical singer. It's obvious she cares about precision and intention. She's a vocalist who does not waste a note. From that perspective, she could be a very helpful coach, especially to some of the younger singers. Because, even if a vocalist isn't some massive belter, good technique is important.
For instance, there were some singers who would be GREAT if they weren't so sloppy. Indie/pop singer Chavon Rogers from her team comes to mind. She really could elevate his game. 
So far the neverending comedy bits from the coaches panel involve Kelly Clarkson and Blake Shelton fake fighting, Blake and Ariana ribbing each other, John Legend and Ariana fighting for artists by blocking each other. And ALL the coaches fearing Ariana. I wonder if the producers sit around a table, like a writers room, and map out story arcs with the coaches? The bits feel like that. For instance, sometimes Kelly laughs too loud and too long at things that aren't, well, REALLY THAT FUNNY. It's the broadest of situation comedy emanating from that table,
As far as talent. I'm not jumping out of my seat yet. I thought season 19 and 20 were pretty great. I haven't seen any singer yet that has blown my mind. Yet! Gymani is a wonderful interpreter of songs. She picked Team Kelly, and that WAS a surprise. But Kelly said it. Gymani's strength is picking great songs to cover and making them her own. Kelly is pretty damn good at that too. The two can go crazy strategizing together. 
Wendy Moton, the super pro singer is impressive. She could mentor a few of those artists and do a great job. I suspect that Blake will advance her and advance her until he can't advance her any more. Or maybe he'll give up at the Playoffs. But once the voting rounds begin, she'll be gone. Older female contestants don't last on this show. Heck, even the 50 something country singer Pete Mroz was toast when voters didn't advance him. But I bet Wendy understands the challenges and is only on the show for the exposure. She probably chose Blake as her coach because he'll be her Nashville connection down the road. 
A couple of other mentions: Girl Named Tom sing with beautiful harmonies. Samuel Harness, who reminds me of Chris Daughtry, is a charismatic singer. Jack Rogan, has a nice tone, but is missing connection to the music.
So what do you think? Vote in our POLLS
POLLS VOTE VOTE VOTE FOR YOUR FAVORITES
The Voice 21: Premiere Week Favorite Performances (Pick 3)
The Voice 21: Premiere Week Favorite Team SO FAR
The Voice 21: Ariana Grande Yay or Nay?
Grade Premiere Week