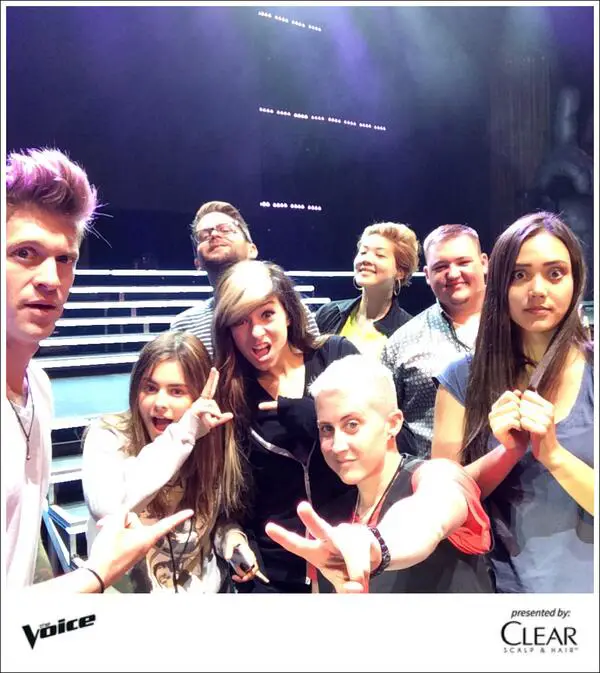 The Voice tour began last (6/22) night in San Antonio TX.
Josh Kaufman, Jake Worthington, Christina Grimmie, Kristen Merlin (Season 6 Top 4 respectively) Jake Barker (A season 6 favorite), Tessanne Chin, Jacquie Lee and Will Champlin (Season 5 Top 3, respectively) and Dia Frampton, the Season 1 runner up will be touring across North America this summer!
There will also be special guests in some cities. Last night featured Austin Jenkes from Season 5!
According to tweeters, the show was about 2 1/2 hours. It featured clips of the coaches, A "blind audition" bit with the audience, and many of your favorites performed by the cast, who sing backup for each other.
I'll be attending on July 3 and hopefully will come back with lots of video.
Thanks to Jenny (@Jenmusicme1) and Robin (@RobinInSA)
Here's a partial set list, not in order, with a few videos:
Group Number – "Don't Stop Believing", "Forget You", "We Found Love/Pompeii"
Finale – "Happy" (The cast tossed out big red balls)
Josh Kaufman – "Stay with Me", "Signed Sealed and Delivered"
Josh Kaufman and "virtual" Usher – "Every Breath You Take"
Josh Kaufman and Tessanne Chin – "Stay with Me"
Tessanne Chin – "Everything Reminds Me of You" (New Single), "Unconditional"
Christina Grimmie – "Wrecking Ball", "Hold On We're Going Home"
Christina Grimmie and Will Champlin – "Say Something"
Will Champlin – "Eye of the Pyramid"
Will Champlin with the Guys – "Radioactive"
Jake Worthington – "Heaven"
Kristen Merlin and Jake Worthington – "Gone"
Jacquie Lee – "I Put a Spell on You", "Broken Ones"
Dia Frampton, Christina Grimmie, Jacquie Lee – "Team"
Dia Frampton – "Heartless" and "I Need You"