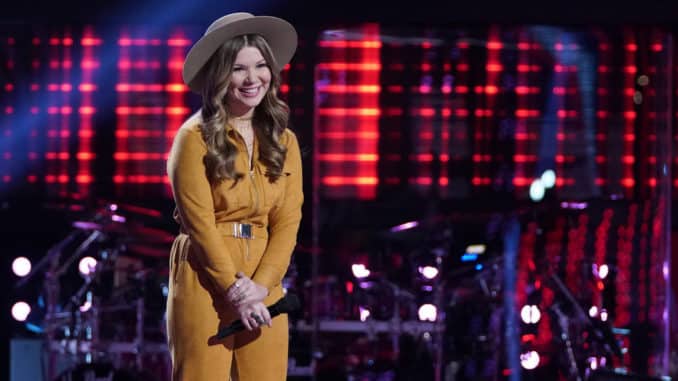 The Voice 20 Blind Auditions: Rachel Mac Loves Blake Shelton but is Team Nick
During her Blind Audition on Monday (March 15), 15 year old Rachel Mac from Romeo, Michigan described her dad as being the reason why she got into music. Her parents divorced when she was young. And although she lives with her dad, she stresses that her mom is great. Dad's second wife, Rachel's stepmother, left the family home where they raised 3 kids. In her video package, Rachel's dad explained that he was devastated, but Rachel helped him so much. Music was Rachel's biggest outlet. Because dad is a worship leader, the two sang worship music together. Additionally, Rachel is in a marching band, involved with theater and writes many songs about overcoming.
Rachel sings "Let Him Fly" by Patty Griffin. She described how the song is just slightly country. Her tone is gorgeous with a kind of cool vibrato. Her tone is a bit like Addison Agen's in how she really draws that vibrato out. I think Rachel's voice isn't quite as rich, but it has a bit more twang. Her high notes, while emotive, could have used a bit better control. I think Rachel has a lot of potential and deserved more than a single chair turn. Rachel is on Team Nick as Coach Nick Jonas was the only one who turned.
After the coaches turn their chairs, Rachel confesses, "I'm sorry Nick, but I love Blake." To illustrate the level of her Blake Shelton stanning, Rachel describes a presentation she created about him in grade school. The actual project flashes up on screen! Rachel is so starstruck, she can't stop gushing. Nick laughed, "you screwed up." Blake joked, "if she did her research about me, she knows I screw up a lot."
Blake said he hopes Nick screws up, so he can steal her. John Legend didn't turn because he felt that her "vibrato needs to be toned down a hair." Nick can tell she had worked in theater and notes the vibrato and storytelling that she needs to continue working on. He believes that she's got it; it just isn't there yet. Nick joked about the presentation and said he's currently making a presentation about all the things he likes about Blake.
Rachel says she considers herself as a "Jonas sister" now. I wasn't too far off with the Addison Agen comparison; she covered Tennessee Rain by Addison HERE.  I'm obsessed with Rachel. She might just be my favorite of this entire season. I love this cover of Lady Gaga's Always Remember Us This Way HERE.  Rachel's Instagram.
The Voice 20 Blind Audition: Rachel Mac sings "Let Him Fly" by Patty Griffin