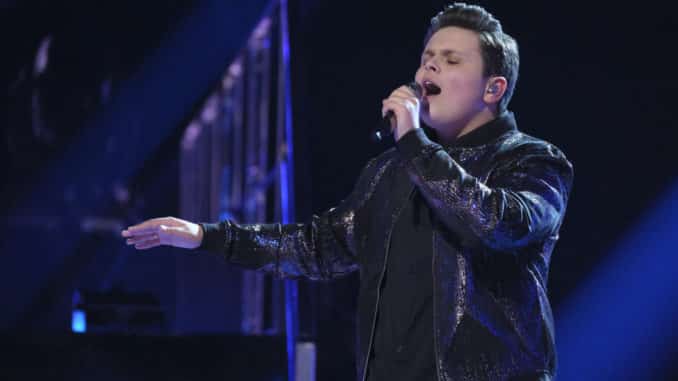 Tonight, on The Voice season 19 LIVE SHOW, the Top 5 contestants sing for your votes and the WIN. Each team is represented in the final, including Team Blake Shelton, Team Kelly Clarkson, Team John Legend and Team Gwen Stefani. Carson Daly hosts. 
After the Top 5 contestants perform, fans can vote for their favorite to win the crown. 
How Do I Vote on The Voice 19? Everything You Need to Know
The Voice Season 19 Top 5 Song Spoilers (Youtube Streams!)
The Voice 19: Ranking the Top 5 Finalists – Do You Agree?
Tonight, Blake and Gwen will sing their duet "Happy Anywhere." Each finalist will sing two songs, a cover and an original song. 
Carter Rubin – The Climb by Miley Cyrus – Team Gwen Stefani – Carter thinks the song pick is perfect for him. His mom thanks Gwen for bringing him so far in the competition. Stage smoke and strings serve as backdrop for Carter's performance. This is the perfect finale song. But he's not closing the show. He's opening it. As usual, Carter's high clear voice soars on the big notes. Kudos to him for avoiding a Peter Brady moment these past three weeks. The fake clouds and building behind him are kind of weird. I hope set builders and real sets are brought back after the pandemic is over. Blake mentions how tough the year has been. He praises Carter's heart and talent (On Late Night, Blake basically said that Carter deserved to win). Gwen says, "You're meant to do this…so special, gifted and natural.
Desz – Holy Ground by Desz (Stefan Litrownik, Jeffrey Goldford, Ashley Levy) – Team Kelly Clarkson – Jason Tranter, who produced the song, sits with Desz and Kelly. He wrote Kelly's "Nostalgic." He suggests that Desz get "even more intimate" on the bridge. It's a pop R&b song with a gospel feel. I don't love this song, but it does give Desz plenty of room to show off her voice. Oh noes, the stage smoke is swallowing Desz up. It finally clears. Hm. After the performance, Desz looks upset. Not emotional upset, but angry upset, like she isn't happy with her performance. Carson asks if she's OK. John loves the song choice. He feels we know who she is as an artist. Kelly says, "I needed that song." She's crying! "You did such a beautiful thing…everybody needs that message right now." He calls her the best vocalist she's ever worked with on the show. Wow. They are both crying.
Ian Flanigan – In Color by Jamey Johnson – Team Blake Shelton – Ian considers himself a songwriter, not a singer. Interesting. But he didn't write his single tonight… Ian's approach to the son is to deliver the message authentically. Blake advises: "Sing as if you wrote it." I have to admit, I initially didn't like his voice at all, but it's grown on me. It's not a strong voice, which is a problem in a singing competition. But he does come across as real. I believe what he's singing. And actually, I do appreciate his subtly. John appreciates the distinct character in his voice. "I love your story," says John. Ian travels around in a van to gigs with his family. Blake's not sure if Ian is from the past or the future. "It's iconic sounding," says Blake.
Jim Ranger – Last by Jim Ranger (Tom Douglas, John Pierce, Ben Carver) – Team Blake Shelton – Ross Copperman produced the track. He's produced a couple of Blake's singles. Blake says to make sure the lyrics hits the audience in the face. Jim has been married for 18 years! Ross compliments Jim's range. I mentioned in my power list that Jim has better stage presence than Ian. He's more of a showman. But I believe Ian more. The thing about these original songs–they are typically songs that couldn't be sold to bigger stars, or a leftover from an album. This song sounds like a knockoff of other country songs. Jim's delivery of the song is solid. Vocally, he builds slowly and then ends on a quiet note. Gwen compliments his "beautiful" voice and his understatement. John thinks his heart comes through everything he sings. Blake compares Jim to country singer John Barry. He believes there is a place for Jim on country radio. 
John Holiday – Where Do We Go by John Holiday (Emily Falvey, Robin Stjernberg, Michael Whitworth) – Team John Legend – John Tranter also produced John's record. He chose the song because of his fan base. He suggests that John pull back a little, so fans can connect to his high notes. This is a decent song. I don't love the way John sings it, however. He hits those high notes as if they were slightly out of reach. The upper reaches of his voice are…not pleasant. While Ian has grown on me somewhat, John's voice still gets on my nerves. Kelly is impressed with how he handled the verse. "There was nowhere to breathe!" John calls him versatile, and magical. 
Desz – Landslide by Fleetwood Mac – Team Kelly Clarkson – Desz admits she didn't expect a chair turn at her audition. She got 4. En Vogue tweeted a bunch of compliments after she covered their song. Oh. Desz chose Landslide. The choice took Kelly aback. It's a terrific song pick–unexpected and lovely. This song is CLASSIC, a real crowd pleaser. Desz better get ready for that tweet from Stevie Nicks that is surely coming. She's the best singer left in the competition. I'm rooting for her. Gwen is "so happy for Stevie right now." What I'm saying. "So tasteful, very emotional," says Gwen. Kelly thinks she can do things that other vocalists, including herself, can't do. 
Now, Blake Shelton and Gwen Stefani sing their country hit "Happy Anywhere." It's her first No 1 on the country charts! The performance, obviously taped at another time and location. 
Ian Flanigan – Never Learn by Ian Flanigan (Jon Mark Nite, Ross Copperman, Richard Chase McGill) – Team Blake Shelton – Writer Ross Copperman also produced the track and is on hand to help. Ross reveals he cried the first time he heard Ian sing. Ian played guitar on the track, Ross looped one of his licks. Blake pledges to hug Ian as soon as the pandemic is over.  It's a beautiful, understated performance from Ian. The song has a gorgeous melody and relatable lyrics. John loves the song pick, and relates to it as a parent. Blake calls his voice majestic and larger than life. 
Desz and Ian are finished for the night, which doesn't help their chances of winning. There are three more performances to go from John, Carter and Jim.
John Holiday – Halo by Beyonce – Team John Legend – Ha ha ha. Halo is Kelly's favorite song NOT. Also, remember when John blocked Kelly? John sang operatically in his audition, but has never gone back there. John the coach thinks the song allows the artist to show off his range, and operatic flourishes. Chrissy calls in to say Hi. Oh look. MORE ROCKS. But John isn't standing on them. The song certainly takes the singer from lowest notes to the very highest. Putting aside his prodigious musicality, he still sounds nasally and forced. Kelly admires that he likes a challenge. "Your range is stupid incredible." John says, "There's no one like you…you put your heart out there every week."
Carter Rubin – Up from Here by Carter Rubin (Justin Stein, Andreas Moe, David Björk) – Team Gwen Stefani – Justin Tranter produces AGAIN. He's also worked with Gwen.  Gwen admires Carter's intuition. The explanation he gives for choosing the song is…very mature. Justin feels there is still something missing from the song, but is satisfied in the end. This song is…just OK. Overall, the original songs are mediocre. Carter delivers the song with excellent phrasing, nice use of his head voice. He hits some big notes. This kid knows what the heck he's doing. He's not imitative. Fully baked, this child. Gwen is so proud. She compliments his calm and mature demeanor. 
Jim gests the pimp spot with a beloved classic. This should hit The Voice's boomer fans right in the feels. 
Jim Ranger – With a Little Help From My Friends by The Beatles – Team Blake Shelton – Blake had to save Jim, while Ian moved on. But by now, the tables have turned, I think. Jim tearfully admits that he wants to win for his family. Blake reminds him that fans love his explosive vocals. Don't hold back, he advises. The pastor and father of 3 ends the night with a rousing performance. He actually sounds a lot like Joe Cocker, who covered the song–but less gravelly and with a bigger range. I was sure Carter was going to win. But now….hm….Blake winning with another big voiced preacher? Not out of the question. Not at all. I'll be disappointed. I think Carter and Desz are better, more interesting vocalists. But The Voice fans love country artists. Kelly calls it his best performance on the show. "Way to live your best finale life." Early in the season, Jim asked Blake to keep him from oversinging. But then they both discovered, that singing show fans LOVE OVERSINGING. Who'da thunk it…