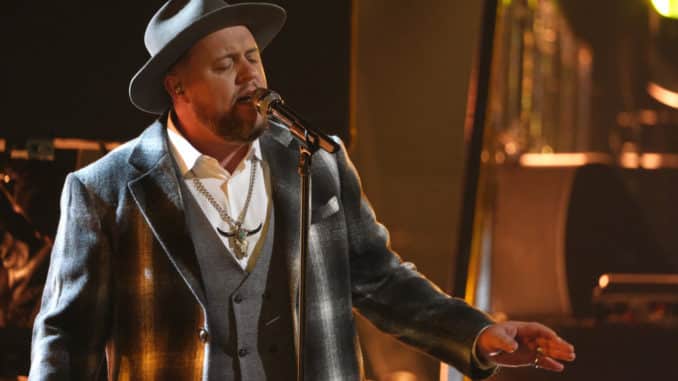 On tonight's (Dec 8) The Voice season 19 finale a winner will be crowned. Will it be Carter Rubin from Team Gwen Stefani, John Holiday from Team John Legend, Desz from Team Kelly Clarkson, Ian Flanigan or Jim Ranger from Team Blake Shelton? Make your predictions below. 
I will make a prediction here, but I am not entirely confident. My gut tells me that Jim Ranger will win The Voice. But I'd be more sure of that choice if he had been the front runner for longer than a week or two. Jim had to be saved by Blake at the Playoffs, while Ian Flanigan got the highest number of votes. Carter Rubin has been a favorite all season. 
But it is possible to come from behind. Jim had two strong weeks of performances. Who knew that yelling a song (Without You) while standing on top of a fake rock would be a popular thing? Performing a fan favorite oldie (A Little Help from my Friends) in the pimp spot last night may have put him over the top.  
Ian, Jim's main competition on Team Blake, delivers performances that are too subtle to make a huge impact. Carter didn't perform at his personal best last night–saddled with a weak original song. Maybe if he'd performed "The Climb" last it would have helped? 
Having said all that, if Carter wins, I won't be entirely surprised. Or unhappy. I voted for Desz, but I don't think she has a chance. Last night was also not her strongest night. Ditto John Holiday. I think Desz will edge him out. I also threw young Carter a few votes. Team Blake won last season with a country artist. Let's give it a rest. 
Now, on to the Poll Results and Predictions!
The Voice 19 Top 5 Finale POLLS: VOTE for Your Favorites
The Voice 19 Recap: The Top 5 Live Final Performances (Video)
PREDICTION: 5. John Holiday 4. Desz 3. Ian Flanigan 2. Carter Rubin WINNER: Jim Ranger.
Favorite Top 5 Performance
Carter Rubin – The Climb by Miley Cyrus 25.53%
Jim Ranger – With a Little Help From My Friends by The Beatles 23.84%
Desz – Landslide by Fleetwood Mac 18.99%
Desz – Holy Ground by Desz 9.7%
Ian Flanigan – Never Learn by Ian Flanigan 6.96%
Carter Rubin – Up from Here by Carter Rubin 5.7%
Ian Flanigan – In Color by Jamey Johnson 4.22%
Jim Ranger – Last by Jim Ranger 2.95%
John Holiday – Halo by Beyonce 1.9%
John Holiday – Where Do We Go by John Holiday 0.21%
Who WILL win The Voice 19?
Carter Rubin – Team Gwen Stefani 57.41%
Jim Ranger – Team Blake Shelton 20.88%
Desz – Team Kelly Clarkson 14.41%
Ian Flanigan – Team Blake Shelton 7.1%
John Holiday – Team John Legend 0.2%
The SHOULD win The Voice 19?
Carter Rubin – Team Gwen Stefani 42.03%
Desz – Team Kelly Clarkson 32.33%
Jim Ranger – Team Blake Shelton 14.32%
Ian Flanigan – Team Blake Shelton 10.39%
John Holiday – Team John Legend 0.92%
Grade the Episode
B 48.92%
C 26.26%
A 16.55%
D 5.4%
F 2.87%