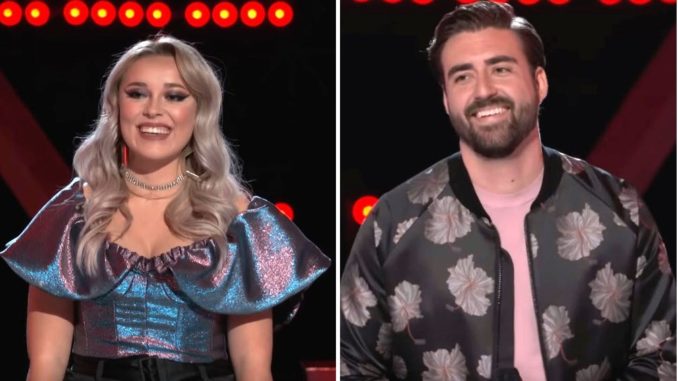 The Voice Battle Rounds will come to an end on Monday (Nov 16), with the remaining pairs fighting for a spot in the Knockouts.
Check out a performance of Chris Isaak's "Wicked Games" by Cami Clune and James Pyle from Team John Legend. The two say they came up with the pretty arrangement, but on the official video below, it's labeled as a version arranged by the Australian indie band, Boy & Bear. Probably producers are heading off a "rip-off" controversy at the pass. Or maybe not. Because internet denizens love to complain!
But in any case, the duo's version impresses all the coaches. Gwen Stefani calls the way the came in on the higher note "shocking" but in the "greatest emotional way." But she'd probably go with James, comparing his voice to the late Jeff Buckley.
Kelly Clarkson calls the performance her favorite battle. If she had to pick somebody she MIGHT "lean more towards Cami" but "y'all are both so good!" she says.
Blake Shelton gushes over the "inventive cover" and believes James deserved a 4 chair turn. John reminds the coaches that he was the only turn for James, because he was the very last contestant. The panel agrees they would have turned for James if they hadn't run out of spots on their teams.
Who will Team Legend choose for his Knockout team? Tune in to NBC on Monday November 16 to find out.
Watch Cami Clune and James Pyle perform Boy & Bear's Cover of Chris Isaak's "Wicked Game"