The Voice Monday March 23 Battle Pairing Spoilers
The Voice
season 18 Blind Auditions finished earlier this week. Now it's time for team members to pair up for epic Battles! Check out song and match spoilers for Monday's (March 23) episode below.For the first time since season one, the teams are comprised of 10 members rather than 12. On one hand, fans may not like the downsizing. But on the other there are several advantages to having smaller teams. 
First, The Voice aired five Blind Audition episodes, which is typical. But 8 fewer contestants meant absolutely NO MONTAGES. Viewers saw every last one chair turn! And there was even room to spare for a couple of no turns in each show. Also, it didn't hurt that Season 17 winner, Jake Hoot from Team Kelly Clarkson was the competition's first true one chair turn winner. It made sense to play those auditions up a little. 
As far as the round's format is concerned, In the upcoming Battles, reportedly each coach gets a save and a steal. The four saves will perform in a four way knockout, and America will choose the winner. 
The Voice Coaches' Celebrity Mentors
But let's not get ahead of ourselves! As always, each coach has brought a celebrity mentor on board to help get their teams ready for battle. Nick Jonas will team up with his brothers Joe Jonas and Kevin Jonas. Kelly Clarkson will join forces with pop star Dua Lipa, John Legend and UK R&B singer Ella Mai will work alongside each other, and Blake Shelton will enlist the help of Bebe Rexha. The crossover country singer served as a "Fifth Coach" on The Voice season 16 digital "Comeback Stage" series in 2019
The spoilery stuff is revealed in the clip below. Check out all the pairings, along with team photos below. 
Team Blake Shelton
Joei Fulco vs Todd Michael Hall – The Best by Tina Turner – Todd Michael is a 50 year old retro rocker, and appears to be very popular with The Voice fans. Joei is also a rock singer, but with a country twang. 
Jamal Corrie vs Levi Watkins – Counting Stars by OneRepublic – Both singers have a pop edge with rock sounding voices, says Blake. Jamal is hoping to take care of his family while working as a musician. Levi is only 14! He plays guitar and mandolin. 
Team Kelly Clarkson
Anaya Cheyenne vs Chelle – Scared to Be Lonely by Martin Garrix ft Dua Lipa – Sixteen year old Anaya moved in with her grandmother at the age of 12 to attend her performing arts school.  Chelle just graduated high school and is currently a pre school teacher. 
Team Nick Jonas
Joanna Serenko vs Roderick Chambers – when the party's over by Billie Eilish. Check out the pair's FULL performance HERE. Joanna was a 4 chair turn, while Nick was the sole coach to hit his button for Roderick. 
Allegra Miles vs Michael Williams – How Will I Know by Whitney Houston. These two are the youngest on Nick's team. Allegra is from the Caribbean Island St John, and in this clip, she talks abut surviving the 2017 hurricane that wiped out the island. Michael has a background in community theater. 
Team John Legend
Mike Jerel vs Zach Day – Adorn by Miguel – Mike, a 4 chair turn, played drums for his grandmother as she performed. Zach was bullied growing up in a small town for being gay.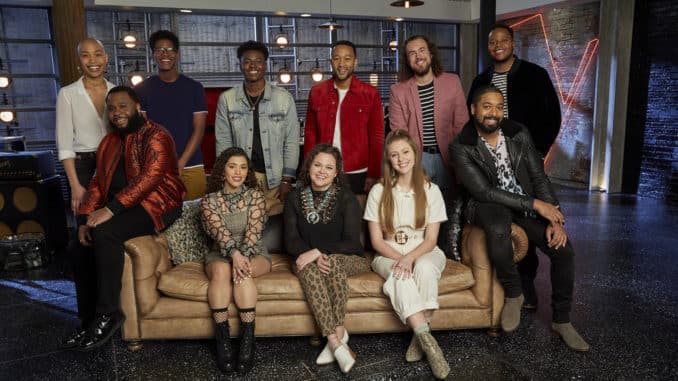 Watch The Battles preview clip below. The Voice airs Monday on NBC at 8 pm ET/PT.