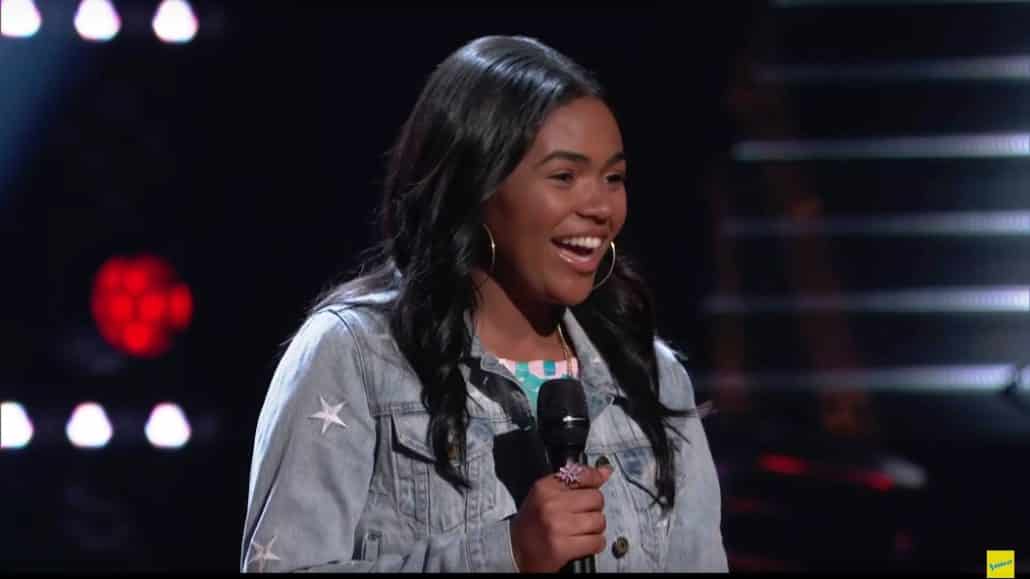 On Monday (Oct 14) the Blind Auditions end and the Battles will begin on The Voice. Competing for one of the remaining spots on the teams is 16 year old Zoe Upkins. Her rendition of Monica's 90s classic, "Angel of Mine" has Kelly Clarkson, John Legend and Blake Shelton hitting their buttons. The coaches are all hoping to round out their teams with impressive talent.
Gwen Stefani explains to the Nashville native that she didn't turn because her team already has similar singers. But she has regrets after learning that Zoe is only 16. "I blew it," she says, "I want a young little princess girl that's from Nashville that sings really awesome like Monica songs." Gwen adds, "I feel so silly right now. But you're so talented."
Kelly reminds Zoe that she's already won the show "a couple of times" with young singers like herself. "I think you could make the finale," Kelly enthuses, "I have one spot, I was really waiting for you." Kelly's pitch sounds pretty good, right?
That is, until John woos Zoe with an impromptu song. "In the words of Monica, John says before he croons. "You need to give it up. I've had about enough. She belongs to me, Zoe is mine…"
"It was nice to meet you Zoe!" says Kelly, already sounding defeated. Blake's pitch that choosing the coach who has been on the show from day one probably didn't help him either. Will Zoe choose John? Find out Monday when The Voice airs on NBC at 8 pm ET/PT.
Watch Zoe Upkins cover Monica's "Angel of Mine" for her The Voice Blind Audition.