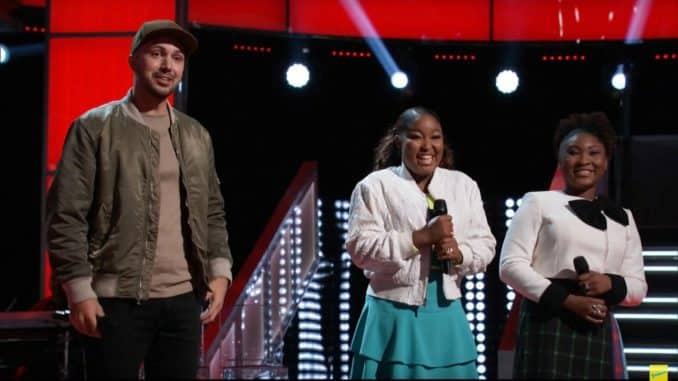 The Voice 17 Knockouts continue with Part 3 on Monday (Nov 4), featuring pop star Taylor Swift as mega-mentor.
In this preview featuring artists from Team Kelly Clarkson, Alex Guthrie performs "I'm Not the Only One" by Sam Smith while tween duo Hello Sunday harmonizes on Ariana Grande's  "Almost Is Never Enough." 
After the singers do their thing–Alex crooning a raspy, soulful performance that he nearly pushes too far, while Hello Sunday brings on the church choir sweetness–the coaches have their say.
Blake Shelton is surprised by Alex's performance, "you had great pocket, I thought it was really good." However, he believes Hello Sunday is real competition. "Every time you get on stage it gets a little better, it gets a little tighter, you get more relaxed." He would pick them.
John Legend observes, "There were moments, Hello Sunday, where you're very creative with the way you harmonize together. It's unconventional and it's really fun to watch." But, Alex surprised him as well. "I hadn't seen you perform this well yet and it was thoroughly great. You approached it with a subtly and a taste level that was very very impressive to me." He would choose Alex.  
Gwen Stefani feels Hello Sunday is "so interesting and so different." She's curious to see what they do next. "There was a run that you did that blew me away! That is a woman singing that. An older woman!" On the other hand, she felt Alex's performance got "better and better and better" until he showed everything he had. "It made you stick out for the first time." Gwen, however, would choose Hello Sunday.
Kelly loves Alex's range and his low notes, but she never knows what Hello Sunday will show up with at rehearsal. And their performance made Taylor cry. Who will Kelly pick? I think she has had a soft spot for the young girls all along. My money is on Hello Sunday. Watch The Voice on Monday Nov 4 at 8 pm ET/PT on NBC to find out. 
Taylor wipes away tears during Hello Sunday's mentor session
https://youtu.be/-UUYYSyb0eU