Earlier this week, reporters had the opportunity to speak with The Voice season 15 contestants who earned spots on one of Team Blake Shelton, Team Adam Levine, Team Kelly Clarkson or Team Jennifer Hudson. Check out interviews with singers who appeared on Monday's (Oct 8) Blind Auditions 5 episode.
OneUp 
The duo comprised of Manhattanites Adam and Jerome are both musical collaborators as well as romantic partners. After their performance of the Spinners "Could it Be I'm Falling in Love," Kelly Clarkson became emotional over the duo's love story. Not surprisingly, OneUp chose Kelly as their coach.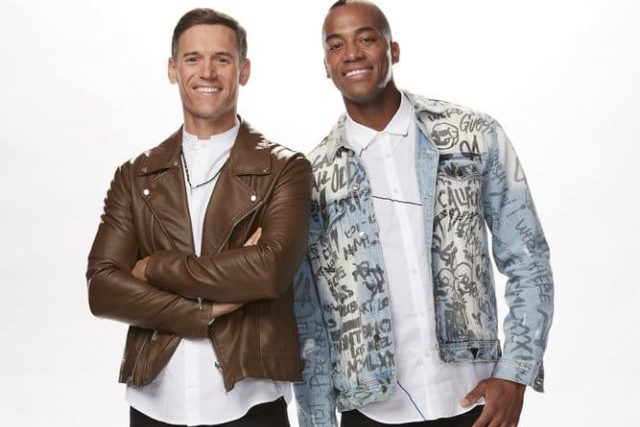 What prompted you to form a duo? Do you see it as something that extends beyond The Voice?
Adam: Yes. Well we met because we were doing a video shoot together for a vocal group that I have been working with and then we fell in love pretty much immediately, probably within a month, and then we wrote together. And because we spend all of our time together and we both love singing so much, we just started making Instagram videos together. I think that we both realized through that how much we loved singing together. We have similar sensibilities as far as musicianship goes and the style of music that we love. At this point, we are ready to make this our endeavor for the rest of our careers. We really want to build something together so that we're touring together and that we're creating together. So, yes, this is a beginning of a very, very long-lived thing, we hope.
Did you perform much together out in public prior to the Blind Auditions?
Jerome: Actually our first public performance was for our blind audition on The Voice which made it even that more important for us because we had sung on Instagram and made little videos but we had never actually shared a stage together. That process of putting choreography together and learning where our voices are strongest and how we should highlight those parts of our voices, that's what made this experience so incredible. We're still learning [about] each other [musically] every day and it's been awesome.
Why did you choose Kelly as your coach?
Jerome: We knew going into it that Kelly was one of our top choices because in watching previous seasons, she's the one that we resonated with the most–her energy, her personality, her excitement and passion for singing. And she's from Texas.
Adam: Yes, she's a Texas girl and so is Jerome – well Jerome's not a Texas girl but, yes! Even JHud kind of threw us for a loop getting up there and being so lovely and wonderful, but Kelly was the one that observed and stated something about what a beautiful picture of love it was seeing us up there with our family and that was at the heart of what we wanted to get across to America–seeing love in a new way.
You stated that you loved Motown and you sang a Motown song. But as a duo, will that be strictly what you sing? Songs from the Motown catalogue or will you stretch out to other genres?
Jerome: We will definitely stretch out to other genres. What we were saying about the Motown sound or Motown music, is all of these songs were timeless. The type of music that we want to make is something that is timeless and I think that that doesn't have to be married to any specific genre of music. We listen to literally everything from country to rock to alternative. And through all of these genres, there are timeless songs that people will remember forever. So I think that's our goal is to continue performing and trying to make timeless music but Motown is a great example of that.
Do either one of you write songs?
Jerome: Yes.
Adam: Yes, we both do actually. And we're starting to write more together now and we're going to be working on a full album. We're collaborating with another duo that's based here in New York City. They're a powerhouse writing team so we're really excited to release some music probably over the next year.
Natalie Brady 
A mother of two kids, the Nashville resident blew the panel away with a powerhouse rendition of Heart's "Barracuda." Borth Adam and Jennifer hit their buttons, but Natalie chose Team Adam. 
You auditioned with a classic rock song. How does that compares to your original music? 
My original music, up until this point, has been a little all over the place because I'm pretty diverse as far as what my palette is tasty for, you know? I grew up with my dad being such an eclectic artist himself and I started out writing Motown; I started out writing country. Rock – it really wasn't genre-specific for me coming into being a songwriter because it didn't really come naturally for me.
So when I started writing, I started writing whatever felt good at the time. And now that I've gotten a little further into the discovery of who I am as an artist and who I am as an artist with my band–because I really try to not identify just being a solo artist. My band is what has helped define me as an artist and give me the sound that really speaks to me and speaks to my soul.
And so, myself, Mike Spurgatt – which is one of my guitar players – and John Sathe, they're both from the Midwest like myself and we really connected. We're writing songs that are more like a gritty southern rock-blues-country kind of fusion.
If you could think along of the lines of maybe a female Blackberry Smoke. A female Black Crowes–just a lot of soul, a lot of grit. A wide range and variety just stacked with harmonies because we all sing in our band. I have five lead singers that could sing in my band.
So, yes, to answer your question in a nutshell, it would be that southern gritty rock-blues-country kind of swag-thing. It's something that I think could appeal to everybody, so, we'll see. We're working on it now.
Have you released anything or where are you in that process?
Everything that I've been working on for the past two years I've been working on with Kent Wells. He's produced Dolly Parton and he's been with her for over 20 – 25 years. I just wasn't really happy with the direction of where everything was going because it was kind of all over the place.
Musically speaking, with my band, we record as a band primarily and I really wasn't set on where things were headed. I went through this evolution and got my band together like where I have it now and it's great.
We haven't released anything formally. I've done a couple testers here and there and I have a few songs on my ReverbNation that I've written but nothing formally yet, so we're getting really close. We start full production next month on our new album.
We're actually working along with Randy Kohrs; he's a Grammy award-winning artist and musician and producer and hopefully we'll get that wrapped up before the end of the year and look at the new year with new music.
Why did you chose Adam as your coach?
My top two picks were actually Blake and Kelly and neither of them turned. And when I saw how quickly and excited Adam had turned around, I just had it within me to go with him.
I really had immersed myself in each of the artists that are the judges and, I love Blake, he's from Oklahoma; you know, Jennifer is phenomenal, she's a powerhouse female singer and then Kelly, of course, she's just ridiculously good.
But Adam, when I started getting into his influences of, you know, the Motown, the rock, the classic rock, even as far as going into, the James Taylor route, those kind of things, he has a little bit of everything.
And so as an artist, for me and my love for all genres of music incorporating that into my shows and my performance, he really spoke to me the most. And I guess in that moment, when I saw him turn around, I was like, you know what, let's go with Adam because he obviously – he heard something that he really thought he could cultivate and he enjoyed.
Kirk Jay 
A tough childhood growing up in an Alabama trailer park did not break Kirk's spirit. Declaring that he wanted to make country music "until the day I die," his rendition of Rascal Flatts' "God Bless the Broken Road" inspired chair turns from Kelly and Blake. Despite a spirited plea from Kelly, Kirk chose Team Blake. 
Who were your strongest influences growing up? Which country artists are you hoping to reintroduce to the public through your singing on the show?
Right now I love Gary LeVox, lead singer of the Rascal Flatts. He has been one of my biggest influences – one of my biggest inspirations coming up. I listen to him all the time so definitely Gary LeVox.
Bless The Broken Road was actually one of the first country songs I ever heard and I was so attracted to the points and the sound that he brought. So yes, definitely Rascal Flatts — definitely Gary LeVox.
Could you tell us a little bit about the band you play with? 
Me and Kuntry Funk started about maybe two years ago and we've been playing everywhere, man, all over the place — country clubs, venues, coliseums, casinos — all kind of great places.
I got a chance to open for Luke Combs at the Rock Bottom in Montgomery last year – may have been two years ago. I got a chance to sing with Alabama at the museum in Fort Payne. That's probably it though.
Is it mostly a cover band or do you do original music, too?
We definitely have original music but, for the most part, we're doing covers.
Why did you choose Blake as your coach?
We're the same height — I'm definitely kidding. Blake's – man, he's a country guy. He loves country music, I love country music. He definitely can help me as far as pursuing my country career and that's what I need. I need somebody that can guide me and help me along my journey. Blake's definitely the guy for that.
Erika Zade 
The 20 year old grew up in a Cuban household in Miami. And although she has an appreciation for Latin music, she describes her own sound as "dark pop" R&B. After her performance of New Rules by Dua Lipa, Kelly was moved to turn her chair. She had a funny anecdote about handing Blake a demo CD at a concert, him signing it and handing it to another fan!
Were you hoping that Blake would turn because of your unusual story?
Honestly, yes, because when I was younger I used to sing country music so I had really looked up to him and that's why I gave him my demo. But, I mean, it's live and he didn't turn but at least I got to talk to him and that was really cool.
What's it like working with Kelly Clarkson?
Kelly is the best person. She's such a good mentor. The way she instructs – you can take everything and it's so helpful. She's just the sweetest so I love her.
Could you talk about your involvement in the YoungArts Foundation?
The YoungArts Foundation is for kids in the arts between the ages of 15 to 18, I believe, and it's theater, musical theater, photography, songwriting, etc. and it has alumni such as Kerry Washington, Josh Groban and Viola Davis.
I started songwriting and found the organization and submitted three songs. I was lucky enough be picked for my songs. I went to a showcase and wrote a score for a band. We put on that showcase. It gives you scholarship money to colleges you want and introduces you to other artists. It's such a great foundation.
How you would describe your sound? Have you released any music?
My sound is so weird. I try to classify it as best as I can so I usually say like dark pop. If I had to state artists that are similar to me, I would probably say like Jorja Smith or Billie Eilish because I song-write basically every day. I haven't formally released any music yet, but I have a couple originals on my YouTube page. It's just me and my guitar so they're nothing too exciting. But, yes, my music is so hard to put into a category, it's just so weird. So that's me.
Where did you grow up in Miami and who are some of your musical influences from South Florida?
I grew in Broward. But I'm living in Pembroke Pines and around here I obviously listened to a lot of Selena growing up and a lot of country music as well. I listened to the Dixie Chicks. My parents were really big on Fleetwood Mac and that kind of shaped me as a songwriter and then I kind of ventured out into different genres.
Jarred Matthew 
He's an astrophysicist with a job working on NASA telescopes. Still, this 31 year old singer has dreams of a career in music. After his soulful rendition of Al Green's Tired of Being Alone by Al Green, both Adam and Blake turned their chairs. But after Adam promised to help Jarred with his falsetto, the singer chose Team Adam. 
If your music career takes off, would you be willing to leave science behind or would you try to do both?
I get that question a lot. I think my objections in pursuing the show was [that it was] really time we put my music in the forefront since it's been in the background for so long. I'd definitely be willing to give my music a shot and see how it goes. I think that, science is always something that I love and I'm passionate about and I will always want to be involved in. But if pursuing this show means I get to go out there and sing then I'm pursuing it 100%.
Brian May, the guitar player for Queen, has a degree in astrophysics so you'd be in good company.
Yes, I've heard that. That's actually really interesting because I know a lot of physicists that are really talented musicians. I don't know what the link is, but there seems to be a connection with music.
What is some advice you can give to students who are also interested in science but also interested in pursuing music at the same time?
I think the biggest problem that I had was I wanted to be taken seriously within the physics community. And I felt like if I was playing music and advertising it and talking to people about it that maybe that could tarnish, in some ways, my reputation in the physics community–which if I'm honest, it's not a thing.
If anything, what I've experienced from being on the show and being a part of the music scene in San Diego is that everybody is incredibly supportive. It's been really beautiful and wonderful and it's been a great experience.
My advisor at UC San Diego, Steve Boggs, is the best. He's been so supportive and so awesome and everybody on campus in the Center for Astrophysics and Space Sciences has been super excited and cheering me on and sending me texts about how excited they are for me.
So I think the advice that I would give them is that academics obviously takes up a lot of time and a lot of hard work and effort goes into that and but the thing is it's really good to have a balance. If it wasn't for music — if it wasn't for writing and performing — I just would have been miserable so it's really important. I think my advice to students would be to find that thing that you love that's outside of your field and work at it and try to get good at it and do things that you enjoy because sometimes you need a break. 
Mike Parker 
This former high school football player lost all of his scholarships due to poor grades. But now, he's found a new passion in music. After nearly finishing his performance of "So Sick" by Ne-Yo, Jennifer Hudson turned her chair at the last minute. Mike could not have been more excited.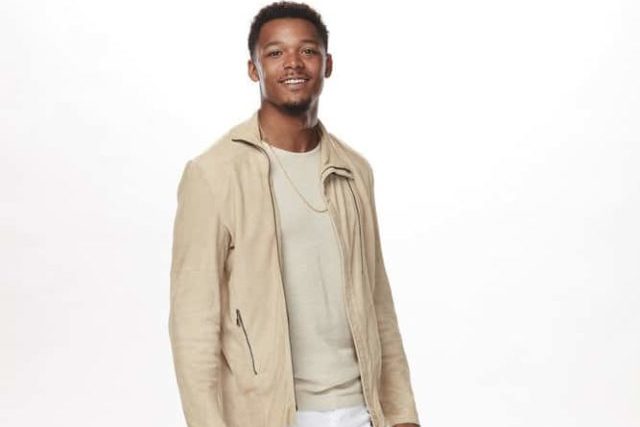 Did you ever get a chance to participate in any college football? 
No. Maryland was the first commit that I made my junior year. I first committed to Maryland, and then through a sequence of events, I de-committed. Committed to Virginia Tech — decommitted from Virginia Tech. Committed to Arizona State and then they pulled the scholarships at the last second so, no.
The only school that I went to after high school was Atlanta Metropolitan. It's a sister school of Georgia and I played football for a prep school in Atlanta. But, no, I did not play football as a NCAA athlete.
When did you first got interested in music?
My parents — they were in a band when they were younger in the 80s. Music has always been a part of my family, my lifestyle here at home. So it's tough to pinpoint exactly where I realized that I had my musical ability. But I know I started singing at church around nine years old. From there I was always playing football in high school. But every single year I did a talent show. I don't think I ever missed a year of a talent show in high school so that definitely played a role in how I view music now. It's something that will always be in me no matter what I'm doing. No matter what I think I'm doing, I know that I'm always going to be singing and making music.
Jennifer didn't turn around until the end of your song. Who were you expecting to turn around?
I was hoping all of them would turn around but you know, nerves kind of get to you when you get up there. It's a scary stage and things don't go as planned sometimes. But, yes, I expected all of them to turn around but when she turned around at the last second, it was wild, it kind of freaked me out. It was nuts — it was as nuts as it looked.
Kayley Hill 
The singer has been hitting Nashville "hard" with her original songs, and hopes that a turn on The Voice will boost her music career. After a dusky performance of Fleetwood Mac's "Gold Dust Woman" Blake was moved to hit his button. 
Only Blake turned for you but Kelly seemed to have some regrets. Who were you hoping would hit their button?
I was definitely hoping that the two of them would hit their button. Obviously, you only need one chair to get to the next round. I wa so happy with how it turned out. It didn't matter to me that it was just Blake that turned. But in a perfect world, Kelly would have turned for me too. I think she regretted it, at least I hope.
Who are some of your favorite artists? You seem to have a real affinity for those 70s singers
I love Dolly Parton. I love Alison Krauss and Union Station. I listened to a lot bluegrass and definitely have my own music inspired by bluegrass and rockabilly. During the last five years is when I really started getting into Fleetwood Mac and I love Stevie Nicks and her sensibility as an artist. So, I've incorporated a lot more rock into my sound as well. But I listen to everything. Give me some Motown and  Celine, I just have a lot of respect for fantastic artists that have put a lot of effort into their instruments and their writing and their performance. That's who I really model my own after.
Zaxai 
A first generation Haitian, Zaxai has spent years playing music wherever he can. During a stint at Radio City Music Hall, the singer told the story of how Kelly Clarkson accidently hit kicked him in the head. She apologized profusely. That was after Jennifer BLOCKED her gal from even turning for his performance of "Come and Get Your Love" by Redbone. The move made sure Team JHud had the singer all to herself.  
How do you feel about Jennifer using the block on Kelly? What did that feel like?
Honestly, I didn't even know what happened till maybe halfway into the song. And after I realized–oh wow, she blocked Kelly. I was really nervous and honestly, just really exhausted and tired. When everything kind of hit me, I was pretty much just ecstatic and thankful that they turned around.
But the fact that JHud used her only block–it felt kind of good. So special because she could have used it with the plethora of artists that you clearly see on the Season 15 roster. And when I say the Season 15 roster's amazing, it's amazing. So the fact that she did that, shows that I'm doing something right–that she sees something good in me and I'm just thankful for that.
What has it been like working with her?
Oh, she's a riot and she's a true musician. I love working with her. She just knows what to do–like little ideas. And she's just an overall sweetheart and a really hard worker.  She's awesome and I appreciate that because that's just what I've instilled in myself–musically, at least.
When Jennifer turned around you looked like you were just so shocked or thrilled. But after that, what were you expecting or hoping to learn from Jennifer? What has been the most surprising or unexpected thing that you've learned about your voice or your singing style so far?
What I've learned about myself [and my] singing and my voice would be the little places and placements in my voice I was just too afraid to use.
I've always been known as the smooth singer, the melodic singer and for the most part I do a bit of that–but taking risks and going places I didn't feel comfortable. And being on a show like this, of this caliber, you have to go somewhere that you've never been before. Playing it safe will get you nowhere. Working with JHud–she's big on that. She's big on letting you be a musician but at the same time pushing you.
She's a larger-than-life singer, artist, person. She fills up the stage with just her presence alone, her personality alone, her voice. She's just epic — epic, epic, epic.
And Kelly too–she's also been through this whole singing competitions so she understands the pressure that we're all going through. That was just a major plus in itself.
And to go back to your first question. I was shocked, but more just grateful and excited and thankful. And like I said, I didn't know what happened up until when the dust settled and I looked down. She's like, "She blocked me." And I looked down, I'm like, oh whoa, so I was honestly just excited, elated that I got a turn, and that she chose me and then she blocked Kelly and all that. It was just awesome.
Colton Smith 
Growing up gay in Alabama was easy for Colton, but his friends and family were always there to support him. Although Jennifer was the only turn after his performance of Sia's "Alive," Colton was happy. He wanted nothing more than to be a member of the "queen diva's" team.
It's cool that Jennifer turned around, that's initially who you were hoping for. What are you hoping to get out of working with Jennifer? 
Oh my gosh. Yes. I was really hoping that Jennifer would turn around initially just because I kind of see my personality in her. She's larger than life and over-the-top.
That's what I'm hoping for going forward and what I was expecting after my blind — getting to work with her was just going above and beyond to pull out the biggest parts of my personality and my voice.
What have you learned so far? What's the most surprising thing you've learned about yourself or your singing so far after being on her team?
The biggest thing is to not put myself in a box genre-wise. Yes, she's really big about living outside of what people think you should or shouldn't do and that's kind of my mantra as well.