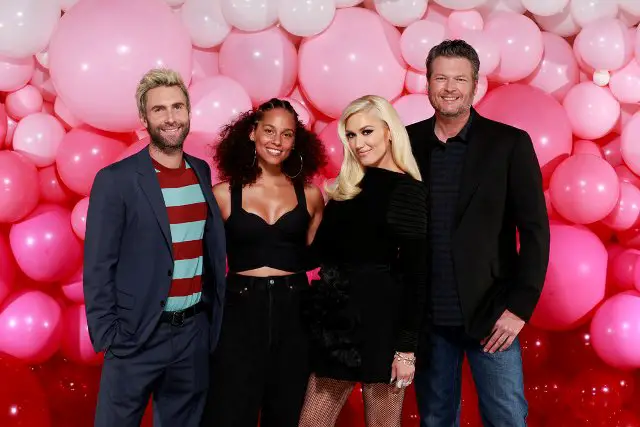 The Voice lowered the audition age to 13, host Carson Daly informed the Today show audience ahead of airing a sneak peak clip of one of the tween hopefuls (Boo to lowering the age again. But at least we don't have to suffer through The Voice Kids). The clip preceded an interview with coach Gwen Stefani.
In the clip the young hopeful said to Gwen: "I'm ecstatic that you're here…You taught me how to spell Bananas!"
"You can be on Team Gwen and I can teach you how to spell everything!" Gwen replied
"There's such great young talent!" Carson exclaimed to co-host Matt Lauer regarding the young The Voice singers. "It's unbelievable the talent at such a young age," Gwen adds. She also talks about what it's been like working alongside her boyfriend and fellow coach Blake Shelton. She says it was really weird at first. "I was nervous at first," said Gwen, "[But] It's just natural. Sometimes it is a little bit [weird]. We're driving home and I'm like, 'Do you think I should put them together?' And then I'm like, 'Wait a minute! I'm not going to talk to you about this! I don't know if you are the enemy. This is confusing.'"
Watch the full interview below:
WATCH: @gwenstefani talks "greatest guy ever," @blakeshelton, @nbcthevoice, #ValentinesDay and more! https://t.co/jC6ZwXfyO3

— TODAY (@TODAYshow) February 15, 2017
Gwen and her fellow The Voice coaches Blake Shelton, Adam Levine, and Alicia Keys sat for a press junket recently Here is a roundup of interviews:
Will The Voice veterans Blake Shelton and Adam Levine ever take a season off? And if they do, who should fill their seats? Here's what the duo told Reality Rocks:
"Well, I am irreplaceable," Levine smirkingly tells Yahoo Music's Reality Rocks. "I'm an excellent coach. I almost win every year… I will tell you this much: I will never take a season off. If I take a season off, it will be for every season thereafter, in perpetuity, for the rest of my life."

"But inevitably, when that day [when I quit] comes — unless I'm on the show until it's done, who knows? — I would entrust my position with very few people. Maybe, like, I'd let Bruno Mars in the door. I think he's great. And we'll see how many kids Justin Timberlake has, if he can handle another job. Maybe Justin can do it. And yeah, that's pretty much it."

Returning coach Alicia Keys, sitting to his left, suggests Chris Stapleton, but Shelton shrugs. "I don't know about Chris. Chris is too nice. Chris is a nice, friendly, shy guy. We need somebody that's, like, going to come in swinging. So I'm gonna say David Lee Roth!"
From Entertainment Tonight:
"Here's how it works, all of us mess with Blake, pretty much," Adam said. "And I'm not saying this with any bitterness, or any resentment at all, 'cause I don't have any, but they go at me. I pretty much have no allies."
From Access Hollywood: The coaches tell Access Hollywood's Liz Hernandez about their dynamic on set, and get put to the test with our "Who Knows Blake Better?" quiz.
And finally–a pair of The Voice Valentines Day themed promos from NBC:
Feel The Love
Valentine's Day Confessions