The Voice 11 Semifinal Results: Top 8 Live Blog and Recap
Tonight, FOUR contestants leave The Voice Top 8 after a bottom 3 sing off and instant twitter vote between the 4th, 5th and 6th place finishers. Which four singers from Team Adam Levine, Team Blake Shelton, Team Alicia Keys and Team Miley Cyrus will move on to next week's finale?Check out a recap of last night's The Voice Semifinal performance episode HERE. And our The Voice Semifinal prediction post is HERE.
Guests for tonight include Season 10 finalist Hannah Huston who is set to perform her single "I Alone Have Loved You." Plus, coach Blake Shelton takes the stage to perform his new hit single "A Guy With a Girl." And OneRepublic will also appear to sing "Let's Hurt Tonight" from their new album, Oh My My.
Get ready for tonight's The Voice Semifinal blood bath! It's gonna get ugly…
After some mindless chit chat with the coaches, host Carson Daly brings the Top 8 finalists center stage. Question for Christian Cuevas. He's the same person he was and he's here because "God placed me here." The first finalist saved by your votes is…Billy Gilman from Team Adam!
Back from break, One Republic takes the stage to sing "Let's Hurt Tonight." Ryan Tedder has gone all folky. It's like Mumford and Sons circa 2012. Or something.
Now, a video clip featuring the Top 8 visiting the Hairspray Live! set. Oh. American Idol singer Jennifer Hudson is leading the tour!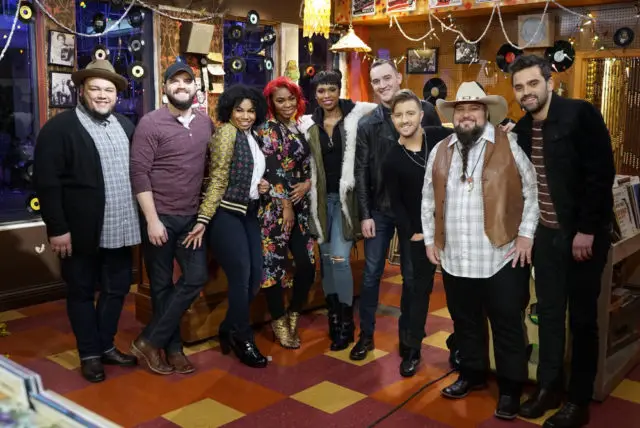 THE VOICE — Pictured: (l-r) Christian Cuevas, Josh Gallagher, We McDonald, Ali Caldwell, Jennifer Hudson, Aaron Gibson, Billy Gilman, Sundance Head, Brendan Fletcher — (Photo by: Paul Drinkwater/NBC)
She's coaching the UK version of The Voice, set to premiere on ITV in January. So there is your tie-in. "Your passion should always be stronger than your fear" says Jennifer during a question and answer session with the contestants. "Always represent yourself well," she adds when answering a quetionn about making the most of competing on a singing show. Hairspray Live! airs Wed Dec 7 on NBC.
https://www.youtube.com/watch?v=SUKnOrf66hY
OK. The remaining 7 are back on stage. The second finalist advancing to next week's final is…Sundance Head! No surprises yet.
Next, Season 10 finalist Hannah Huston returns to The Voice to perform her new single, "I Alone Have Loved You." Oooh, I like this. Hannah sounds fantastic. She was one of my S10 favs. Click to watch her performance.
The remaining six singers take the stage! NERVOUS. The third artist to join the final four… is…Wé McDonald!!!! HOORAY. She seems really really surprised.
Now, coach Blake Shelton takes center stage to sing about his honey, Gwen Stefani. Ha. He performs his new hit "A Guy with a Girl." 
The remaining five artists take the stage. HERE WE GO. The three artists who are performing for the instant save ARE…Ali Caldwell. She's first. The second artist performing is…Josh Gallagher. boo. And of course, Christian Cuevas is third. 
Insta-Save Singoff
Christian Cuevas – Team Alicia – I Can't Make You Love Me by Bonnie Raitt – The performance starts off subdued. Did I misunderstand Carson? I thought Christian was performing last. The chorus is expansive. But Christian sounds hoarse and a bit limp. Not his finest moment. Alicia insists Christian is the real deal. Vote for him, she pleads!
https://www.youtube.com/watch?v=0W1g4skfhH0
Ali Caldwell – Team Miley – Sledgehammer by Rihanna – She gets off to a shaky start, but then finds her stride. Man. Ali can SANG. What an incredible song stylist.  "I don't even know how you just did what you did," Miley is close to tears. "This is a wall…and you just pushed right through it."
https://www.youtube.com/watch?v=P9QsyeCQTMM
Josh Gallagher – Team Adam – "I Drive Your Truck" by Lee Brice – Ugh. Why is he last? And with this tear-jerking song. No doubt the dude can sing, but this performance is karaoke. "Dude I want there to be something different…there's a lot of powerhouses out there," says Adam. He's gotten better and better his coach claims. 
https://www.youtube.com/watch?v=mAUnMk_Wj9A
Time to twitter vote: #VoiceSaveChristian #VoiceSaveAli #VoiceSaveJoshG
Josh is winning the insta-save! I knew he could be a spoiler. My one prediction I wish didn't come true. BLARGH. The numbers stayed steady throughout the voting window:
And The Voice instantly saved Josh Gallagher. Was that a little shade thrown by Miley at Adam? He pegged the other three "big voiced singers" and Josh as something "different." Miley reminds Ali that she's one of a kind. Damn straight. She's an artist. 
Sigh. He flew under the radar all season, and suddenly Josh is in the final. There is no denying those generic country dudes. There just isn't. If the fourth spot had to be a guy, I wish it had been Brendan Fletcher. He's got soul and real artistry. It just goes to show the IMPORTANCE of song choice.  Adam scored with Josh–for the first time all season. And failed Brendan after weeks of live winners. One bad week changed everything for Brendan.
In any case. Ali Caldwell deserved a spot in that final! But there was no way she could prevail in the insta-save against two boys. At least a girl–Wé McDonald kept next week's finale from being a sausage fest. Another surprise: Christian Cuevas not only having to sing for a spot in the final, but losing the insta-save. His performance tonight was not his best, though.  Better luck in Season 13 Miley. The newbie coach is completely shut out of next week's final.
Final 4
Billy Gilman – Team Adam
Sundance Head – Team Blake
Wé McDonald – Team Alicia
Josh Gallagher – Team Adam – America Saved
Eliminated
Brendan Fletcher – Team Adam
Aaron Gibson – Team Miley
Ali Caldwell – Team Miley – Eliminated after sing-off
Christian Cuevas – Team Alicia – Eliminated after sing-off