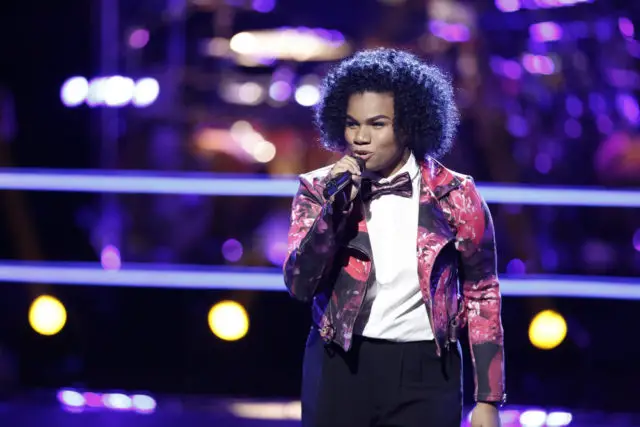 The Voice 11 Live Blog and Recap Knockout Rounds 1 – VIDEOS
We're LIVE BLOGGING the first night of The Voice 11 Knockout Rounds. If you're wondering who is singing what, Click for The Voice Song Spoilers.Key advisers Tim McGraw and Faith Hill will assist the coaches, Adam Levine, Blake Shelton, Alicia Keys and Miley Cyrus to get their teams ready for the next match ups.
In the Knockout Rounds, team members face off performing songs of their own choosing. It's up to the respective coaches to choose which contestant moves on to the Live Playoffs. The eliminated contestant is eligible to be stolen by another coach. Each coach has only ONE steal in this round, which they must use wisely.
Josh Gallagher vs Sundance Head – Team Blake
Josh Gallagher – My Maria by Brooks and Dunn – Tim advises Josh not to hold back in the beginning. Faith thinks he might need to cut back on falsettos unless he can nail them. Blake says it's going to be one of the toughest decisions he's going to make. Josh has a pleasant, if generic country vocal. I couldn't pick him out of a lineup. It's a good song choice though. It's a catchy crowd pleaser that fits his voice.  – Download from iTunes
https://www.youtube.com/watch?v=qKjnHpsbE4s
Sundance Head – The Climb by Miley Cyrus – Sundance is trying to think out of the box a little bit. He Miley's pop hit with a super twang and an acoustic guitar. Tim compliments him on his pitch. Blake was SHOCKED by Sundance's song choice, but he approves nevertheless. "He's really going to sell it!" Tim remarks. Sundance is performing the song as a soulful country ballad. He's got some background vocals, but no band to backup his acoustic strumming. He's pulling this song off nicely. He's connected, commanding the stage. Totally selling it. And man that voice is strong. Miley is singing along! – Download from iTunes
https://www.youtube.com/watch?v=Gg7v_s9Ecec
Coaches Remarks: Alicia calls Josh "fantastic" she loves the timbre in his voice. Alicia loved Sundance's big notes at the end of his performance. Miley thanks Sundance for doing her song. She loved his take on it. Adam is a huge fan of Josh. "Sky's the limit." Blake notes the guys outfits are "all matchy." He thinks Josh's sound fits right into modern country music. Blake Chooses Sundance Adam Steals Josh
Kylie Rothfield vs Whitney and Shannon – Team Alicia
Kylie Rothfield – Hound Dog by Big Mama Thornton – Kylie will sing the Big Mama Thorton version of the song, noting what a great guitar player she was. Tim and Faith tell Kylie to keep it swampy. Alicia says "don't back down." Kylie blew Faith away. OK. I'm pretty sure I've found my new favorite. Kylie is taking the advice to really dig into the bluesy number. Her voice is a little light in her upper register, but her low growl is fierce. Alicia yelps along as Kylie performs. – Download from iTunes
https://www.youtube.com/watch?v=WtG6W3LEF-A
Whitney and Shannon – I Won't Give Up by Jason Mraz –  Sister act and country singers. The song stirs up their feelings around their parents divorce. "It was like one voice!" Faith exclaims. Alicia split their voices into solos on the bridge. They are both a little nervous to sing alone. It turns out Kylie is the sisters' best friend. Separating their voices really exposes their vocal weaknesses. The duo would be perfect background singers, but as an act, despite the lovely harmonies, they're a bit boring.
https://www.youtube.com/watch?v=Xums77G_QYY
Coaches Remarks – "There is no one on this show like you," says Miley of Kylie. Adam compliments Kylie on the "impactful way " she played the guitar. He'd choose her. Blake says Whitney and Shannon are great singers. "I don't think you can go wrong," he says. Alicia calls the duo "brown goddesses" and feels blessed to work with all three of them. Alicia Chooses Kylie Whitney and Shannon are Eliminated.
Ali Caldwell vs Lauren Diaz – Team Miley
Lauren Diaz – Rise Up by Andre Day – She's a mom and vocal coach. And also an Alicia Keys stan. Her boyfriend proposed to her backstage. She seems a little tentative about her new team. Tim and Faith advise her NOT to use a piano. Lauren has a beautiful instrument, but she doesn't always connect to what she sings. She brings some emotion on the bridge. The second half of the performance really kicks in. She's singing as if her life depended on it. "Perfect! Perfect!" shouts Miley.
https://www.youtube.com/watch?v=sVyiNEsyYuc
Ali Caldwell – No Ordinary Love by Sade – "Ali was fantastic!" says Tim. Faith compares her to Whitney Houston. There aren't a ton of notes from the adviser for Ali. This is a beautiful vocal. Ali is proving to be quite the stylist. There are no huge notes here. She slinks around the melody, building to a crescendo eventually. Her dynamics and phrasing are A+.  She deserves to win that battle. – Download from iTunes
https://www.youtube.com/watch?v=YJPY7tmVbYI
Coaches Remarks – Adam calls Ali "ridiculous" he thinks she could win. But sometimes she's a little detached, he says, although he'd choose her. Blake compliments Lauren on her desperation and urgency.  Alicia compliments Ali's technique and feels Lauren has come a long way.  We go to break before learning who wins. But if you want spoilers? Just click on the Song Spoilers link. Miley Chooses Ali. Lauren is Eliminated
Dave Moisan vs Simone Gundy – Team Adam
Simone Gundy – Midnight Train from Georgia by Gladys Knight – She had a child at a very young age. Her nickname is bubbles! Faith believed everything she sang. They don't have many notes for her either. I'm not crazy about her song choice. I wish she'd chosen something modern. But her tone is just like thick molasses and her delivery effortless. – Download from iTunes
https://www.youtube.com/watch?v=84SP0_v9HjY
Dave Moisan – Like I Can by Sam Smith – Adam saved Dave after he was eliminated from Team Alicia. Adam is worried the song is too ambitious. Faith can see him thinking. They suggest he sing in full voice. Hm. I'm not sure I agree. Screechy! I love Dave's tone, but this performance is tentative and has some pitch issues. I think he'd be worth saving though. He was a four chair turn!
https://www.youtube.com/watch?v=kx6WVJJKEkI
Coaches Remarks: Blake feels Simone really seized the opportunity. He'd choose her. Alicia didn't like Dave's song choice. Miley can see what a fighter Simone is. Adam thinks they both made a lot of progress but Adam chooses Simone. Dave is eliminated. I think Dave bit off a little more than he could chew with that song.
Courtnie Ramirez vs We McDonald – Team Alicia
Courtnie Ramirez – If I Were a Boy by Beyonce  – Alicia stole Courtnie from Team Miley. Tim advises her to finish her phrases. Alicia loves her lower notes.  Courtnie has some timing issues initially, and she oversings the second verse. This is a little shouty. She needs some work on dynamics. She goes from 0 to 100 pretty quickly. Her softer voice is actually beautiful.
https://www.youtube.com/watch?v=H-yFI2psJs4
We McDonald – No More Drama by Mary J. Blige – Tim was completely blown away by her voice. Faith had tears welling in her eyes. "Don't think just sing" says Faith. We is only 17 but she sings with maturity. Off stage she seems a little insecure, but when she takes the stage she owns it. And that dark alto is so unique. I'll be shocked if she doesn't make the finals. – Download from iTunes
https://www.youtube.com/watch?v=s5nKdr5bRFA
Coaches Remarks – "I believed you so much," Miley say about Courtnie. She calls We "punk rock." Adam notes it's a tough call. Blake thinks neither should be going home. Before she makes her decision, Alicia makes sure to mention that they are both only 17. She's in awe of both. Alicia Chooses We. Courtnie is Eliminated.
A steal is coming up…
Jason Warrior vs Riley Elmore – Team Adam
Riley Elmore – Haven't Met You Yet by Michael Buble – Riley calls Tim and Faith "Miss Hill and Mr. McGraw." He's a 16 year old standards singer. This song is less jazzy than Buble's usual stuff. Adam again tells him to "keep it loose." Faith tells him not to look down so much. Jeez, this kid is so green, I can't believe he's made it so far. And obviously he'll make it to the live shows. Much better singers have been eliminated before him. Do they figure he'll be a chick magnet? Or he's so in his own lane, it's worth keeping him on. Having said that, this is probably his best performance so far. – Download from iTunes
https://www.youtube.com/watch?v=s_UaSOsI4F8
Jason Warrior – I Want You by Luke James – Adam stole Jason from Alicia. Faith was blown away by the tone of his voice. Whoa. That falsetto note was a little screechy! His enunciation is a little distracting, but Jason's big soulful voice fills the room. His performance style is the definition of taking the audience to church. On stage, he's hitting the super high notes really cleanly. And then that big finish. He won that matchup, hands down. Blake would go with Jason. Alicia finds Riley's discomfort appealing. I suppose she finds him adorable. Alicia feels blessed that Jason is here. Miley appreciates the way Jason works the crowd. Miley likes Riley's sweetness and innocence. Cute boys graded on a curve. Adam Chooses Riley. SERIOUSLY DUDE. His reasoning: He chose the singer that was unlike anyone who's been on the show before. Blake Steals Jason. Somebody has sense! Blake dogs Adam for eliminating a singer he believes can win. Blake is Jason's third coach. – Download from iTunes
https://www.youtube.com/watch?v=FheXV8Nf8w8
Moving on to the Live Playoffs
Josh Gallagher – Stolen by Team Adam from Team Blake
Sundance Head from Team Blake
Kylie Rothfield from Team Alicia
Ali Caldwell from Team Miley
Simone Gundy from Team Adam
We McDonald from Team Alicia
Riley Elmore from Team Adam
Jason Warrior Stolen by Team Blake from Team Adam
Eliminated
Whitney & Shannon from Team Alicia
Lauren Diaz from Team Miley
Dave Moisan from Team Adam
Courtnie Ramirez from Team Alicia