The Voice 10 Recap Top 11 Results
One of the Top 11 contestants leaves the competition tonight on The Voice. Which member of Team Blake Shelton, Team Adam Levine, Team Pharrell Williams or Team Christina Aguilera will it be?
In the meantime, country singer Thomas Rhett performs, for the first time, his latest Top 15 single "T-Shirt" off his sophomore album Tangled Up.  At the end of the night, the bottom 2 contestants will sing for the Insta-Save. You can learn more about that here. After the two singers perform for their lives, viewers have five minutes to save their fave via twitter. The singer with the fewest tweets leaves the competition.
FIRST it's a DECISION 2016 UPDATE! Politics. Ugh.
First up, it's Thomas Rhett performing his single "T Shirt." Blah blah blah chicks. Blah blah blah beer. BLAH BLAH BLAH. Zzzzzz. I thought this bro crap was on the way out. "I can see you standing around in my T Shirt." Are audience members waving around actual t-shirts? Uuuuggghhhh.
Time to reveal some results! The Top 11 take center stage. TIME FOR DUMB QUESTIONS. One of Laith's albums is No 1 on the blues chart and two albums on the rock chart. Thank you Pharrell. What has Hannah learned about this process? She's usually teaching, she says. America saved…from Team Blake…Mary Sarah! America also saved…from Team Christina…Nick Hagelin. BLARRGGGHHHH.
Coach questions. How hard is it to pick perfect songs? Adam says it's good to listen to the members of his team to find a happy medium. Pharrell says ANYBODY should strive to be the best versions of themselves. Christina brags that her team has the full package, and are talented, amazing, wonderful people. Blake would be thrilled to have all of Team Blake advance tonight. It would bring him one step closer to being able to lord a win over his fellow coaches.
This round's dumb question: What has Blake's coaching meant to Adam? Having Blake in his corner has been great!  America saved…from Team Adam…Laith Al-Saadi! America also saved…from Team Christina…Alisan Porter.
Pharrell Williams joins his team, Daniel Passino and Hannah Huston to perform Lenny Kravitz' "Let Love Rule." Everybody should just shut up and just let Hannah sing.  Pharrell can't even sing in tune.  THE BAND IS SO LOUD.
https://www.youtube.com/watch?v=e-d2SbKx8OM
Time for more results.  BACK TO STUPID QUESTIONS. How does SIXTEEN YEAR OLD Shalyah balance The Voice and school work? She says with God all things are possible. She prays in her spare time. Hm. Paxton loves Blake because he allows him to be himself. America saved…from Team Pharrell…Hannah Huston! America also saved…from Team Blake…Paxton Ingram. Oy.
Now, Christina Aguilera joins her team, Alisan Porter, Bryan Bautista and Nick Hagelin to sing "Live and Let Die" by Wings. Well. The dancing. Did the folks from Cirque du Soleil drop by? Well…that was dramatic! SO much yelling.
https://www.youtube.com/watch?v=k6FZ5IMKbmI
Next, it's a video clip featuring the coaches and their Team members cutting it up.  FILLERTASTIC.
The remaining five artists are on stage. What has it meant for Bryan to have the support of Christina? Blah blah blah. I don't have the will to type his answer. America saved…from Team Adam…Shalyah Fearing. Owen knows he's toast. America also saved…Adam Wakefield from Team Blake. America also saved…Bryan Bautista!
Owen Danoff and Daniel Passino will sing for the save! GETTING MY TWITTER FINGER READY Y'ALL.
Daniel Passino – Team Pharrell – Jealous by Nick Jonas – Nasally, cornball working the stage. NOoooooo.  Vocally, he's doing a solid job. But I just can't. Sorry. Christina says of her ex-team member, "Just now you showed why you're still around." Pharrell feels his performance spoke for itself. "The topography you showed vocally…" Huh? Pharrell is proud that he went straight for his ambition, hinting that Daniel is the confident one in the duo. He is, actually.
https://www.youtube.com/watch?v=yV8EOyGIe-k
Owen Danoff – Team Adam – Burning House by Cam – Unfortunately, Owen has completely lost his mojo. I think he forgot a lyric maybe? He's mumbling the verses and his voice cracks on a high note. He's done. But I'm tweeting for him anyway. I would actually tweet for ANYONE up against Daniel. Blake makes sure to mention the lyrics he forgot, and tells not to feel so bad about it. "Some artists find their place in a different way." Your classic kiss off, right there. Adam says Owen tells the truth. He's completely genuine. "You always convince me every time." As far as I'm concerned, that's reason enough to vote for Owen vs Daniel I CAN'T WAIT TO MAKE MY WAY TO BRANSON Passino.
https://www.youtube.com/watch?v=lxVTr64pBy4
#VoiceSaveOwen #VoiceSaveDaniel – Go now!
After the break, Pharrell begs America to vote for Daniel. YOU KNOW WHAT THE NAME OF THIS SHOW IS. "The Voice" the crowd screams back. "He's got one!" shouts Pharrell before adding, "You guys are both amazing." Adam is next, mimicking Pharrell a little, because he's got nothing. Really, at this point it's all over. Adam mumbles something about not being able to win The Voice himself, and how Owen has something special. Bye Owen.
America instantly saved…Daniel Passino.  Owen Danoff is eliminated from The Voice.
https://www.youtube.com/watch?v=UPgHhfa1KPA
Although I'm sorry to see him leave, Owen's elimination is probably for the best. He had really lost his confidence the past few weeks. He was crumbling right in front of us tonight. When it came right down to it, he probably wasn't comfortable singing other people's songs on live TV. It's why MacKenzie Bourg from Idol will thrive outside of his competition reality experience in a way he couldn't inside. If Owen could have performed his own songs with his own arrangements, he might have fared better. Competition reality shows aren't for everyone.
Owen wasn't going to make it to the finals under any circumstances. But still, even with his flaws, I enjoyed him more than SEVERAL singers (Nick Hagelin, Mary Sarah) still left in the competition, including the guy who beat him (Daniel won't make it to the finals either. Tonight he earned himself another week against a weakened competitor.)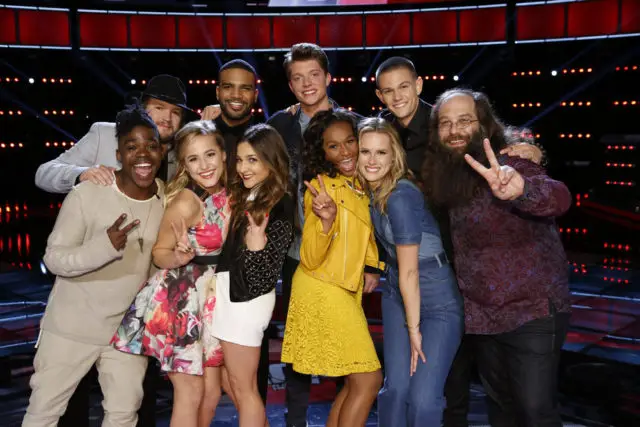 Top 10
Mary Sarah – Team Blake
Nick Hagelin – Team Christina
Laith Al-Saadi – Team Adam
Alisan Porter – Team Christina
Hannah Huston – Team Pharrell
Paxton Ingram – Team Blake
Shalyah Fearing – Team Adam
Adam Wakefield – Team Blake
Bryan Bautista – Team Christina
Daniel Passino – Team Pharrell – Saved by America
Eliminated
Owen Danoff – Team Adam