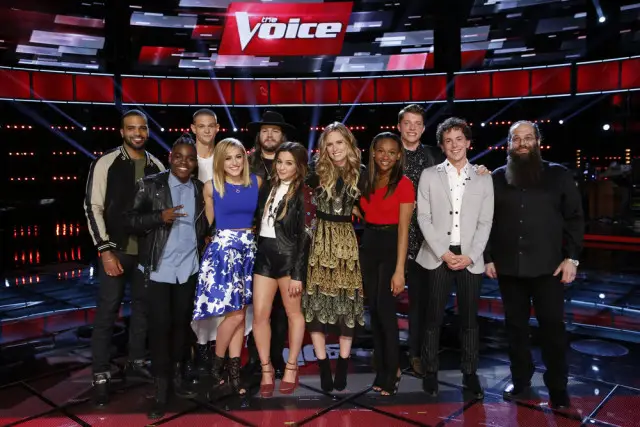 I thought it would be easier this week to rank the contestants once they began competing against once another. But after this week's perplexing eliminations, I'm less sure than I ever was.
In hindsight, it was probably Emily Keener's uncontrolled vocals and inability to connect to what she was singing that did her in. Owen connects beautifully with the songs he performs, but his last couple of outings have not been effortless. There's also the possibility that other male contestants like Laith Al-Saadi and Adam Wakefield are siphoning off some of his votes.
One thing seems to be sure. iTunes is a terrible predictor for who is in and who is out. Particularly this season, where viewers don't appear to be invested enough in ANY Of the singers to plunk down that $1+ to vote. Sure, throw this one or that one a few votes, but actually spending cold hard cash spells commitment, and I don't think we are there yet. This season, the gap between online and iTunes votes seem wider than EVER.
There is also the demo issue. We've seen it before, with Amy Vachal, Madi Davis, Christina Grimmie, Matt McAndrew. The youth-skewing contestants sell iTunes, but when it comes to overall votes, they fall behind. That's because an older, female demo appears to be dominating the vote, and they tend to vote for country and adult contemporary artists. Let me amend that. MALE artists. iTunes is really a small percentage of the overall votes anyway. How to account for the singer who charted well outside of the Top 100 not even landing in the bottom 2 while the 3rd highest chart topper was sent out the door?
Anyway. Blah blah blah. Here is my probably worthless power list, for your entertainment.
1. Alisan Porter – Team Christina – The talented and consistently entertaining Alisan is still the perceived front runner, but I suspect at some point, I'll be switching her spot with Adam.
2. Adam Wakefield – Team Blake – Adam is also a talented and solidly consistent performer. Plus he's country and male. He's got a very good chance of taking it all.
3. Laith Al-Saadi – Team Adam – Laith is another solid and charismatic performer, who hits that classic rock sweet spot for certain viewers. I actually think he could make the finals ahead of either Shalyah or Hannah.
4. Nick Hagelin – Team Christina – There are many better singers than Nick on The Voice this season–actually, pretty much everyone who is left. But he's good looking, and knows how to connect with viewers. He'll probably drop down the list in the next few weeks. But maybe not. I wouldn't be shocked if he snuck into the finals.
5. Shalyah Fearing – Team Adam – Shalyah has a ton of raw talent, but she's young, and I have no faith in Adam as a mentor for her particular gifts. There's a good chance she won't survive the coming bloodbath elimination.
6. Hannah Huston – Team Pharrell – I'd be shocked if both Hannah and and Shalyah made the finals. Hannah is a talented performer. But if Pharrell picks dud songs for her, which he is wont to do, she could be in trouble.
7. Daniel Passino – Team Pharrell – The dude's song presentation is so, so corny and dated. But he CAN sing. Pulling out a big note or crazy falsetto at the right time can go a long way. I think there's a good possibility he's in it until the bloodbath.
8. Mary Sarah – Team Blake – Something isn't clicking here. Mary is the type of singer Blake typically champions and pimps into the finals. Maybe he doesn't really care about her? Because the song selections have been terrible. If he were coaching her correctly–steering her toward vintage country–she'd be a contender.
9. Bryan Bautista – Team Christina – I might be ranking Bryan too low, but I'm not sure. While he knocked it out of the park the first few performances, his last outing didn't seem to resonate.
10. Owen Danoff – Team Adam – Owen was almost eliminated, which means he could end up in the bottom again, unless he pulls out an extraordinary performance. There's a lot to like about the singer. He certainly displays more artistry than Daniel or Nick. But his last couple of performances haven't landed. This week, I hope he follows his gut rather than Adam's suggestions, which don't seem to be helping him at all.
11. Paxton Ingram – Team Blake – Maybe I'm crazy ranking Paxton last. The weight of the Team Blake army seems to be propelling him forward. I thought the singer was crazy to choose Blake over Pharrell at the blinds. Now it's clear it was a fortunate decision. If he had chosen Pharrell or Adam, Paxton would have probably been gone before the finals.