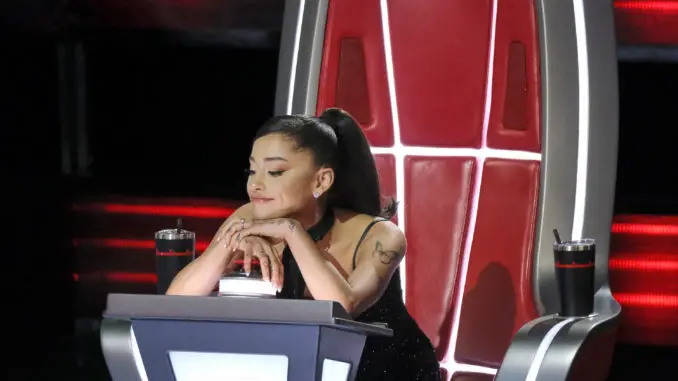 For what's about to be 23 seasons on NBC, The Voice has put a unique spin on singing competitions by starting off with blind auditions and swapping judges for coaches, who form teams of performers to compete against each other until one comes out on top.
But in the reality show's 12 years – while it's launched the careers of notable singers like Jordan Smith, Morgan Wallen and Cassadee Pope – The Voice has had plenty of surprising moments, from that shocking Season 22 win to the unexpected romance from the coaches' chairs.
Jesse Campbell's Elimination (Season 2)
R&B singer Jesse Campbell's Season 2 audition made all four coaches press their buttons, but Campbell ultimately went with Christina Aguilera's team. But despite being a frontrunner from the start, Campbell was sent packing early on during the quarter-finals.
Campbell's unexpected exit was the result of the show adding a new element to the quarter-finals which forced the coaches to make instant eliminations after their teams' performances.
Blake Shelton Didn't Recognize A Former Bandmate (Season 20)
During the Season 20 blind auditions, facing the backs of Nick Jonas, Kelly Clarkson, John Legend and Blake Shelton, Pete Mroz took the stage and sang "Can't Find My Way Home" by Blind Faith, earning the button presses of Legend and Shelton.
But it was once the song ended and the singer introduced himself that he revealed he had a past with one of the coaches, after having pointed at Shelton when the coach's chair turned around and alluded to some history with him, to which Shelton questioned. It turned out that Mroz was in a band called The Young Riders with none other than Shelton, who he hadn't seen in 25 years before ultimately joining Team Blake.
Sisaundra Lewis' Elimination (Season 6)
Sisaundra Lewis earned all four button presses and a spot on Team Blake during her Season 6 audition which led her to become a fan-favorite throughout the season that also gave a platform to the late Christina Grimmie.
After the Top 8 performances, Lewis was eliminated along with Team Adam member Delvin Choice, whose eliminations came with some controversy over being the only two Black contestants remaining and both getting eliminated on the same night.
John Legend Blocked Ariana Grande On Her First Episode (Season 21)
It's a known part of The Voice that aside from the coaches spinning their own chairs around when they like a contestant, they have the ability, only once, to block a fellow coach from snagging a contestant.
It was during the Season 21 premiere and former coach Ariana Grande's first episode that fellow coach John Legend used his block on her during Joshua Vacanti's audition, admitting he blocked the "Thank U, Next" singer as soon as he heard Vacanti's voice.
The Time Votes Were Thrown Out (Season 4)
Season 4 was a notable season of the show, launching to fame singer Danielle Bradbery and welcoming Shakira and Usher as coaches alongside Adam Levine and Blake Shelton. But the season wasn't full of all good moments.
It was at the start of the results show during The Live Playoffs that host Carson Daly, along with the CEO of Telescope, announced that due to some inconsistencies with the online and texting votes that week, they would be throwing out all votes cast online and via text. Despite the decision being done in fairness, it still made for a major controversy that left fans uncertain of the night's results.
Kathie Lee And Hoda's Surprise Audition (Season 14)
With a show centered around auditions taking place blindly, it can only be expected that the coaches would wind up on the receiving end of a prank or two. And during the Season 14 auditions, some very special guests were behind the mic.
Performing "You've Got A Friend" by Carole King as a duo called The Winos, Hoda Kotb along with her former TODAY co-host Kathie Lee Gifford shocked coaches Alicia Keys, Kelly Clarkson, Adam Levine and Blake Shelton when they finally turned their chairs around to find their morning talkshow host friends.
Blake Shelton and Gwen Stefani's Unexpected Romance (Season 7)
More often than not nowadays, coaches will come and go from those spinning chairs, most recently being Chance the Rapper and former One Direction member Niall Horan joining returning coaches Kelly Clarkson and Blake Shelton for the upcoming Season 23.
But it was during Season 7 that Gwen Stefani took a chair, and the rest was history for her and fellow coach Blake Shelton. After meeting on the show, the two singers were said to have bonded over their divorces before hitting it off. It wasn't until 2015 the two started dating, and 2021 that they tied the knot.
Judith Hill's Elimination (Season 4)
Singer-songwriter Judith Hill – memorably known as Michael Jackson's duet partner for "I Just Can't Stop Loving You" during the late performer's This Is It concerts in 2009 – auditioned for Season 4 and earned button presses from all four coaches before Hill ultimately chose Adam Levine's team.
As an early favorite of the season, it shocked everyone watching when Hill was eliminated during the Top 8 performances. Leaving her coach, Levine, with the infamous words, "I hate this country" upon hers and fellow Team Adam member Sarah Simmons' eliminations, Hill's exit from the show remains one of the most shocking in The Voice history.
Bryce Leatherwood Beats bodie and Morgan Myles (Season 22)
In instances like Carrie Underwood on American Idol, Jordan Fisher on Dancing With The Stars, and Amber Riley as Harp on The Masked Singer, sometimes a reality show will nail it with its winner. And sometimes, like in the case of Season 22 of The Voice, the finale ends in shock and disappointment.
The season came down to bodie, a fan favorite, and two country singers, Morgan Myles and Bryce Leatherwood. But despite the hope and support for both bodie and Myles, viewers were left shocked when it was Leatherwood who was crowned the winner of the season.
An Original Coach Leaves The Show (Season 23)
During the show's 23 seasons, it's had a total of 18 coaches.; everyone from American Idol alums to former Disney stars to music icons. But only one of those coaches has been there since the beginning.
Blake Shelton has been a coach since Season 1, and is the only coach to remain on the show for its entirety. But that's all going to change after Season 23, which Shelton announced last year would be his final season of The Voice.