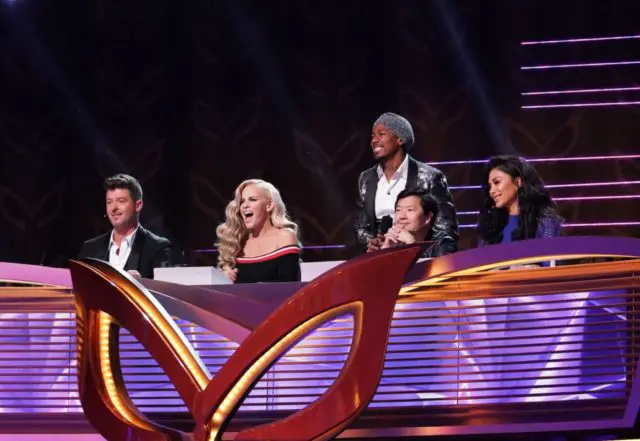 Hosted by Nick Cannon, with panelists Ken Jeong, Jenny McCarthy, Nicole Scherzinger and Robin Thicke, The Masked Singer  is a "top-secret" celebrity singing competition that premieres on FOX Wednesday Jan 2 at 9 pm. 
Based on an international format, and already a viral phenomenon with over half a billion fans worldwide, the series features celebrities facing off against one another with one major twist: each singer is shrouded from head to toe in an elaborate costume, complete with full face mask to conceal his or her identity.
 With each performance, the host, panelists, audience, viewers and even the other contestants are left guessing who is singing behind the mask. Although the celebrities' identities are a mystery, between them they have a combined 65 Grammy Award nominations, 16 Emmy Award nominations, four stars on the Hollywood Walk of Fame and four Super Bowl titles.
One singer will be eliminated by the audience and judges each week, based on their performance, and will then reveal his or her true identity. 
Sounds pretty crazy, doesn't it? We'll be live blogging the show beginning this week (Jan 2). Check out a few previews here.  
Here's a look at a full performance. A "lioness" sings the 60's hit by the Mamas and the Papas "California Dreamin'"  As the judges point out the mystery crooner is obviously a singer. Does that voice sound familiar to you? I bet among the singers will be a talent competition graduate or two. Hm.  
https://www.youtube.com/watch?v=J8EYYv9X460
A few fans posting in the clip's Youtube comments are guessing Dinah Jane from Fifth Harmony, but others are saying it's actress Jennifer Love Hewitt because of the clues posted in the preview below (hinting at a character she played in the TV show Ghost Whisperer).  Also, another interesting guess from Youtube comments: The Voice season 13 contestant and former football player Esera Tuaolo is the Hippo because of the Oregon colors featured in the clues and that he won a Super "Bowl" with the Vikings.
What are your guesses based on the clues?  I think this show is going to be VERY WEIRD, but fun.
Check out this first look
UPDATE: Another preview featuring a masked "monster" singing American Woman
https://youtu.be/oqNZMmj-qcQ
And a Photo Gallery