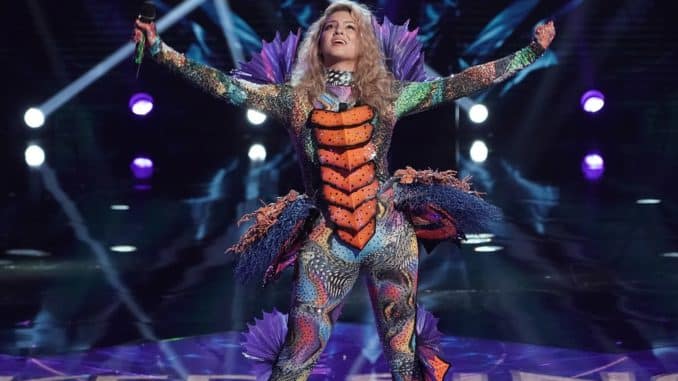 On Wednesday's (Dec 2) The Masked Singer semifinal, THREE celebrities were unmasked (Read recap)! After Seahorse–a judges favorite throughout the competition–lost her face off with Crocodile, she was unmasked to reveal…American Idol alum Tori Kelly!
Tori unfortunately performed an upbeat Bruno Mars song that couldn't compete with Crocodile's heartfelt power ballad, the mighty asteroid song, "Don't Want to Miss a Thing."
Tori is the second American Idol alum to compete on The Masked Singer. Season 5 alum Chris Daughtry wore the Rottweiler mask in season 2, finishing the competition in second place.
In her post-unmasking interviews, Tori revealed that this week's "telescope" clue referred to her competing on Star Search as a 10 year old. Additionally, Gospel star and collaborator, Kirk Franklin, delivered clues last week as her "spiritual advisor."
FOX reached out to Tori to do the show. She told Entertainment Weekly: "…at first I was like, wait, that show is crazy. I don't know if I can do it — it's really out there and wild. After giving it some thought, I realized that it could be a cool opportunity to kind of show many different sides to me, really, and kind of show my alter ego a little bit and have fun with the songs. So after a little bit of thinking it through, I got really excited about it. So I said yes."
Was Tori disappointed to be eliminated? "I don't think disappointed is the right word," she told EW. "but it's just a whole mixture of feelings. You feel kind of exposed when you take the mask off. It's just weird because you're like, "Wait! You're not supposed to see who I am!" It's a whole mixture of things and it was really, really unique — I guess that's the best word to describe that feeling."
If she had made it to the final, Tori was planning on singing "Latch" by Sam Smith and Disclosure.
Seahorse's First Interview Without The Mask
Seahorse is Unmasked!
Seahorse sings Bruno Mars's "That's What I Like"