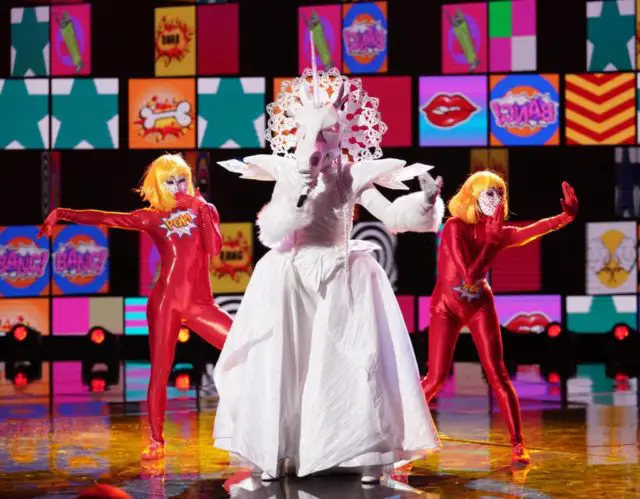 Tonight the wacky singing competition, The Masked Singer continues on FOX. We'll be live blogging all of the performances here.
Ken Jeong, Jenny McCarthy, Nicole Scherzinger and Robin Thicke sit on the panel, while Nick Cannon is host and executive producer.
Based on an international hit which produced the No. 1 top-trending video of 2017 on YouTube, The Masked Singer features celebrities facing off against one another with one major twist: each singer is shrouded from head to toe in an elaborate costume, complete with full face mask to conceal his or her identity.
The weakest performance of the night is ELIMINATED and REVEALED.
Tonight, The Alien, The Rabbit, The Unicorn, and The Lion return to the stage.
AHHH HAHHH. Masked Singer doing group numbers! YES. Heh. The sing Imagine Dragons "I'm on Top of the World." Jenny wonders how they do it in masks. Erm. Pretty sure they were singing to a track! Jenny also notes the contestants don't know each other's identities. 
The Rabbit – CLUES: "Well howdy friends! I've been working my tail off to keep you guessing who I am. And showing off my range is part of my master plan to throw you off. I've done Latin Pop. Then country twang y'all. And tonight, I'm going to try to confuse the panel again with some R&B. What can I say? I'm a trickster. I bounce here, I hop there, and then I'm gone. So chew on this–I'm about to bust out all the old school moves. I just hope I don't pass out. If you think you're confused now. Just wait." Visual clues: Food stand with "Brooklyn piza available" sign in the window.  By the way, Joey Fatone told one of the entertainment sites that he's NOT The Rabbitt. Hm. I'm sure LYING to the public is encouraged by FOX. Amiright?
Performance: Rabbit sing "Poison" by Bell Biv Devoe. He's got rabbit background dancers. Tonight, Rabbit is all in with the boy band choreography. By the time he finishes, Rabbit faints he's so out of breath. He's Nicole's favorite performer. Ken was annoyed with Rabbit..until tonight. He loved him! Oh. Each singer will bring an item as a hint. Rabbit's hint is a magician's kit. "It's another way I like to impress an audience." Jenny doesn't buy the magician thing. Ken thinks he's from an 80's boy band. Donnie Wahlberg, guesses Ken (Jenny's husband. Sure, she wouldn't know). Zach Brown says Nicole (DUMB GUESS). "I threw off the panel again!" says Rabbit. "My tricks are working!"
https://www.youtube.com/watch?v=Ui12BR0t5fc
The Unicorn – CLUES: "When I first floated onto the stage 4 weeks ago I was terrified. Performing in front of people has always been my biggest fear. The amazing support of the panel and all the love from the crowd has made me feel like I'm in heaven. Throughout this magical journey I've been able to craft a new identity. For years, I hid behind a different kind of mask of my own making–low self-esteem. But here I've been able to live vicariously through the unicorn. And I have learned to use my voice with the confidence I have always dreamed of having. Now I could do cartwheels I'm so happy. Tonight, I don't care what anyone thinks. I love who I am. And I'm proud of the Hills where I come from."
Performance "I Love it" by Icona Pop – Her singing is still bad! And she's so stiff on stage. Jenny, however, feels her confidence has grown. Ken thinks it's the happiest he's seen her perform. Unicorn's Revealing Item is…an old fashioned typewriter. Hm. "This typewriter has created lots of magic." Ken doesn't want to be that guy. "Maybe she's old." Jenny thinks it's Lauren Conrad. Ken guesses Tori Spelling. Nicole thinks maybe Denise Richards. "Becoming the unicorn has actually given me more courage than I ever thought I could have," says Unicorn. 
https://www.youtube.com/watch?v=V4ADAhmiUtc
The Alien – CLUES: "Being in this competition has been such an incredible experience. I spent my entire life under a microscope poked and prodded. And for the first time I'm unknown. No one talks to me or sees me. I'm finally getting some peace and quiet. And I love it. Growing up I always craved the simple life . That's hot! But it seems being born in a famous family, I was destined for the limelight. I mean, I'm only human. Even when I put this mask on. And tonight, what I'm bringing to this performance is what I'm feeling inside. Happy." Visual clues: She's reading a book "How to take over the world." Also, cutting foliage with a pair of hedge clippers.  While saying she craves the simple life, she sits down in the grass for a picnic with her bodyguard. She floats by a hissing snake. 
Performance: "Happy" by Pharrell Williams. This singing is really mediocre. But she can perform? Ken can't think of a guess. Nicole thought she knew who it was, but now she's not o sure. Jenny thought it was Nicole Richie, but now she thinks Alien is actually a singer. Alien's Revealing Item is a police badge. Hm. "The badge is not a prop. I swore to protect and serve." The badge is from "Muncie Indiana." Nicole guesses Latoya Jackson. (Which is probably who it is! The Jackson's are originally from Indiana.) Nicole thinks maybe Paula Abdul. Alien felt the police badge "threw them off."
https://www.youtube.com/watch?v=OHTsqu6aplg
The Lion – CLUES – "The last time I performed Nicole wasn't impressed by my voice. But tonight I'm here to prove that being on stage is my destiny. When I sing I try to open up my whole heart so I can be a model of courage and vulnerability. Just like the lion in my favorite movie, The Wizard of Oz. They say there's no place like home. And I feel at home on this stage. I want all the panel to feel that too. So it's time for me to stop being all sugar and spice. Tick tock, the twister is coming. You don't think I'm a professional singer? Then it's time for me to let out my roar." Lots of fans thinks Lion is Rumer Willis. But she has come out to say it's not her. Again–she could be lying! 
Performance: California Dreamin by Sia – The performance was actually previewed a few months ago. Nicole says she's not a professional singer. But she CAN sing. It may not be the thing she's known for. But she is a good performer. "I am shocked. She can sang!" Nicole exclaims. Robin thinks she gets the small details right. Jenny thinks she maybe collaborated with Kesha? Robin guesses Michelle Williams. Lion's Revealing Item is…a hair scrunchie! "It's a family heirloom," says Lion. 
https://www.youtube.com/watch?v=85W8W3PGplI
RESULTS: Tonight's unmasked singer is…The Unicorn! I figured it would either be the Unicorn or the Alien.
Final Guesses: Robin thinks Gabby Douglas (WHAT?). Jenny thinks Lauren Conrad. Nicole says Denise Richards. Ken guesses Tori Spelling. 
And the Unicorn is….Tori Spelling!  Dang. I was sure it was Paris Hilton. Tori is very emotional as she says goodbye. OH The typewriter belonged to her dad, Aaron Spelling. Before he passed, he was a mega producer responsible for many hit shows, including "90210." That's kind of touching, actually. The panel had been dogging Ken all night about him not recognizing his friend Margaret Cho last week. Now, he's completely redeemed himself by guessing correctly this week. 
The repeated "Hills" clue in Unicorn's packages referred to Tori's starring role on the series Beverly Hills 90210.
The craft imagery in Unicorn's package was a nod to the show "Craft Wars" which Tori hosted.
The five little unicorns in her package referred to Tori's 5 children.