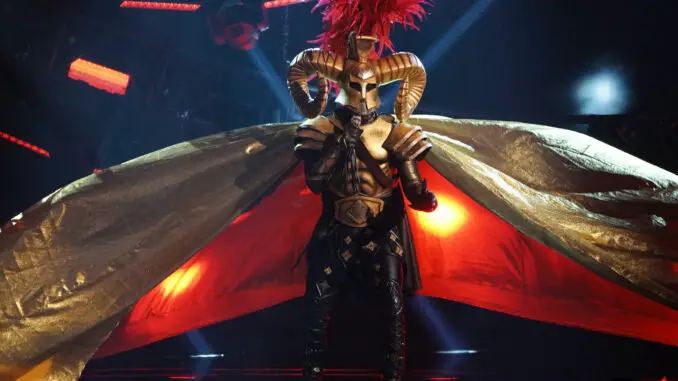 The Masked Singer season 7 continues, featuring panelists Robin Thicke, Jenny McCarthy, Ken Jeong and Nicole Scherzinger, and Nick Cannon as hosts. Fifteen contestants are divided up into 3 groups: The Good, The Bad and The Cuddly. 
The remaining Group A contestants return for their second performances of the season, including: Thingamabob (Cuddly), Cyclops (Bad), Ram (Bad) and Firefly (Good). One will be unmasked and three will move on to the Group A finals.
After the first vote, the losers will compete in a "show stopping duel." The loser of that round leaves the competition. Tonight's guest judge is Modern Family's Eric Stonestreet, host of the FOX show Domino Masters. 
Firefly
Clues: Last week Firefly didn't even finish the first verse before leaving the stage in a coughing fit. She returned later and finished her song with a dramatic flourish. 
Performance: PYT (Pretty Young Thing) by Michael Jackson – Firefly delivers a sultry performance accompanied by slick dance moves. Last week's performance was more dramatic. But Firefly still puts on a show. Each mask will present a MEGACLUE to the judges: The background dancers put together a puzzle of a picture of Pharrell Williams. Firefly says that he "is one of the major keys of my career." Eric guesses Aisha Tyler because they did a Pharrell spoof together. Robin guesses Keyshia Cole. Nicole guesses Lauryn Hill (Oh, c'mon. She would never do this show.)
Prediction: Firefly is probably Teyana Taylor. She's a dancer as well as a singer. Tayana also starred on reality shows and knows how to fake drama. She's married to Dancing with the Stars winner and former NBA player Iman Shumpert. She signed a record deal with Pharrell Williams in 2012. 
Cyclops
Clues: There are literally no clues in the pre-packages this week.
Performance: Suspicious Minds by Elvis Presley – Cyclops isn't a great singer, but he can carry a tune. He's got no range, but has a decent tone. But he's kinda pitchy this week, DAWG. He interacts with background singers. How can he see them behind that giant head? MEGACLUE: It's a meteorite that crashed to earth in 1988, supposedly. Ken guesses Chris Pratt "Guardian of the Galaxy" Eric guesses John Lithgow because of 3rd Rock from the Sun. Nicole guesses Rob Thomas. 
Ram
Clues: The opening packages review the contestant's previous performances.
Performance: Learn to Fly by Foo Fighters – Ram is actually a decent singer. His pitch isn't perfect, but he has a nice tone. He unleashes a flowy gold cape. Eric is convinced he knows Ram. Ram addessess Eric by a nickname. Maybe the MEGACLUE will serve up a hint: And the EMMY GOES TO RAM. "I'm going to add this to my collection." Kevin guesses Jason Sudeikis. Eric guesses his former Modern Family co-star Ty Burrell. Jenny guesses Jason Biggs. "He's a nice guy, but he couldn't fill this out," says Ram. Kate Hudson shows up to encourage her friend Ram.
Thingamabob
Clues: He knew it was "game time" opening the season. He insists that he's NOT big and scary. 
Performance: Perfect by Ed Sheeran – It's "Perfect" if it were covered by Sam Cooke. Considering Thingamabob is probably not a professional singer, he's pretty good. Group A overall are good singers. Thingy tears up at the end. So vulnerable. Ken is all verklempt. MEGACLUE: "Cuddly shields" is the clue. "I left my trident backstage, but I wanted to show America I'm ready to rock." Jenny guesses The Rock. Eric thinks he knows this person too. He guesses Omar Benson Miller, who is 6′ 6″. Robin guesses Jason Momoa who played Aquaman.
First Elimination
Time to VOTE! The two contestants with the fewest votes will sing off in a dual. And the two singers with the least amount of votes are… Firefly and Ram. Firefly walks off the stage…and commercial. ALL THIS FREAKING FAKE DRAMA. She returns to the stage and the DUAL proceeds.
Dual
They do a dumb wild west thing where they take 10 paces first. 
Ram – Take Me Home Country Roads by John Denver – "Please take me home" he shouts. Was that a deliberate ask to be eliminated? That performance was super pitchy. 
Firefly God is a Woman by Ariana Grande – It's hard to know if Firefly was REALLY MAD about being in the bottom two, or playing the drama queen. But she secured her win here with a performance that was at least on key. 
Leaving the competition is…RAM!
The panel picks the winner. And the contestant leaving The Masked Singer is RAM. Final guesses: Jenny: Jason Biggs. Nicole: Kelly Slater. Ken: Jason Sudeikis Eric Stonestreet: Joe Buck. And Eric is CORRECT Ram is Joe Buck. Joe is an Emmy winning sports announcer on FOX. He explains that years ago, he had a paralyzed vocal cord, so singing is a big deal.
Another celebrity I don't know. Butfore ya'll come after me: I'm not s sports fan! Just like I've never watched more than 5 minutes of the Food Network to know Duff Goldman, eliminated last week, I only recognize a handful of sportscasters. 
The Masked Singer: More contrived than ever!
Buck likely didn't care that he got eliminated. His appearance on Masked Singer is all about promoting the show that follows, Domino Masters. And he's on the show. As if Eric Stonestreet didn't know Ram's identity, even before he stepped on stage. 
The concept of The Masked Singer is inherently contrived to begin with. But after 7 season, the contrivances have become ridiculous. So many obviously fake antics and too much baloney drama, all to drum up interest. The ratings are falling, so that's probably driving the BS. Also, the promo for tonight hinted people would walk off the stage, probably leading some to think Rudy Giuliani would make his well publicized appearance. It's really annoying how FOX is stretching out the publicity around the fake spoiler they dropped to Deadline weeks before the show premiered. I used to enjoy this show a lot.