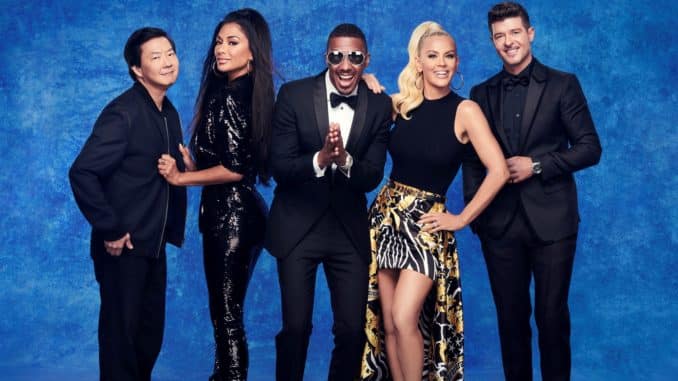 The Masked Singer season 6 kicks off with a two night premiere starting tonight at 8 pm ET/PT on FOX. The new singing avatar competition, Alter Ego premieres at 9 pm ET/PT. That's four more hours of singing competition this week!
Watch the first two minutes of tonight's (Sept 22) episode that will end in a double elimination. Five contestants from Group A including Bull, Mother Nature, Skunk, and Octopus will compete tonight.
The Masked Singer 6 Reveals Guest Panelists (Photos)
The video gives a montage of the 16 contestants who will sing in front of the judges, Robin Thicke, Jenny McCarthy, Ken Jeong and Nicole Scherzinger. Check out a FULL Gallery of the sixteen masks below.
Baby, Dalmatian, Cupcake, Hamster, Mallard, Queen of Hearts, Bull, Beach Ball, Banana Split, Pepper, Caterpillar, Skunk, Octopus, Jester and Mother Nature and Pufferfish are this seasons sensational masks.
The Masked Singer Sneak Peek: Watch Bull Sing Train's Drops of Jupiter
New for The Masked Singer Season 6
In addition, The Masked Singer is switching up the format a bit this season. The celebrities will sing in one of two groups. But for the first time in the show's history, the winner of Group A will face off against the winner of Group B for the "ultimate Mask-Off Face-Off in the season finale episode."
Also, Wildcards are back, with each group featuring several wildcard contestants joining the competition to unseat a current celebrity. 
The "Take if Off Buzzer"
At the end of the special, Nick announced the biggest twist, the Take It Off Buzzer. Basically, if a panelist is  sure they know who is behind the mask, they can hit the buzzer. At that point, they give the name. If they are correct, that contestant has to unmask immediately and leave the competition. The panelist who guessed correctly earns two points toward their quest for the Golden Ear Trophy.
However, if the panelist is wrong, contestant remains masked and on the show, but the panelist will lose two points towards the Golden Ear Trophy. There are caveats.  The new buzzer can only be used once in Group A and once in Group B. Not every panelist will get a chance to use the buzzer.
The Masked Singer Season 6 Costume Gallery
Photo CR: Michael Becker/FOX
Click on image for full photo slide show.