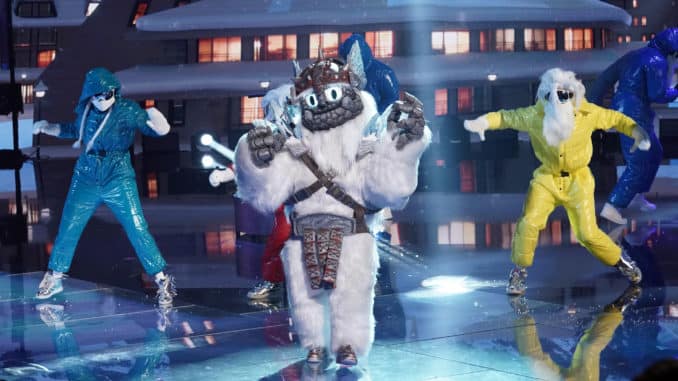 Tonight, season 5 of the wacky singing competition, The Masked Singer continues on to week 6 on FOX.
FOUR celebrities from Group A  will perform in crazy costumes. ONE will be unmasked by audience vote before the  episode ends. After the contestants are presented, with clues, they will perform a song. Then, it's up to the at home-audience to guess who is behind the mask.
BUT, there is a twist. Another WILDCARD will enter The Masked Singer stage. 
Ken Jeong, Jenny McCarthy, Nicole Scherzinger and Robin Thicke sit on the panel. And Nick Cannon is back as host.
Tonight's masked celebrities from Group B include Robopine, Seashell, Orca, Russian Doll in addition to the Wildcard. Plus, clue mask, Cluedle-doo, who will be unmasked before the end of the season!
The panel serenades the returning Nick Cannon with a song, "That's What Friends are For." Needless to say, Ken cannot sing. 
Russian Doll
Clues: Life on the road was not glamorous! Snowy Owl is a clue! They sang for the President at the White House. 
Performance: Want to Want Me by Jason Derulo – At first, it looks like four Russian Dolls are performing this week. But it looks like the one in the back doesn't move. It's confusing! The harmonies on that performance were JUST A DELIGHT.  This week, clues will be delivered by a "Nick Cannon." He shoots a thing out at the judges. It's a tshirt that says "What goes around, comes around." They broke up then returned to the stage. Nicole guesses Pentatonix. UH NO. Ken guesses The Jonas Brothers. TOO FAMOUS. AND NICK IS ON THE VOICE. Geez. Jenny guesses 98 degrees. OHH JENNY WRONG MASK SIS. Nick Lachey from the group is PIGLET.
Prediction: At this point, everyone has figured out that the Russian Dolls are Hanson, right? 
Robopine
Clues: Robopine is on a mission to get to the end of his "masked adventure." A ton of Raiders of the Lost Ark metaphors in this clue package. 
Performance: Killing Me Softly by Roberta Flack – Robopine is performing some Motown worthy choreography. He's not a polished singer, but he's pleasant. Nick Cannon Clue: "AKA" is the hint. Maybe the celebrity goes by a moniker. Jenny guesses Jamie Foxx. He doesn't sound like that? Ken guesses Will Smith or Tom Cruise or Terrance Howard. Robin also guesses Terrence Howard. Hijinks ensue as Robopine appears to chase after Ken. That actually warranted a commercial break as a cliffhanger? 
Prediction: Apparently, Robopine is Tyrese Gibson. The action stuff and the number "6" could point to Tyrese being in the action movie Fast and Furious 6. Plus "MM" and the M flipping to a W could represent his album Watts coming out in 2000.
Seashell
Clues: She's walked in a variety of shoes. And is considered a trailblazer. "Strength Supplements." She continues to BLAZE forward
Performance: Tell Me Something Good by Rufus ft Chaka Khan – Seashell can sing. She doesn't have a pop voice and sounds rather old fashioned. Nick Cannon Clue: "Motown" is the clue. She says "Motown brought my family together." Nicole guesses Keke Palmer. Jenny guesses Ashanti. Robin guesses Alicia Silverstone. What? Nick thinks he knows who it is. 
Prediction: The internets say Seashell is Tamera Mowry from the 90s TV sitcom Sister Sister. She stars in a show "Strong Medicine TV" which relates to the "Strength Supplements" in her video package. Or you know, the show could be goofing around and switching out twin sisters Tia and Tamera every week. Apparently, Tia has a vitamin business. But the clues last time fit Tamera better. 
Orca
Clues: Orca was the first Wildcard. He channeled his father, his hero. Orca is a dad too. His dad right after the baby was born. 
Performance:Every Rose Has It's Thorn by Poison – Orca favors rock songs. He does have some rock chops. I suspect he's a pop/rock guy. Maybe from the aughts or 90s? Jenny is fake crying! Orca says he's a dad to 10 year old twins. Robin mentions using his dad a few years ago. He releates.  (CHECKING OUT WIKI I KNOW EXACTLY WHO THIS IS).  "Purrrr" is his Nick Cannon clue. Ken guesses Billie Joe Armstrong or Fred Durst. Jenny guesses Jeremy Renner. 
Prediction: Orca is Mark McGrath from Sugar Ray. He has 10 year old twins. His father died two months before he filmed the Apprentice in 2011.
Yeti (Wildcard)
Clues: He only comes out of hiding for a "mammoth" reason. A village of warrior women showed him the way. 
Performance: If it Isn't Love by New Edition – Yeti can dance. I'm thinking a former boy band dude. He's got a very boy bandy voice. After the judges write down the "first impression guesses" Nick brings out the Cannon "Aphrodite" is the clue. Jenny guesses Ray J. Nicole guesses Justin Bieber. Ridiculous. Ken guesses Taran Killam. Uhm. No. 
Prediction: The internet says Yeti is rapper and singer Omarion. Fans recognize his voice. And apparently, he has talked about growing up around women. The "wood" he talks about in his video package is Inglewood, CA. His second solo album 21 contained the single "Icebox." The three cupcakes could be 2 +1. And, he did start his music career in a boyband in the early 2000s, B2K.
RESULTS
The singer with the least amount of votes is…The Orca! Aw. After that emotions performance. Let's see if I am correct. First impression guesses. Jenny: Dave Grohl. She changes it to Kelly Slater. Nicole: Dave Grohl. She's sticking with that. Robin: Billie Joe Armstrong. He's sticking with that. Ken: Jon Bon Jovi he's changing his guess to Billie Joe Armstrong. AND YES CORRECTO MUNDO ORCA IS MARK MCGRATH.