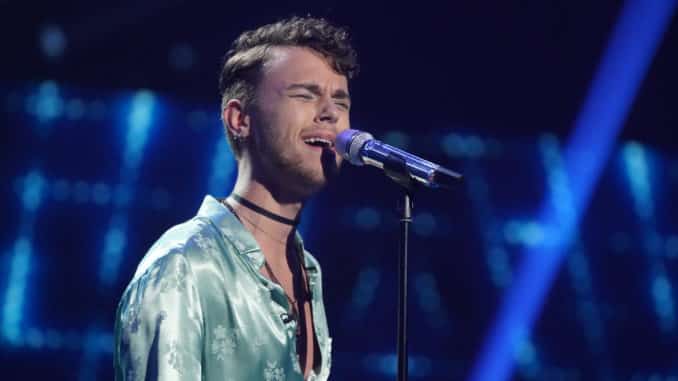 American Idol 2021 contestant Beane had to sing for his life during Monday's show for a spot in the Top 12. His passionate performance of Ben Platt's "Grow as We Go" moved the judges enough, that they chose him as one of two Wildcard contestants.
"I think there's a huge amount of anxiety that you build up, all of us sitting on stage, waiting for our name to be called," Beane shared with MassLive. "And to be honest, once I was told that I wasn't in the top 10, that's when my anxiety left, which I'm grateful for. I was able to just let go and sing the song from my heart."
Beane is deaf in one ear and manages type 1 diabetes
Beane is originally from Central Pennsylvania and went to Berklee College of Music in 2015. The 23-year-old has lived in Boston ever since. What's more, Beane has a few hurdles to overcome as he navigates a pressure filled singing competition like American Idol. He's deaf in one ear and has type 1 diabetes.
American Idol: Harry Connick Jr. & Lauren Daigle to Perform on Comeback
Wyatt Pike Addresses Fans After Suddenly Dropping Out of American Idol
"I have to manage that very involved thing throughout this whole process, which has been interesting, to say the least," he told MassLive.
Being partially deaf was definitely a hurdle for the first few times that he sang on stage. "But now with this performance [Monday] night, we started to have in ear monitors, which definitely make it much easier for me to overcome that," he said.
Strict COVID-19 protocols have also presented unique challenges for the contestants.
COVID protocols make staying hydrated a challenge
Beane told MassLive that cast and crew are getting tested often and he feels very safe from COVID. But they can't keep water bottles at their side or drink water wherever, like a singer might normally, due to having to remove your mask to do so.
American Idol 2021: Top 12 Oscar Nominated Week Song Suggestions
"One of the comments that I get a lot on my videos, is that my voice sounds dry. And I'm like, 'Yeah,'" Beane said laughing.
Beane is making friends on the show, including fellow Berklee alum, Grace Kinstler, whom he calls a "powerhouse" and "a wonderful human being."
Beane and the Top 24 are fast friends
"We spent about a month altogether before anybody got cut from the show. I got to hear these people not singing just the one song they do on stage, but how they sing with a guitar in a hotel room, or outside somewhere," he said of the top 24 contestants. "And I'm just such fans of all of them."
"I think that authenticity has gotten me farther on this path than the vocal ability, or what I wear, or what I say," he told MassLive. "I think that being genuine and authentic in anything you do is going to get you where you want to go."
Fun fact: Beane is not the only American Idol contestant to be deaf in one ear AND diabetic. He should give Elliott Yamin from season 5 a shout out. In those days, contestants couldn't wear in-ears. Elliott would probably have great advice for the young singer on how to manage the competition.