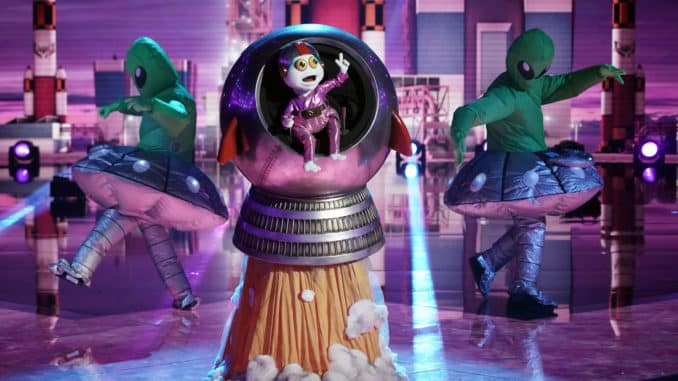 The Masked Singer continues tonight, with the Group B Playoffs!
Celebrities will perform in crazy costumes. ONE will be unmasked by audience vote before the episode ends. After the contestants are presented, with clues, they will perform a song. Then, it's up to the virtual audience to guess who is behind the mask.
Ken Jeong, Jenny McCarthy, Nicole Scherzinger and Robin Thicke sit on the panel, while Nick Cannon hosts and is an executive producer.
Performing tonight in Group B is: Serpent, Crocodile, Babu Alien, Whatchamacallit and Seahorse. ONE celebrity leaves the competition after a virtual audience vote.
Tonight, the cast and contestants will revisit childhood memories. We kick off with baby photos. Joel McHale returns as guest judge. 
Serpent
Clues: He sold clothes and did manual labor and heard a lot of nos. He finally broke through.
Performance: The Bones by Maren Morris. Serpent has a pleasant, soulful and raspy voice. He's a really good singer. He doesn't move around the stage much, but does hit those high notes. Terrific rendition of Maren's hit song. Nicole loves his voice. Joel calls it "amazing." Childhood clue: It's a baby bottle. "This baby bottle should get your wheels turning. Jenny guesses Taye Diggs. Joes guesses Jesse Williams. Nicole guesses Brian McKnight. 
Prediction: Last week's clues were better than this week's, but I still think the serpent is Leslie Odom, Jr.  
Crocodile
Clues: A house with the No five and a skull and crossbone. His father didn't believe in his talent. Eventually his field of dreams become his field of reality.
Performance: Toxic by Britney Spears – Well, this is unusual. He's got a decent falsetto. The song speeds up on the second chorus. This rendition of Toxic would please the crowd, if the crowd wasn't totally fake. Robin notes the first and second performances were very different. Childhood clue: Nick breaks a croc pinata. There are little dolphins inside. Hm. "I just cracked the case wide open. This clue has an important "Porpoise". Nicole and Robin guess Adam Lambert. NOPE. That's not Adam's voice. Ken guesses Lenny Kravitz. Joel guesses Harry Connick Jr. WHAT? That's a terrible guess.
Prediction: Crocodile is probably Nick Carter. Nick had a rocky relationship with his father. Plus the 5 could be the number of siblings in his family. Apparently, he loves the Tampa Bay Buccaneers, hence Pirates.
Baby Alien
Clues: What's up with the fake Russian accent? He has made it my duty to help others. Money hungry sharks? He can help other baby aliens avoice sand traps?  Hm. 
https://www.youtube.com/watch?v=SNnFQ-tcEeU
Performance: It's Time by Imagine Dragons – Not liking the song choice. Baby alien is sounding very reedy this time. He asks the crowd to get on their feet. But…there is no crowd. Maybe the virtual audience can stand in their living rooms. Anyway, this song pick is a miss. Robin calls it a "huge comeback." Childhood clue: A toy firetruck. "Joel McHale you are hot on my trail." Joel guesses Eric Bana. Nicole guesses Sasha Baron Cohen, Jeff Dunham. Ken guesses Taylor Lautner. 
Prediction: I was sure Baby Alien was American Idol season 1 runner-up Justin Guarini, but I was wrong wrong wrong…
Whatchamacallit
Clues: He rattles off a bunch of numbers. Balloons. His mother got sick. But she's OK! 
Performance: Money Maker by Ludacris – Whatchamacallit goes for the full entertaining performance, working the stage, singing and rapping. Ken says, "You came her to play." Childhood clue: Hairy tales of the whatchamacallit book. "I love a bedtime story, and I'm an open book. Ken, you should know exactly who I am." Jenny guesses football player Cam Newton, Robin guesses Terrell Owens, Ken guesses Armand Hammer. Uh…no Ken.
Prediction: I don't know! Will update later
Seahorse
Clues: She's a bit tame in her normal life. The cowboy theme is back. She experienced rejection at first. She holed up in her room afterward. "I've experienced unimaginable loss and pain."
Performance: My Heart Will Go On by Celine Dion – This is tonight's big finish. Her vocals are so breathy though. LEFT SHARK! Heh. But then she busts out the mega huge vocals for the second voice. She was saving the good stuff for her second performance. The judges are shocked. Nick calls it perfection, calling it "one of the best vocals I've ever heard." Childhood clue: It's a balloon with feathers "Light as a feather heavy on clues, this should help you not confuse." Robin guesses…they're thinking American Idol alum maybe! Jenny mentions Pia Toscano. But Robin goes with Bebe Rexha. Jenny guesses Camila Cabello. Nope. Too big of a star for this shizz. Joel gesses Jessica Simpson.
Prediction: OK I was totally wrong about Justin Guarini behind the Baby Alien Mask. But I'm convinced that Seahorse is American Idol 9 alum, Tori Kelly. Her fans are also convinced. Tonight's clues seemed to be all about her failed American Idol run. "This isn't my first time at the radio" means "The Masked Singer isn't my first talent competition." In the package, she talks about failing and then retreating and "posting" in her room. She was only 16 when American Idol stupidly eliminated her before the Top 24. Tori went back home and literally began performing in her bedroom, and posting performances to Youtube. She gained a massive following which led to a record deal. Also, Tori recorded a cover of Drake's "Time Flies" hence the clocks with wings. And 9 pm could even refer to appearing on the 9th season of Idol. 
Results
Oh man. Technical difficulties. We come back in the middle of Baby Alien's elimination. Ken's first guess was Mat Leblanc. But Ken thinks it's Freddie Prinze Jr. Robin's guess is Jason Biggs. Nicole's first guess was David Schwimmer. Now she thinks it's Jeff Dunham. Joel thinks it's Eric Bana.
And the Baby Alien is…Oh man. I WAS WRONG. Everybody was way off…including me! I thought it was American Idol's Justin Guarini. But it's actually football player Mark Sanchez.