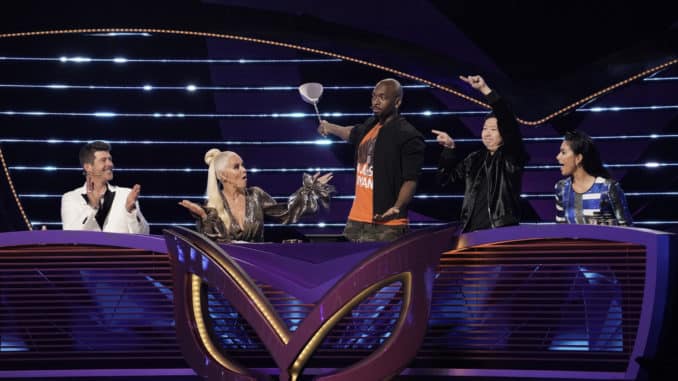 Tonight the FOUR remaining contestants compete on The Masked Singer for a spot in next week's finale! The remaining masks are Turtle, Frog, Night Angel and Rhino. At the end of the night, ONE singer will be eliminated.
Ken Jeong,  Jenny McCarthy, Nicole Scherzinger and Robin Thicke sit on the panel, while Nick Cannon serves as host. comedian Jeff Dye sits in as guest judge.
Guest panelist is former SNL cast member, Jay Pharoah. 
The episode kicks off with a group number of "Simply the Best" and EXTRA CLUES. Football for Night Angel.  Globes for Rhino. Hat for Frog. Photo album for Turtle.
Night Angel
Clues: She is the Night Angel, because years ago, someone close to her died. "It ripped my world apart," she says. "Ever since that day, I've felt like i had my own guardian angel, an invisible hand that helped guide me towards my successes."  The Golden Mask sits next to a soccer ball and football. 
Performance: "How to Love" by Lil Wayne – "Robot, this is for you!" she shouts. (Lil Wayne was the Robot. Remember?) She tosses off her cape. It's a bold song choice. Night Angel isn't so great in her lower register. But she's working the stage like a pro. The judges are on their feet. She wants to represent for the ladies and WIN THE GOLDEN MASK! Probably, though, a guy will win again. Night Angel walks up to panel so they can get a closer look. She's wearing a moon pin. Jay got strong En Vogue vibes. He guesses Dawn Robinson. Ken knows EXACTLY WHO THIS IS. He guesses Ciara, because she's married to a football player. Ciara is pregnant now. Oops. Jenny is sticking with Kandi Burruss. And she's CORRECT.
Prediction: Night Angel is Kandi Burruss. In 1991, her older brother Patrick died in a car accident in Mexico. She was only 15 at the time. But also, Kandi's fiance at the time, Ashley Jewell, was killed in a 2009 bar brawl. 
Turtle
Clues: "As an artist I was so pigeonhole," says Turtle. "I never felt confident about stepping out of my wheelhouse." He confesses that he's a big fan of Robin, and that the judge's praise has meant everything to him. A red bell hop hat sits on his dressing table. A street sign says "Back."
Performance: Jealous by Nick Jonas – The girls in the audience are screaming! Good song pick for Turtle, except that it puts him squarely in the boy band lane, in which he has been pigeonholed. Turtle gets up close and personal with the panel.  He's wearing a a big fake diamond ring on his left hand. Ken thinks it's Kevin Richardson. Nicole notes the Backstreet Boys have a song called "Diamond." She's guessing Nick Carter. Hm. Last week, Nicole guessed Jesse McCartney, which is actually the correct answer.  Robin guesses Justin Guarini because he sang one of his songs on his American Idol season, and sings in falsetto for his Lil Sweet Dr. Pepper commercials. HA HA HA HA. Nope. Not Justin. 
Prediction: Turtle is Jesse McCartney. The big diamond ring in his "close and personal" bit with the judges refers to Jesse's recent engagement to his long time girlfriend. The bellhop hat points to guest starring as himself on Disney's The Suite Life of Zack and Cody. The series took place in a hotel. The Backstreet Boys clues could be an attempt to throw the judges off. But Jesse did open for the group early in his career. The Robin Thicke stanning–Jesse covered Robin's song "The Stupid Things" on his Beautiful Soul album.
https://youtu.be/WUmZGHlfENg
Rhino
Clues: Rhino can't believe he's still in it, surrounded by so many "heavy hitters." He mediates in his trailer. There are cardboard cutouts of two little Rhinos on his desk. He teases that something monumental is happening right now, and he'll reveal it when the mask comes off. 
Performance: Humble and Kind by Tim McGraw – Aw look. Nicole is crying. There are better singers than Rhino, but I think he's become a sentimental favorite. He strolls up to the judges and takes Jenny's hand. Ken calls Rhino a "sentimental favorite." I swear I wrote the phrase before Ken said It! I'm thinking like Ken now. OH NO. The panel gets a closer look. He has a baby rhino pin on his lapel. I wonder if his wife is pregnant? Ken guesses Barry Zito, because he did a little research and learned the former baseball player guest starred on his favorite show, JAG, which he turned into a running joke last week. Jenny guessed Barry last week, and is sticking to it. Nicole is all NO WAY on Barry Zito because she's convinced Rhino is a singer. She's convinced it's Jason Aldean. Jay guesses Blake Shelton ERM HE'S A PANELIST ON A RIVAL SINGING SHOW ON ANOTHER NETWORK. NO WAY BRO. 
Prediction: Rhino is Barry Zito Rhino was eliminated tonight! See the big reveal below.
Frog
Clues: Frog plays basketball with one of the security dudes. "That feels like a slam dunk," says Frog. He feels electrified, he says while being "zapped" by CGI's lightning bolts. There is a "1000" clue and pink hair rollers. "I got a tadpole at home who's counting on me," Frog says.
Performance: Hip Hop Hooray by Naughty by Nature – Fans have complained that Frog is almost exclusively rapped, but the show is called The Masked Singer. But I say WHO CARES. Who is going take this show that seriously anyway. All that matters is that Frog is seriously entertaining, and he works his butt off up on that stage. He would be a worthy winner. Nicole thinks he could win. The judges get a closer look: He's got a "mom" lapel pin. Jenny guesses Chance the Rapper. Jay guesses Bow Wow. He knows! Robin has been guessing Bow Wow for a few weeks. Ken guesses Lil Fizz. 
Prediction: Frog is Bow Wow. The basketball clues and electricity refer to Bow Wow's role in "Like Mike" in which he becomes a great basketball player after getting zapped by electricity (or something like that!).  Bow Wow's mom was his manager, hence the "Mom" pin in his "closer look" with the judges. Bow Wow has a nine year old daughter. 
RESULTS
The VOTES are in! The singer with the least amount of votes is…THE RHINO! Night Angel, Turtle and Frog will compete in next week's finale! Final guesses: Robin: Trace Adkins. Ken: Barry Zito Jenny: Barry Zito Nicole: Jason Aldean Jay: Blake Shelton
And the Rhino is former baseball player Barry Zito! His wife had a baby three days before the episode was filmed. It's his 3rd child. Ken celebrates like his guess was his idea. He runs on stage to give Barry a big hug. 
The #9 in Rhino's package is a clue to Barry being the 9th overall all pick in the 1999 MLB draft
The planet Mars in Rhino's package is a clue to Barry's nickname "Planet Zito" and his son's name Mars. 
The South sing in Rhino's package is a clue to Barry being a left-handed pitcher
There were a bunch of baseball clues in tonight's package. Plus, the Rhino pin in his "close up" segment referred to his new baby boy.