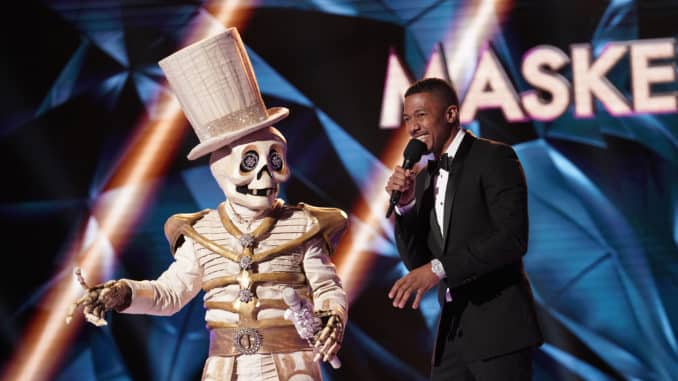 Tonight, season 2 of the wacky singing competition, The Masked Singer premieres on FOX. Buckle up for a special two hour episode that introduces 16 celebrity characters. After the contestants are presented, with clues, they will perform a song. Then, it's up to the audience to guess who is behind the mask.
Ken Jeong, Jenny McCarthy, Nicole Scherzinger and Robin Thicke sit on the panel, while Nick Cannon hosts and is an executive producer.
Masked Singer Season 2 Sneak Peek FIRST Clues Revealed! (UPDATED)
The celebrities will be paired up for sing offs. TWO famous faces will be revealed!
Nick enters the stage wearing a mask and dramatic cape, flanked but the show's "security guards."  He promises that the clues will be "much much harder." Either that, he says, "or shut down Google, and we can't do that." 
Singers will face off against each other. The audience and panel will vote. The losers of the faceoffs will compete against each other in what's being labeled as a "smackdown."  It conveniently ties into promoting FOX's wrestling show…
Butterfly vs Egg 
Butterfly
Clues: "Like the butterfly, for the past year I've been waiting patiently in my cocoon for the promise of metamorphosis. After achieving success in many stages of life. I foundmyself terrified in the one place I used to call home. And now with this ma, I've found the courage to be reborn. To admit I'm powerless in order to take back my power. And with this flight I release my past and everyone who has clipped my wings. I'm here to take you to church. Can I get an Amen." Butterfly poses for photographers. A shot of London appears when Butterfly talks about being "terrified…place I used to call home."  Also. religious symbols like water baptism and the cross are represented in the clip.
Performance: Bang Bang by Jessie J, Ariana Grande and Nicki Minaj. – Butterfly can definitely sing and has a very soulful voice. Chances are she's a recording artist, or an actress who can sing. Pretty amazing range on this gal!
Judges: Nicole loves that she's in character, calling it "electrifying." Jenny and Ken are also impressed. Robin wonders if she's a model. Jenny thinks it's Fantasia. (NOPITY NOPE NOPE. NOT Fantasia) Mel B is a guess. Nicole thinks she might be older–Diana Ross. 
Egg
Clues: "Ladies and gentlemen welcome to intimate evenings with the Egg. Please come into my egg-cellent world. I've become the egg because I'm strong on the outside and vulnerable on the inside. "You might figure that coming to The Masked Singer is a bit of a leap for me. But after years of being on top of the pyramid I'm here to join the ranks of the greatest, most versatile entertainers of our time. Here's the thing. I'm poof that no matter who you are, if you put in the work, and are unapologetically yourself, anything is possible. I'm going for the gold and I guarantee I'll be a tough one to crack."  He tells the judges, "I'm always extra. And I enjoy a good sparkle" 
Performance: Just Dance by Lady Gaga – Egg is probably not a professional singer. His voice is OK but not anything special. Could be a model? Or an influencer? 
https://www.youtube.com/watch?v=bsSiDPtEm4Y
Judges: Jenny doesn't think he's a professional singer. There was a skateboard in a clue. Jenny thinks he may be an ice skater. Ken guesses Jonathan Van Ness from Queer Eye. Jenny guesses designer Christian Siriano.  
RESULTS: The winner of the faceoff is…The Butterfly.  Egg will be back to perform in a "Smackdown." 
Thingamajig vs Skeleton
Thingamajig 
Clues: "Hello all, how do you do? What's a thingamajig? What does it do? A puzzling question comes to mind, but I'm a gentle giant, the feathery kind! What's that he has? A magic case? Come on you all, keep up the pace! I'm here because I love to sing, though you may think that's not my thing. So please accept theis side of me. I'm more than fashion shoots and dreams. And that's the key. And why it's me. Because I'm all the things, you see! All the stars led to this gig. I'm the singing, dancing, thingamajig. He's TALL TALL TALL. He's probably a basketball player. "Feathers" are a motif. And wings. He carries a briefcase that he pulls magic tricks. out of. He mentions "fashion shoots" then pulls athletic sneakers out of his case. And then walks across the laces like a tight wire? Hm. He looks through a magnifying glass. A cupcake with the number 4 on top appears. 
Performance: Easy by Lionel Richie – He may not be a singer, but he's not a terrible singer. He can actually carry a tune! He's also surprisingly soulful, delivering a performance full of feeling. Interesting!
https://www.youtube.com/watch?v=A9O3u5LDj0g
Judges: Ken says, "You were so whatchamacallit. He wasn't expecting him to be able to sing. Nicole calls his voice "natural" with a beautiful tone. Robin notes his swagger. He calls him the love child of Larry King and a muppet. What? He guesses Michael Strahan. Nicole guesses Dennis Rodman. "A thingamajig is a thing that likes to majig," confesses thingy. OK then. 
Skeleton:
Clues: "No man, I have never in my life Been as excited as I am now becoming the skeleton. Which, by the way, I chose because I have no fear of death and I don't overeat. I've been around the block a few times, but I'm far from dead. Throughout my life, so many doors have opened for me. And my key to success is always say yes. Just like a skeleton, I've always provided support. And I'm tired of playing second fiddle.  So tonight's going to be a wild and crazy party. Because I finally get that spotlight all to myself. I'm going to knock them dead. Party on dudes." There's showbizzy music in the background. He holds out a ring of skeleton keys.  There are actual fiddle players referring to "second fiddle." He opens a door and to two dudes partying wearing Christmas sweaters next to a Christmas tree. 
Performance: Rappers Delight – DEFINITELY NOT A SINGER. And PROBABLY a comedian. In fact, this voice sounds familiar to me. Jenny calls out Martin Short. Hm. I think the skeleton is maybe an SNL alum of some sort. He's riffing the rap and is hilarious. 
https://www.youtube.com/watch?v=gygfWNlL56I
Judges: Nicole is getting Broadway, Vegas vibes. Ken could not stop laughing, noting an "old school" vibe. The panel agree he's a comedian. Nicole thinks maybe Jon Cryer, Nathan Lane. Robin guesses Dana Carvey.  "I have no booty to shake…all I can do is shake shake shake…" Ken thinks he knows who it is–Martin Short, because he's a big fan and would know. That's a good guess. 
RESULTS: Time to vote! The winner of the Faceoff is Thingmagic! The Skeleton will perform in the SMACKDOWN.
HERE COMES THE SMACKDOWN! 
Egg – "One Way or Another" – Egg is very fabulous. He gets all up in Skeleton's face.
https://www.youtube.com/watch?v=K-iTmK1-sWQ
Skeleton – "Hard to Handle" The problem with the Martin Short guess? Short CAN SANG Y'ALL. For realz. He sang professionally before his acting/comic career. Skeleton is hilarious and entertaining like Short, but is a horrible singer. It could only be Martin Short if he's singing badly on purpose. 
https://www.youtube.com/watch?v=yu7nvA20LQA
Results: Skeleton wins! Egg is eliminated and will be unmasked at the end of the show.  
Ladybug vs Rottweiler 
Ladybug
Clues: "Hello ladies and gentlemen, and welcome to spin your wheels. I'm becoming a lady bug because after a lifetime of drama, I could really use a little love and a lot of luck. Being born into the limelight , the media was always keeping up with every piece of gossip and family feud. No matter how hard I try, I couldn't win. But now, after years of spinning my wheels, The chance to be anonymous makes me feel like I've already won a prize. I'm here to perform on my own terms without fear of being judged. Wish me luck! The action takes place in a retro television and there are tons of references to game shows. "Spin Your Wheels" and "Family Feud."  "KSOR TV" is written on one of the cameras. " There is a Brady Bunch style shot with a skull, police care, stuffed poodle with mail in it's mouth, a pumpkin, a ham, a baseball bat, a police car and a photo of a bridge. 
Performance: Holding Out for a Hero by Bonnie Tyler – Hm. I don't think she's a singer, even if  Jenny thinks that she is. She even describes Ladybug as a good singer. Hm. She can hold a tune, more or less. But she doesn't move much on stage and seems awkward, which makes me think she's not used to performing. That was boring.
https://www.youtube.com/watch?v=XVRfuu8WkUE
Judges: Nicole thinks she's a trained singer. I really don't think so. Robin guesses Lily Collins, (Phil Collins daughter WHAT) Willow Smith, guesses Jenny. That's a really dumb guess. Ken guesses Lindsay Lohan. She's down in Australia right now judging their The Masked Singer. It would actually make sense for her to also be a contestant in the American version. That would be interesting cross promotion. Jamie Lynn Spears is another guess. 
Rottweiler
Clues: "Every top dog knows you've got to look your best to perform your best. And the first time I touched the pigskin under the Friday night lights, I learned preparation is key. Being a hungry competitor is actually how I rose to fame. It happened almost overnight. I chose the Rottweiler because I actually was bitten by one as a kid. Now, this is an opportunity to embody my fear. And to show the doubters IT'S NOT OVER. This pretty pup's got chops and I'm ready to take a bite out of this competition. 
ETA:  A commenter mentioned American Idol season 5 alum Chris Daughtry. And heck yeah. It sounds just like him.  There's a shot in the clues video of an LP with LIVE stamped on the label. Chris loves the 9o's band Live and performed their version of "I Walk the Line" on the show. He also performed with the lead singer Ed Kowalczyk on the final. Also, note what I've bolded above. "It's Not Over" is the name of a Daughtry hit. AND he mentions being a "hungry competitor" who "rose to fame" and it "happened almost overnight." Obviously American Idol! But the "fantasy football" clue doesn't make sense? Chris played football in high school, but admits that he wasn't very good. There are references and a shot of "blue roses." Not sure what that means. But other OBVIOUS clues abound. ROTTWEILER SOLVED THE END. 
Performance: Maneater by Hall and Oates – Doggie has an odd voice. Update: Odd because I should have recognized it! Rottweiler is definitely Chris Daughtry.
https://www.youtube.com/watch?v=Iskesc4DzOc
Judges: Ken calls him a "star." Nicole calls it the best vocal she's ever heard on the show LOL NOT EVEN CLOSE. (Sorry Chris. You're awesome. But you can't touch Miss Gladys Knight.) Robin is a little loss–there were sports clues, but he can sing. He guesses Brian Littrell from Backstreet Boys. Nicole goes with Nick Lachey (who is probably too tall.) Ken guesses JC Chasez. Bruno Mars?  WRONG WRONG GUESSES. Ha. 
Results: The winner of the Faceoff is…The Rottweiler! Ladybug will perform in the Smackdown.
Tree vs Ice Cream
Tree
Clues: "I love getting dolled up as your favorite tree. But when the season is over, there's no use for me. It's here I sit wishing the world wouldn't ignore that I'm more than just one thing that you know me for. Such a shame that I spend so long in exile. When I could dish out more talents and make the world smile. I'm more than an expert in delicious treats, if you recall. I'm like the old-school entertainers who could do it all. So that's why I'm here to jazz up my career. And inspire you to think of me more than once a year. I know first impressions are of great importance. So I'm ready to wow with my first live performance." Visual clues include cooking gear, a shot of Tree in an old school portable television. Fixation on the number "30." 
Performance: High Hopes – If she's a cook, she's a cook who can sing. Hm. Her voice is soulful. I think she's a professional vocalist, or at least an actress who can sing. Maybe the cooking is on the side, like Gladys Knight last season. 
https://www.youtube.com/watch?v=570M2OrGIYI
Judges: Ken thinks he's an actor from a Christmas movie. Beverly D'Angelo or Zooey Deschanel Nicole guesses. Or Rachel Ray. Hm. Tree's voice is too soulful for any of those guesses. 
Ice Cream
Clues: "I chose to be the ice cream because for me, every day is cheat day. But life wasn't always this chill. Growing up I caught a lot of flack for doing the thing I love the most. No one thought I would amount to much. Even my mom and dad had their doubts. But I believed in my ridiculous dream, and I turned my fantasy into a reality. And now I've got over a billion reasons to be proud of my hard work and determination. While I am used to performing in front of millions of people, being here is a game changer, because I'm behind a different kind of mask. But if there's one thing I'm good at, it's exceeding expectations and I'm ready to take this competition to the next level. He tells the judges: "I'm sweet and everybody loves me." 
Performance: Old Town Road by Little Nas ft Billy Ray Cyrus – He can't sing. At all. The worst singer of the night. He's going to lose this matchup. 
https://www.youtube.com/watch?v=m-7dTfcaTcU
Judges: Jenny guesses Rob Dyrdek a professional skateboarder. Diplo, Calvin Harris, Marshmello,  are guesses. Hm. These guesses are bad because they are people only a select audience has heard of. 
Results: The winner is Tree. Ice Cream will perform in the Smackdown.
SMACKDOWN!
Ice Cream – Whip it by Devo – The singing is better in this performance! The song's range suits his limited vocal ability.
https://www.youtube.com/watch?v=LH68h4bLMio
Ladybug – Hit Me With Your Best Shot by Pat Benatar – She's a slightly better singer. She kind of hits a high note, but still,  barely moves on stage. 
https://www.youtube.com/watch?v=W20ADQpmVoA
RESULTS: The Ladybug wins! Ice Cream is eliminated.
UNMASKING:
Egg – Final guesses: Robin and Jenny: Johnny Weir. Ken: Jonathan Van Ness Nicole: Christian Siriano. And Robin and Jenny are CORRECT! Johnny Weir is the Egg!
Ice Cream – Final Guesses: Ken – Pewdiepie Nicole – Marshmello (Robin notes that nobody knows what Marshmello looks like. The DJ is always in costume). Jenny – Rob Dyrdek. Robin – Deadmaus  And nobody guesses correctly! It's  Tyler "Ninja" Blevins, Professional Gamer, Youtuber and Fortnite Legend. Because I'm old as dirt, I literally have no idea who this person is.
Safe and Advancing:
Butterfly
Thingamajig
Skeleton
Rottweiler
Tree
Ladybug
FULL EPISODE
https://www.youtube.com/watch?v=fX6mAz6LZAk