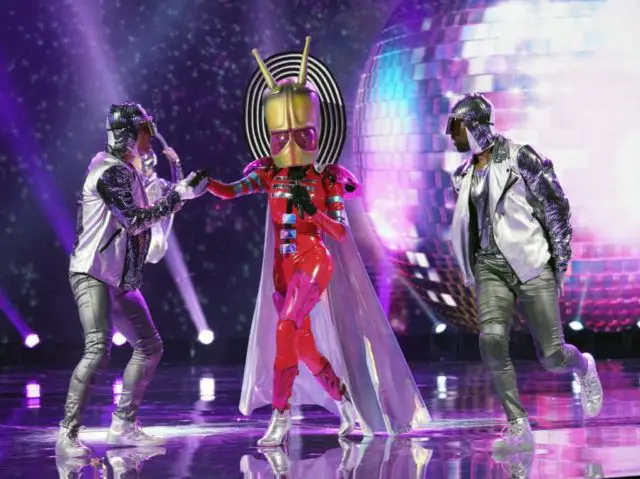 In the Masked Singer premiere, The Hippo was eliminated and unmasked as Pittsburgh Steeler Antonio Brown. On Week 2, we said goodbye to The Pineapple, otherwise known as Tommy Chong. In Week 3 The Deer aka Terry Bradshaw was sent on his way. Nine Masked singers remain. The five surviving Week 2 masked singers perform again tonight, when The Masked Singer Episode 4 airs on FOX at 9 pm ET/PT.
FOX uploaded a video with more clues for The Alien, The Bee, The Poodle, The Rabbit and The Raven.
The Alien – CLUES: "I'm excited to be here because in my family anonymity is a completely alien concept. Growing up in the public's eye my life was never really my own. I let others define me but noone will ever control me again. With this mask on, the tables are turned I See you, but you can't see me. And now for the first time ever the world gets to hear my voice on my terms."  Props: Snake out in the desert and a swimming pool with a duck.  The Episode 2 clue was an A&M Gold record.  This week's clue is really vague
GUESSES: Nevertheless, the nods to "control," the militaristic outfit, the lack of anonymity, a mention at one point of having "many sisters" and a nod to A&M records all point to one of the Jackson siblings. Probably LaToya Jackson. 
The Bee – Clues: "In my long career, I've flown to soaring heights and never wanted to stop doing what I love. Being a worker bee keeps me young. You can call me Queen Bee, but Empress also suits me. Coming on to this show I'm looking forward to singing to a new generation. I want to see for myself that I still have what it takes to create a buzz even behind a mask."  Props: She has guys behind her moving in a synchronized fashion. The episode 3 clues video features two tennis balls.
Guesses: The Bee is clearly Gladys Knight, the Empress of Soul. Apparently, she plays tennis. But nevertheless, Gladys has such a distinct singing style, it's hard to disguise.
The Poodle – Clues:  "Ever since I was a little girl I loved to be on stage and take on a character. Which is why I chose the Poodle. Like me they're sassy, smart and best in show.  I come from a musical family but I'm known for a different kind of talent 415 stand up! But it's time I return to my musical roots to show a side of me it's never seen before.  To figure me out, you're going to have to werk."   Props include the rainbow flag and San Francisco. 
Guesses: The Poodle appears to be stand up comedian from a musical family. Some think it's Margaret Cho. She's from the Bay area and an LGBT activist. I haven't found any evidence of a musical family? But who knows.  Others have guessed Minnie Riperton's daughter, Maya Rudolph. But she's a sketch comedy artist and actress. And she grew up in Los Angeles, so I don't think so. 
The Rabbit – CLUES: "I spent most of my life on stage, but never alone. Now I pop up here and I pop up there.  Synchronized singing is my forte It's as if I've been training for this my entire life. Performed on stage. Check. Performed unmasked. Check. I have a voice. Check Check."  Props include a merry go round. Also, Rabbit confessed to the panel that he was in a band. This week's clue is a couple of oranges.
Guesses: "Synchronized singing" could be a nod to N'Sync, so it's probably a member of that band. LOTS of folks believe it's Joey Fatone. That seems likely–he's the jokester of the group. His performance of La Vida Loca dressed in a bunny straight jacket costume was pretty silly. Also oranges–N'Sync got their start in Orlando. 
The Raven – CLUES: "All my life I've listened to other people's stories. Now I have the opportunity to share mine. I've always been a sunny kind of person. And an audience is something I've never had trouble attaining.  No one talks more than me. But recently I suffered a tragic loss so doing this show gives me the opportunity to honor my beloved. Becoming the Raven makes me feel I've found beauty in the darkness. Like a Phoenix in the ashes I will rise up and find the light. So don't cry baby. This one's for you." From the Episode 2 clued video: A pregnancy stick!
Guesses: I'm pretty sure The Raven is Ricki Lake. Her ex-husband, Christian Evans, lost a struggle with bipolar disorder in 2017. There's a nod to "Cry Baby" in the clues–a movie she filmed with John Waters. She helmed a talk show ("listened to other people's stories") for 10 years. And the pregnancy stick clue? Ricki filmed her own at home water birth for a documentary she produced on the business of childbirth.
PHOTO GALLERY