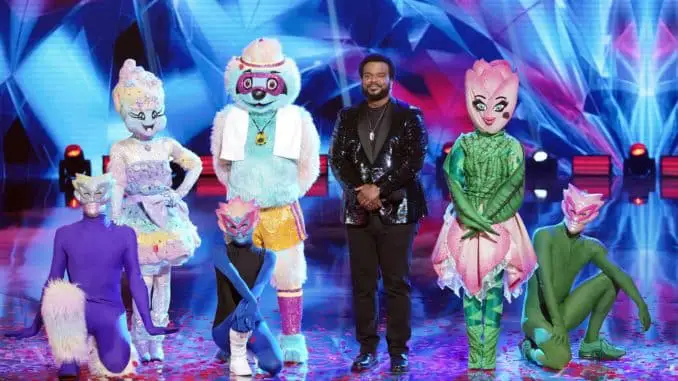 The Masked Dancer FINALE airs on FOX with the Final 3 performing to win the Diamond Mask. We're live blogging the performance and results here. ALL the remaining contestants will be unmasked.  
Ken Jeong from The Masked Singer sits on the panel next to former American Idol and SYTYCD judge Paula Abdul, actress Ashley Tisdale and former The Masked Singer contestant Brian Austin Green. Actor and comedian Craig Robinson hosts.
The short season features 10 costumed celebrities. Tonight the final 3 dance for the crown: Tulip, Cotton Candy and Sloth.
But before the competition begins, the show will take a journey through the very first season of The Masked Dancer. Relive some of the most talked about moments, watch the best performances and keep your eyes open for never-before-seen clues.
Craig opens the show singing "I've Had the Time of My Life" while the final three dance with their respective dance partners. 
All the remaining contestants are either trained dancers or athletes. 
Tulip
Clues: She feels overshadowed by the dancer she looks up to the most. A barrel marked "X Ale"
Performance: This set is very elaborate, a chess board with hedge-like pieces. It's a chess garden! Tulip dances an interpretive number, that incorporates a number of styles and impressive moves. she finishes perched on a flower throne. The last Word Up: Followers. Ken thinks it's Lucy Hale. Ashley thinks it's MacKenzie Ziegler and notes that the Dance Moms alum released a song titled "Exhale" (That's who it is!)
Sloth
Clues: It's the first time that he danced with a partner where he got to be the student. Jump street is a clue. "Now I'm the good man!"
Performance: Ballroom Blitz – He's dancing the Jive tonight. BALLROOM is a clue! This is a very fun performance, and right up Sloth's alley. Word Up: Magical. Ashley guesses Hugh Jackman. Ken guesses Channing Tatum. Paula guessed Sloth's identity correctly last week. He's Maks Chmerkovskiy, dance pro from Dancing with the Stars. 
Cotton Candy
Clues: Not everything has been a "perfect 10" She says "I am a champion." Her life has been full of judgements. She knows her competition are used to performing on the dance floor. 
Performance: This is Me – Oh look. She's performing floor gymnastics during her routine. She's literally giving away who she is. She ends the performance being pulled up into the air by a mass of balloons. Fancy. I believed through the entire season that Cotton Candy is Tara Lipinski. But nope. It's Gabby Douglas. Word up: Foundation! Ken thinks she's an Ice Skater. He guesses Michelle Kwan. Ashley thinks it's either Gabby Douglas or Simone Biles. Ice skater or gymnast? Hm.
RESULTS
The third place finisher of The Masked Dancer is…Tulip! Question time! Does she have a reality show background? Yes. She's not from LA but she lives there. She's obsessed with Tik Tok. She has been dancing from a young age. Final guesses: Paula: Liza Koshy Ken: Lucy Hale Brian: Sabrina Carpenter. Ashley: MacKenzie Ziegler.
And Tulip is MacKenzie Ziegler! MacKenzie had so much fun. The number 11 pointed to Dance Mom's 2011 premiere.  Ha. That weird clue which had icebergs sticking out of Tulip's armpits pointed to Pittsburgh! FUN FACT: The Dance Moms studio is not actually in Pittsburgh, but in a suburb just outside of the city, Penn Hills, MY HOMETOWN!
The Winner of the Masked Dancer Season 1 is…The Cotton Candy!
But first, it's time to unmask the RUNNER UP who is THE SLOTH. Question time: He has hosted a big event. We have totally seen Sloth with his shirt off. He's been on the cover a magazine. He is over the age of 35. Paula: Maks Chmerkovskiy. Brian: Maks Chmerkovskiy  Ken: Channing Tatum. Ashley: Hugh Jackman
And the Sloth is Maks Chmerkovskiy! He says Sloth is his alter ego now. Brian saw Maks at dinner in the midst of the show. Apparently, Maks played it cool. The stethoscope pointed to his arc on General Hospital. And the Glee clues pointed to partnering with Glee star Heather Morris on DWTS.
Cotton Candy cries before she is unmasked. Now it's time for last guesses. Brian: Tara Lipinski. Ken: Michelle Kwan. Paula: Gabby Douglas Ashley: Simone Biles. And Cotton Candy is…Gabby Douglas! The "English Breakfast" pointed to her Olympic win in London in 2012!
The panelist with the most correct guesses is Paula Abdul, with four! She guessed Brian McKnight, Jordin Sparks (natch!) Maks Chmerkovskiy and Gabby Douglas.
3rd place – Tulip aka MacKenzie Ziegler
2nd place – Sloth aka Maks Chmerkovskiy
WINNER – Cotton Candy aka Gabby Douglas
BONUS VIDEO!
The recap show that aired prior to the finale featured a little clip of Jordin Sparks and Paula Abdul having a reunion after the American Idol season 6 winner was unmasked as Exotic Bird.