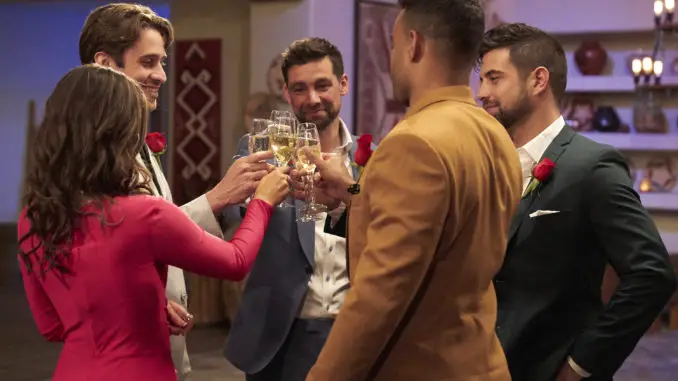 The Bachelorette week 7 is down to 7 suitors, who are all looking forward to spending more time with Katie. Bendan and Mike P haven't had one-on-one dates yet. And it's time for Katie to decide who to bring to Hometown dates.
After a second one-on-one, Katie and Greg admit they are falling in love
But dang…Greg gets a one one one. It's his second. The other guys are jealous. Blake is really mad. Katie's reasoning is that Greg's first date was weeks ago. She needs more time alone with him. And she really likes him! Katie is from Seattle. The date takes place at a facsimile of Pike's Market called "Katie's Market." They throw around giant fake fish for awhile. While Katie may live near the ocean, she's not a big fan of raw oysters!
Later, Katie admits that Greg makes her "giddy." He feels like a high schooler when she's around. Greg hasn't introduced a girl to him mom in a long time. And he's ready for it. Later, Katie shares that she's still worried Grag will leave because he's jealous of the other guys. He admits he's scared and has weak moments. Still, he feels that he's "the luckiest guy in the world." Katie calls the day "perfect in every way." And she gives Greg the date rose. Katie will be meeting his mom on a hometown dates. The two admit they are falling in love. The date ends with fake Seattle rain, where they have their movie moment.
Brendan confronts Katie after being shut out of a one-on-one. The result is predictable
Justin, Andrew, Blake, Michael and Brendan are on the group date. That leaves Mike P. for the remaining one-on-one. Brendan wonders why he's still here if he didn't get the last one-on-one date. Dude, It's because you are cannon fodder  after Katie ditched the troublemaker Hunter last week.
Undaunted, Brendan knocks on Katie's door to have a talk with her. And it's really awkward! It's obvious she plans on sending him home this week. He sounds so desperate about having a one-on-one. He's trying so hard to impress her. Too hard. Katie appreciates how Brendan has tried to make her feel special. But at this point, she doesn't think they have time to get closer. YUP. She sends Brendan home.
Which suitor on the group date creates the sexiest artwork? 
With Brendan gone, Andrew, Blake, Michael and Justin are on the group date. The guys walk into an art exhibit of made up of flower paintings that resemble sexual organs. (Think Georgia O'Keefe). The suitors are expected to create their own works. Michael creates a sculpture called "rear view" that depicts a butt. Justin…he can't even paint. Andrew paints what is supposed to be them eating sushi. Or that's what he claims. Blake's painting is 100 percent censored.
Katie notes that she and Blake are a lot alike. He thinks his mom will love her. He admits that he's not in love yet. But he strongly feels their relationship going in that direction. Katie worries, with him coming to the show so late, that they haven't had enough time.
The suitors make one last pitch
Justin was Katie's first kiss. She feels 100% herself with him. She calls the connection "strong, easy and natural."
Michael admits that hometowns are scary. She would be meeting his son, who lost his mother only two years ago. Katie declares that she's ready to join his family. She can imagine herself in their lives. "When I give you a rose, I'm also giving it to James." Michael says, "Nobody can love you like I can." The two believe only love matters, and will  figure everything else out.
Andrew believes that he's coming to the end of his football career. He's been playing for 20 years. An engagement to Katie would mean a whole new phase of his life. But she's also OK if he keeps playing. Later, Andrew takes her back to their one on one, where they picked messages off of lighted branches. The message Katie picks says, "I'm falling for you."
So who gets the group rose? Michael gets the group rose! So far Greg and Michael are going on Hometown dates.
Mike P the virgin will just have to wait longer. Katie sends him home
Katie's last one-on-one date of the season is with Mike P. the virgin. She admits that she never thought she'd date one. The date involves the "cuddle queen." Hoo boy. This should go well. After changing into white clothing. They begin. Mike P has never cuddled on the first date, of course. They giggle their way through the first hug. The cuddle lady suggests they relax. Mike P says Katie reminds him of his mom. That actually does not sound good. Mike declares that he's waiting for a reason, "If it were up to me, I'd be humping everything." Katie says he's taught her that the virgin thing has nothing to do with personality. Mike confesses that she reminds him of his mom and then whispers "I'd rather have my heart broken a hundred times over than break somebody's heart."
The guys are skeptical that Katie will give Mike a rose because of the virgin thing. And they are correct. Before they even have dinner, Katie tearfully takes Mike aside. She had a great day with him, but she's developed stronger relationships with the other guys. She sends Mike P. home. That virgin thing was never going to work for her.
Katie sends Andrew S. home. But will she regret it?
It's time for the rose ceremony. Greg and Michael have roses. Katie will give TWO more out to either Blake, Andrew or Justin. This week has been very hard for Katie. She is scared she may be sending the wrong guys home. The first rose goes to Blake.  The second goes to Justin! Andrew S. goes home! Katie pulls him aside to apologize. She doesn't think she can give him what he deserves. "I'm building stronger connections," she admits. "You are truly one of a kind," she says, "You truly deserve to find a great love. I'm so happy we met."
Later, Katie admits to Tayshia and Kaitlyn that she's not sure she made the right decision. The next morning, Andrew comes by to see her. Katie wants him to know that it wasn't an easy decision. "I can really say I fell for you," says Andrew. "I love the woman you are." As he leaves, Andrew hands Katie a note. It says "If you change your mind, I'll be waiting…"
I want my future wife to choose me, says Andrew
And then she goes running after him! She half-heartedly asks him to come back. But he knows in his heart that she'll send him home again. "I want my future wife to choose me. I don't want to go through this again." Katie is happy to have one last goodbye with Andrew. "This journey just wasn't for us," admits Katie.
Next week is hometown dates and The Men Tell All.
Going on Hometown dates
Blake, 30, a wildlife manager from Hamilton, Ontario, Canada
Greg, 27, a marketing sales rep from Edison, N.J.
Justin, 26, an investment sales consultant from Baltimore, Md.
Michael, 36, a business owner from Akron, Ohio