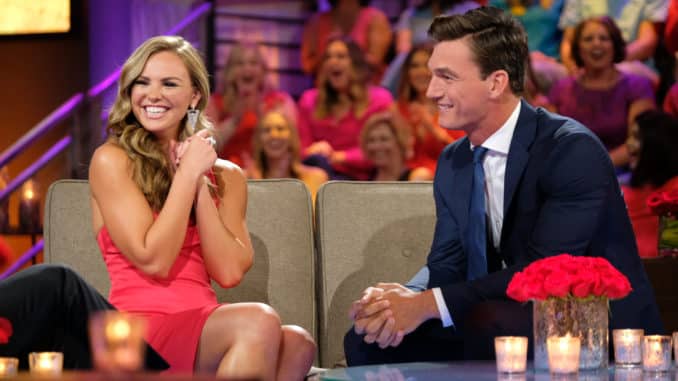 The Bachelorette season finale ratings scored big for ABC on Tuesday.
The popular dating competition easily led the night in the key 18-49 demo, with a 2.1 rating and 7.44 million viewers, hitting a brand new high.  It was the highest rated and most watched The Bachelorette episode of the season. It was also the show's best showing in both ratings and viewers since its 2017 season finale (2.1, 7.57 million). The Bachelorette finale is the highest-rated telecast of the summer so far.
Meanwhile, NBC's America's Got Talent ratings suffered against the competition, falling from last week's 1.7  rating in the demo to a 1.2. That's a half-point drop. However, it was the night's most watched  broadcast (7.87 million viewers).
Via TVByTheNumbers
8 p.m.
The Bachelorette (ABC) (8-10 p.m.) – F 2.1/10 7.44
America's Got Talent (NBC) (8-10 p.m.) 1.2/6 7.87
Love Island (CBS) 0.4/2 2.00
Spin the Wheel (FOX) – R 0.3/2 1.42
Pandora (The CW) 0.1/1 0.56
9 p.m.
NCIS (CBS) – R 0.3/1 2.53
First Responders Live (FOX) – R 0.3/2 1.08
The 100 (The CW) 0.2/1 0.60
10 p.m.
Bring the Funny (NBC) 0.7/4 3.77
Holey Moley (ABC) – R 0.6/3 2.16
Blood & Treasure (CBS) 0.3/2 2.69