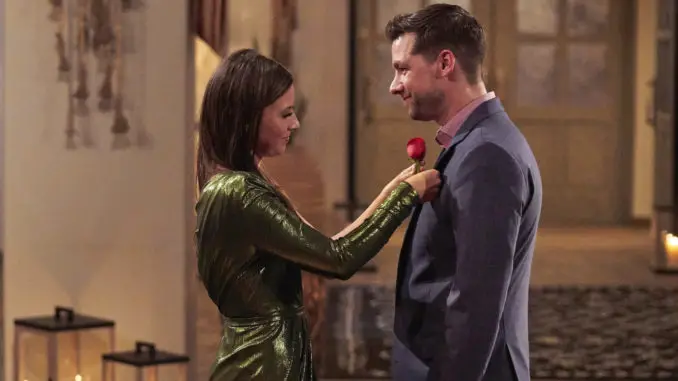 Tonight, on The Bachelorette week 3, drama continues to unfold at the Hyatt Tamaya Resort & Spa in New Mexico, as Katie Thurston searches for the love of her life.
Karl still stirring the pot
The show picks up during last week's heated cocktail party, after Karl stepped in to stir up sh*t. He hinted to Katie that more of the remaining guys are here for the wrong reasons. He wouldn't name any names, but he seems to be purposely putting doubt in Katie's mind. 
Karl admits to the guys that he's the instigator, and continues to refuse to name names. They all deservedly pile up on Karl, accusing him of manipulating Katie and causing trouble for no good reason. Katie marches into the room and announces that the party is over. She plans to go straight into the rose ceremony. Some of the guys didn't get time, and are pissed. 
Behaving like an idiot, Karl is in another room punching the air like he's practicing for a boxing match. What a clown. Weirdly, Katie still trusts him. although he's obviously manipulative. 
After the men confront Katie, will she keep Karl?
When Mike P. accepts his rose during the rose ceremony, he insists that the guys are there to "protect her heart" and that what Karl said just was not true. Katie asks the group, and yes, they all feel the same way. She excuses herself to talk with Kaitlyn and Tayshia, the former Bachelorettes standing by to help. She planned to keep Karl, but now she doesn't know.  "It's your decision," the say, not entirely helpfully.
In the end, Katie decides to send Karl home! Byeeee.
Receiving roses at the rose ceremony: David, Hunter, Connor C., Mike P., Michael A., Connor B., Quartney, Tre, Justin, Andrew M., Christian, Josh, Brendan, James, Aaron.
Already have date roses: Greg, Andrew S. and Thomas.
Going home: Karl, Garrett, John (the guy who arrived in a box) and Kyle 
Katie keeps cleaning house. Time to find a new villain!
Hunter notes that "Katie has cleaned house two nights in a row."  That's inn line with her image, as a no nonsense chick. She's quickly dispatching with the villains. The show will have to set up a new one! 
Going on the next group date is: Aaron, Quartney, James, Connor B., David, Justin, Thomas, Hunter, Brendan. "Love is about honesty," says the date card. "And I need 100%." The guys are freaking out because Katie didn't sign the card? Calm down, dudes! 
Katie and Nick Viall encourage the guys to "be vulnerable"
She meets the guys and then immediately introduces former Bachelor and Bachelorette contestant, Nick Viall, there to help the men share their personal stories. The group sits in chairs set in a circle. It's time to get honest with Katie. 
Hunter goes first, sharing how his priorities shifted after marriage and two kids. He worked all the time, and their marriage fell apart. Hunter cries as he talks about how the divorce affected his kids. He promises that he'll work hard on his relationship and family if he ever gets married again. The guys tell stories of dumping girls, ruining relationships, having regrets, etc. 
Thomas gets honest, but it backfires (he's dumb)
Thomas admits that when he first signed up for the Bachelorette, he first and foremost thought of it as a "great platform." WRONG ANSWER CUE THE SPOOKY MUSIC. He insists that he's leaned into the process, and now is really into Katie. He also confesses to going on a date the week before he left for New Mexico. "I came in just not knowing." Ohhh weee. He's not reading the room.
Connor B. has a big confession. After dropping out of grad school, he did music full time. But he started drinking a lot. He was a very angry, blackout drunk. He was a mean drunk. One night, he was really, really drunk, picked a fight with his girlfriend, and then went off to a party and cheated on her. It blew up his life, and he regretted it so much. He's gone into therapy and worked on himself. He hopes to be a better man. 
Connor's honesty inspires Katie to tell a devastating story.
Katie takes her turn to be vulnerable. Ten years ago on New Years Eve, she had been drinking, and she was "involved in a situation where there wasn't consent." In other words, she was raped. She hasn't even told her mother. At first she went into denial, and tried to form a relationship with her rapist. When that didn't work out, she had an unhealthy relationship with sex for years. It took her a long time to feel good about herself. "I've come a long way," she says, stressing that consent is important. Katie feels liberated, she shares after the session. 
Later, Katie describes the day as "transformative."  She felt the guys put in the effort to bare their souls. Now the guys vie for the group date rose. Katie isn't sure who will get it. Connor B. tells Katie that he feels seen, she calls him "a catch." Connor is falling in looooove.  The chat with Thomas, who confessed to showing up for "the platform" is a little uncomfortable. The guys trash him behind his back. They don't trust him. Thomas boldly declares that the two will leave the house engaged. She's resists.
Thomas makes enemies among the guys
Thomas knows that things didn't go great in their one-on-one conversation, so he lurks around as Aaron tries to share about his father who had a debilitating stroke, eventually interrupting the discussion. Determined to get the date rose, he reinforces to Katie how into her he is. And she seems to be falling for it, admitting there was a spark when she met him. 
When Thoms rejoins the men, they pile up on him. They call him "disrespectful."  Aaron says, "I think you're full of s***." The guys will be livid if she gives Thomas the rose, but in the end she hands it to Connor B. He certainly shared a brutally honest and compelling story during the group share. 
After Katie leaves the hoom, the guys continue to pile up on Thomas. They hate him! And call him a "cancer that needs to be cut out." Uhm. That's a little strong. 
Meanwhile, when the group is reunited, they all agree that Thomas needs to leave. They don't trust him at all. How to get him out of the house? Hunter tries to reason with Thoms, insisting his selfish attitude will backfire on him. Thomas does not care. 
Michael has a tragic story to share
In the interim, Michael confesses to a couple of the guys that he's a single father. He and his wife were together for 16 years. But 7 months after delivering their child, she was diagnosed with breast cancer. She passed away 2 years ago. He's hoping to kick start a new life for himself and his son via The Bachelorette.
And what a coincidence! Michael gets the one-on-one date. "Love is an adventure," says the date card. The rest of the guys are so sads. 
Katie notes that Michael is one of the older guys in the house. So today, she wants to take him out on an adventure. "I'm hoping he can cut loose and get messy," she says as she drives up in a 4 wheeler. They race around in the desert for a bit before stopping for a picnic. She confesses to flipping a dune buggy during a practice run. Oop. 
Michael moves Katie to tears
Michael promises that he won't waste her time. But he feels something special with her. He believes that The Bachelorette experience "begins with an engagement" which is actually a normal way to look at it. 
Later at dinner, Michael finally shares the heart wrenching story of losing his wife. The minute he met her in college, he knew she was the one. They married in 2012, had a baby in 2016. Seven months later, his wife was diagnosed with breast cancer.
They traveled all over the country looking for a cure. But in January 2019, she died. As he continues to talk about the pain he experienced, Katie begins to cry too. "What a gift to be able to fall in love twice," he says. Katie acknowledges that the love Michael shared with his wife was beautiful. But she promises never to be intimidated by it. Of course, she gives Michael the date rose. She's completely head over heels, she admits.
The guys confront Thomas, call him a psychopath
Back at the ranch, Aaron calls Thomas a manipulative psychopath, while the guys call him a pathological liar with terrible character. Hunter admits that Thomas' reputation is crumbling. He confronts him with the entire house present, and asks him point blank if he's here to become the next Bachelor. Thomas admits to being a little phony with the guys, but swears he's completely forthcoming and honest with Katie.
And yes, he admits, coming into the competition he thought that maybe he could be the next Bachelor. But now, he loves Katie! He doesn't care about being The Bachelor! Thomas is super dumb. Or this editing is super crazy. 
From the promo for next week: "HE'S HERE FOR A PLATFORM!" Dun dun dun! Expect tons of drama before the next group date even begins.