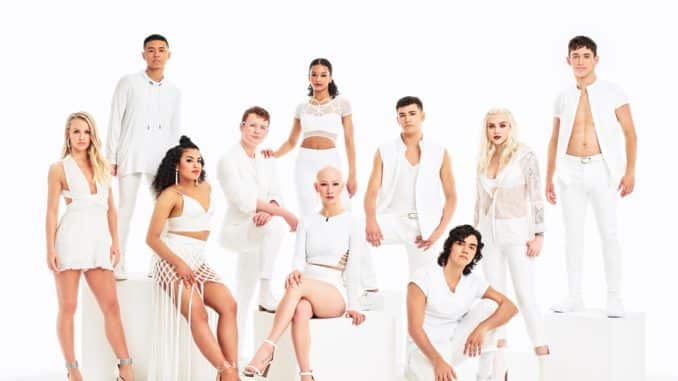 Hey All :)
We have finally reached the studio shows for this season's edition of So You Think You Can Dance. Tonight, the top ten are paired up and will dance for America's votes. I just want to mention that this season, the show will be taped over the weekends and SPOILERS will be posted on the site. But please, for those that are watching who do not want to know ahead of time, keep any spoiler talk out of the comments. Thanks in advance for that.
We will see a boys group routine, a girls group routine, and five duets tonight to show off the top ten. No eliminations will occur tonight and the votes from America will carry over to next week's show. So without the stress of a looming boot, who will rise to the occasion and impress? Will your favorites be paired up together? Tonight is a one-hour program, so things will be moving relatively quick. Let's get it started…
All the voting information located at the conclusion of this blog.
Cool opening routine with everyone. They used some television magic with lasers to introduce the top ten. A simplistic number choreographed by Mandy Moore
https://www.youtube.com/watch?v=eUxvAJ45pdw
Bailey & Mariah (Jazz) – Mandy
That was adorable. They are like two dancing dolls. However, it has to be said that I saw some issues. First, they went out of sync with one another in various places. I'm not sure if Mariah was too fast or Bailey was struggling to keep up, but it was noticeable. Second, some of the transitions were a little on the sloppy side. Something some more practice would definitely improve. They had the energy and were committed to the dance so I'll give them that much. It was an okay start. Nothing to get out of my chair about but nothing to be all negative Nancy with either.
Laurie loved it. She compliments Mandy Moore. She loved the chemistry and connection. Nigel calls them small in stature but enormous in talent. He calls it a great routine. Mary is hopping on the love shack train with a scream. Mary calls Bailey a big shock- she expected it from Mariah. Dom is blown away by Bailey redefining what a B-boy is. He is jealous of what he saw and thinks the standard was set very high.
https://www.youtube.com/watch?v=Wa6XWSth_Dw
*That was an incredibly kind and a bit over the top even critique for what we just saw. Are we going to give unanimous applause to all tonight or will someone get an unfair critique due to having higher standards? Things that make you go hmm…
Stephanie & Gino (Hip-Hop) – Luther
That was really cool and entertaining I am very impressed by how on the beat they were while dancing. And they got down when necessary and were swaggy as well. Luther always shines in his choreo, with one of the main advantages of dancing to his stuff being that it is always memorable. I think this will be a piece remembered at the end of the night. Both Stephanie and Gino should be proud of delivering in a style neither are really comfortable with.
Dom thinks Gino could do better than he just did but he compliments Stephanie. He thought it was just okay. Laurie disagrees with Dom. She felt Gino killed it and actually felt he was better than Stephanie. Nigel agrees with Dom. He wants Gino to let it go. He feels the personality needs work. Mary says they both looked amazing. She is more on the side of Laurie when critiquing Gino.
https://www.youtube.com/watch?v=0aTfWbC2vjs
*Okay, so the praise was heaped on the first routine yet this, a much better put together and danced number, gets some harsh words. Okay then.
Anna & Benjamin (Cha-Cha-Cha) – Emma & Sasha
That was a strong effort. Benjamin needs to watch his bum when in hold in a Latin dance. It sicks out too much. He needs to tuck that in. Some parts were a little too careful- as though they were anticipating the next step and getting ready for it. But you can chalk that up to nerves and do a style they aren't totally comfortable with. All in all, it was a solid try and while not anything spectacular, was definitely serviceable for a Cha-Cha-Cha.
Mary says it looked like they were having the time of their lives. She compliments Anna put tells her to watch her toes sometimes. She also raves about Benjamin. Dom reminds us Anna is a hip-hop dancer and says it was great. Laurie loved the connection. She calls them humble warriors. Nigel calls them sensational and says Anna is the best hip-hop girl he has seen do ballroom in the first week. He is all praises for Benjamin.
https://www.youtube.com/watch?v=flK6WtcqNJw
Madison & Ezra (Contemporary) – Talia
Interesting that Madison was given her own style for her first duet. Hmm. So as expected, she is very good in this. Very strong and athletic. Ezra was a surprise here, at least for me. He kept up very well with her. Some of the side by side moments were quite stunning. Strongest of the night overall in terms of routine and execution. Now I wait to see how these two connect in a dance that neither is really suited for.
Nigel says Ezra has matured into a great partner and he says Madison has started to show her vulnerability. Mary calls it glorious, pure, and honest. She gives props to both and notes a mistake they made where Ezra fixed it. Dom calls it his favorite routine of the night. He loves that the imperfection of the hiccup was made perfect. Laurie says they have so much power and calls it a wonderful job.
https://www.youtube.com/watch?v=sXW0cN3W0to
Sophie & Eddie (Jazz) – Brian
Yikes. That was…not a good dance for Eddie. And he brought Sophie down with that. She was doing fine but when Eddie is basically trying to keep up and not really getting there, it reduces the success of the entire number. In the hands of better dancers, this would have been a very fun and cheeky and dynamic piece. But it wasn't. Weakest overall dance of the night I'm afraid.
Laurie felt Sophie nailed it. She tells Eddie he wasn't connected to the story. Nigel thinks it was a difficult routine. He felt uncomfortable with Eddie's performance. Mary agrees but doesn't think the dance fit Eddie. She praises Sophie though. Dom feels Eddie looked weak and Sophie was stronger with the steps.
https://www.youtube.com/watch?v=cmIkMe9xbIY
For me, the duets go like this:
1. Madison & Ezra
2. Stephanie & Gino
3. Anna & Benjamin
4. Mariah & Bailey
5. Sophie & Eddie
The girls are doing a group routine now choreographed by Travis. Very pretty. A whole lot of contemporary flailing around. That sounds like a diss I know but I didn't mean it to sound that way. Travis just has a very distinctive style when he gets in his emotions. But all the girls looked very elegant and gave one hundred percent to that.
https://www.youtube.com/watch?v=SKx3mNYvJfE
The boys take the stage now for a group number by Luther. Oh. Eddie is so out of place with these guys. But props to the rest for really bringing that funk during that piece. I saw some great moments from all of them with the exception of Eddie, who was just there. I may have enjoyed that a little more than the girls piece to be honest.
https://www.youtube.com/watch?v=mhVUJps_OpA
Voting begins now:
Three ways you can vote:
(1) With the FOXNOW app for mobile phones.
(2) At the website fox.com/dance/vote
(3) By using the text number 21523 – Send a text to that number using the dancer's first name. Example: text Mariah to 21523 to vote Mariah.
A limit of 20 votes for each method. Voting ends tomorrow morning at 9AM Eastern with results announced at the end of next week's show.
I hope you guys enjoyed watching the first studio show of the season and I'll be back one week from tonight as we do it all again and say goodbye to the first two eliminated contestants.